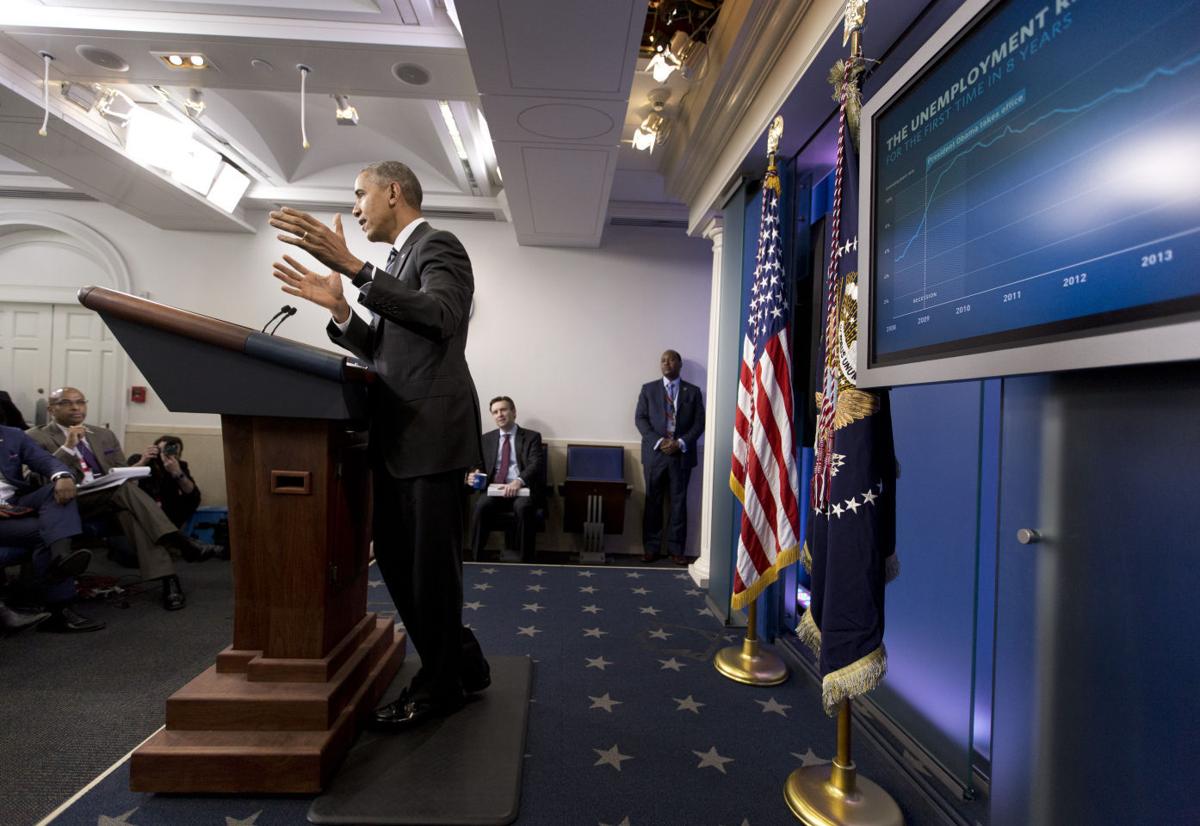 WASHINGTON — Once reluctant to hype the U.S. economy's slow climb out of recession, President Barack Obama now is in cheerleader mode.
"America's pretty darn great right now," Obama told reporters Friday as he celebrated a strong jobs report that he said proved Republicans' "doomsday rhetoric" is little more than "fantasy."
Obama's brief remarks were a striking turn for a president who for most of his seven years in office has put on a sober face every time he spoke about the economy. Years of slow jobs growth and stagnant wages made the president and his team wary of seeming out of step with the plight of Americans still feeling the aftereffects of the recession.
Those concerns seemed a thing of the past on Friday. Hours after a new Labor Department report showed employers added 242,000 workers in February, Obama called reporters to the Roosevelt Room at the White House, and he didn't hold back.
"Our businesses have created jobs every single month since I signed that job-killing Obamacare bill," Obama said, digging at the Republicans' favorite name for his health-care law.
Obama didn't name names but showed he's been following the especially combative GOP nomination fight. He seemed ready to get off the sidelines.
The president said he looks forward to "forcefully" making his case for changing the conversation to a debate over investing in education and infrastructure and increasing wages, "not fantasy, not name-calling."
The Labor Department also said the U.S. unemployment rate remained at a low 4.9 percent in February. Many economists consider that to be full employment.
In addition to the healthy job gain for February, the government also revised up its estimates of job growth in December and January by a combined 30,000. Over the past three months, employers have added a strong 228,000 jobs.
Employers expect solid consumer demand in the months ahead even though the stock market has turned turbulent, oil prices have hurt energy industry jobs and a stronger dollar has reduced export sales. Stock trading opened slightly lower after the jobs report was released.
Some economists also suggested that the jobs report created a path for the Fed to raise interest rates again as early as June, according to many economists. The Fed raised rates from record lows in December.
"It's probably a better than a 50 percent proposition that they will raise the rates in June," said Kevin Logan, chief U.S. economist at the bank HSBC.
Troubles abroad have tempered U.S. economic growth. China, the world's second-largest economy, is struggling with high corporate debts and slower growth. Oil prices have tumbled amid relatively low demand. The strong dollar has crushed exports, while the stock market has dropped in an extended bout of volatility this year.
Consumers have provided the foundation for much of the U.S. job market's improvement in what's become something of a self-sustaining cycle. The nearly 2.7 million workers who have been added over the past 12 months have bolstered spending on autos, housing and meals out.
Steady hiring in recent months has translated into more consumer spending in several key sectors. Auto sales rose 7 percent over last February to 1.3 million vehicles, according to Autodata Corp.
Purchases of existing homes rose 0.4 percent last month to a seasonally adjusted annual rate of 5.47 million, according to the National Association of Realtors. That improvement followed a solid 2015, when sales achieved their highest level in nine years.