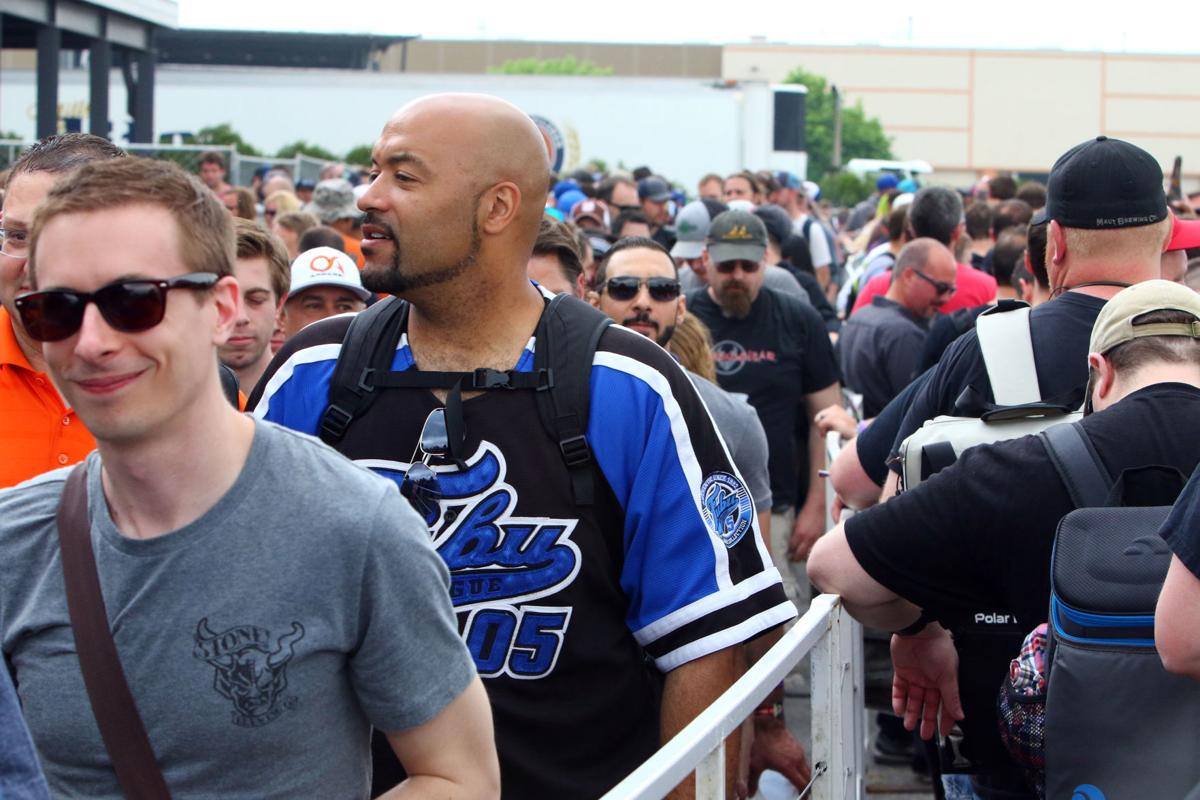 Every spring, 3 Floyds' Dark Lord Day draws thousands of craft beer lovers to Northwest Indiana for a day of heavy metal, bottle sharing, special releases and the highly coveted "demonic" Dark Lord Russian-Style Imperial Stout.
Other craft breweries and bars across the Region are increasingly looking to capitalize off the beer tourist traffic with special releases or promotions of their own. Dark Lord Day Eve has evolved into a Region beer holiday of its own, with many breweries in Northwest Indiana and the south suburbs putting out limited quantities of rare and potent beers at pre-game parties that feature live bands, food trucks and even goats.
St. John Malt Brothers at 9623 Wicker Ave. in St. John released its Wicker Avenue Warlock imperial stout and its barrel-aged barleywine Third Level Stupid Thursday.
"Dark Lord Day has always been great," St. John Malt Brothers President and Co-Founder Jim Estry said. "People all over the world come in for Dark Lord, so there's a whole bunch of people interested in the breweries of the area. It's fantastic for us. It helps increase the awareness of craft beer in Northwest Indiana."
Doc's Smokehouse & Craft Bar 1420 Calumet Ave. in Dyer is celebrating "Dark Lord Week" with a dozen 3 Floyds beers on tap, and a special tapping of a 2018 Goose Island Bourbon County Stout. Region Ale at 1080 Indianapolis Blvd., Schererville, also dedicated a dozen taps to 3 Floyds barleywines, sour ales, American Pale Ales and other beers this week, giving out 3 Floyds pint glasses.
Many of the releases take place at Dark Lord Eve parties on Friday night. Flossmoor Station Brewery at 1035 Sterling Ave. in Flossmoor will release its annual bourbon barrel-aged Wooden Hell barleywine, and sell bottles of Kratos Imperial Stout variants and its new Belgian Quad and Milkshake IPA.
Rabid Brewing at 17759 Bretz Drive in Homewood will release the 15% Imperial IPA The Horus Revenge on Friday night at its Feast of the Goat Queen party. The event will include fire spinning, an art expo and live goats.
One Trick Pony, 17845 Chappel Ave. in Lansing, is putting out its Kentucky Mountain Old Ale that was inspired by traditional British ales of the 1700s, aged for four months in bourbon barrels and spiced with vanilla beans. 
Byway Brewing at 2825 Carlson Drive in Hammond is celebrating "Blak Friday" with a special release of its Strawberry Milkshake Jammer and White Chocolate Raspberry Milkshake Jammer milkshake IPAs.
Wildrose Brewing at 1104 E. Main St. in Griffith will tap its Heaven Hill Bourbon Barrel Aged Mornin' James Coffee Stout "before one of the biggest beer holidays in the Region."
Off Square Brewing at 11000 Delaware Parkway in Crown Point is taking a different tack in appealing to Dark Lord Day pre-gamers, offering a 9 p.m. Friday heavy metal concert with the bands Ditchwater and Tiberius.
Also in Crown Point, Manic Meadery at 1003 E. Summit St. will release limited kegs of mead, including its Collusion collaboration with Boneflower Craft Mead. Manic Meadery said the dense dessert mead that's made with black currants, marionberries, black raspberries, Madagascar vanilla beans and Vermont maple syrup clocks in a 16% ABV and "will certainly stain your teeth."