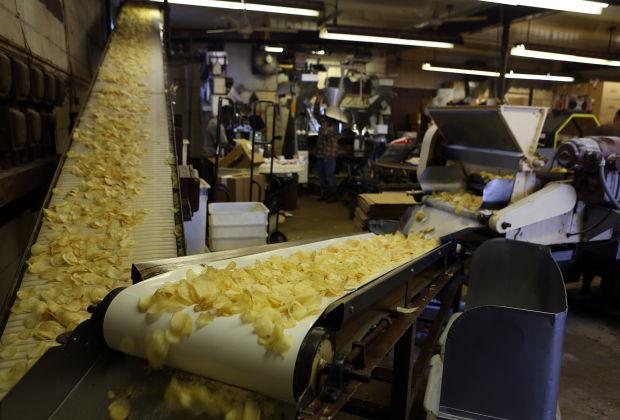 GARY — A potato chip Region residents have snacked on for nearly 90 years soon will disappear.
Peerless Potato Chips, which was founded in Gary in 1928 right before the Great Depression, recently went out of business. It struggled after Central Grocers, its main distributor, filed for bankruptcy. Its owner also is being treated for terminal lung cancer, and he couldn't find a buyer.
"After 89 years in business we have been forced to close our doors," owner John Hogg said. "We can no longer pay our suppliers so can no longer produce. The Central Grocer's bankruptcy was the straw that broke the camel's back."
Peerless has gradually lost shelf space at Strack & Van Til supermarkets since Central Grocers acquired the Highland-based grocer in the late 1990s, Hogg said. Jewel-Osco recently also stopped stocking Peerless chips, moving unsold bags to backrooms and demanding the company issue credits.
With Jewel offering to buy Strack & Van Til out of bankruptcy, Hogg doesn't see any path forward for Peerless.
"With 80 percent of our accounts receivables tied up with stores who are not paying us or stores who no longer want our product in their stores, we were left with no choice," Hogg said. "Add to this that I have been under treatment since last November for stage 4 inoperable lung cancer, it appears my time has come to say, 'I tried,' and call it a day."
Peerless sold its chips in bags marketed as "The Big Un!" and had the slogans "the best chips you'll ever have the pleasure of eating" and "make the chips, they'll eat em."
The company operated a potato chip factory at 661 W. 11th Ave. in Gary, where it produced the "Old Fashion Pure Vegetable Shortening Cooked" chips. Fans describe them on Amazon as "by far the best-tasting potato chip in the world" and the "classic retro chip — thin, greasy and salty."
Region expatriates who moved away often had family members send them Peerless through the mail, or ordered it online.
Keep reading for FREE!
Enjoy more articles by signing up or logging in. No credit card required.
People rushed to stores to stock up on the last remaining bags of Peerless after the news of its closure broke Monday. Fans made comments online like "best chips on the planet," "my heart just broke," "a part of my childhood!" and "thanks for all the deliciousness over the years."
About 15 employees were laid off from the potato chip factory.
"Very dedicated people, most with many years of service," Hogg said.  
Hogg's father founded Peerless in Gary in 1928 after losing a finger at Carnegie Steel. Peerless Chips were available at many independent convenience stores, but had trouble in recent years getting carried by larger retailers.
"Speedway, Luke Oil, Family Express will not sell Peerless," Hogg said. "Marketing programs, which are nothing more then bribery, are offered to keep every other snack supplier out of their stores. Since we are not produced in China, Walmart and the other large box stores will not buy Peerless. Then you have Walgreens who introduce new requirements for suppliers to meet that only the largest corporations in the country can meet, like $10 million dollar insurance liability minimums and yearly outside inspections conducted at a cost of $10,000 a year. As a result of not being able to meet these unreal requirements, we were removed from the 20 Walgreens in our local area we serviced."
Hogg, 71, said he has not taken a paycheck in two years to try to keep the business going.
He tried to sell Peerless Potato Chips, but to no avail.
"We had it listed for sale and lots and lots of people interested in buying, but out of those, we had lots of gawkers who didn't have the financial wherewithal to purchase, or if they did, they shot us some kind of lowball offer or unrealistic offers," he said. "Overall, it seemed like all these interested parties weren't either serious, upfront or willing to purchase for a fair price."
After Central Grocers went bankrupt and Hogg's health issues arose, he dropped the price considerably but still had no luck.
"We would love for Peerless to continue and these families have jobs, but we can't just give this 90-year-old business away for nothing or wait around for them to come up with the money to buy, so the decision to close the doors wasn't what we wanted but there wasn't a way around that," Hogg said. "Between Stracks not paying and it getting harder and harder to compete with the likes of Frito Lay, we have been getting hammered on for a very long time."