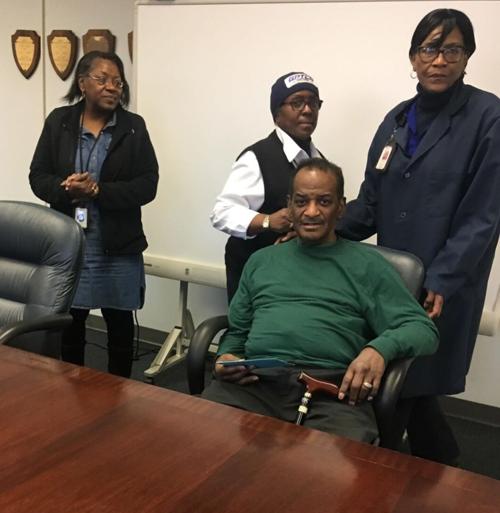 Percy Daniels has worked for the Gary Public Transportation Corp. so long he actually pre-dates it, getting his start with the predecessor company, Gary Transit, Inc., in the 1960s.
After more than 56 years at the bus service, the longtime parts manager in the maintenance department is finally retiring. His longtime employer plans to honor him by naming a bus after him.
"We want to do something special for his retirement, but the pandemic doesn't let us bring everybody together," General Manager Jerome Parker said. "He's been here long before I started in 1979. He's been doing the same job for a number of years. I've always been impressed with his dedication."
Daniels worked as parts manager, managing the inventory, ordering new parts and supplying the parts needed to maintain Gary Public Transportation's fleet of buses. Daniels, who has been in the hospital and was not available for comment, also served as a union representative for the Amalgamated Transit Union.
"I could always approach him as a manager and talk to him about disciplinary issues to resolve them before they became major," Parker said. "He was always willing to work with management to make sure all employees are happy campers."
Carol Douglas, the union head and a parts driver, said Daniels will be missed both at the workplace and the union hall.
"He was a very good treasurer who did his job perfectly," she said. "It will be hard to fill his shoes. He was very efficient and loves his job."
Douglas remembers "a sweetheart who treated her like a brother."
"He's been here so long. You always see him on the computer. He loves his job. He's a treasure," Douglas said.
Gary Public Transportation Corp. Human Resources Director Jocqueline Protho said Daniels was an institution at the bus service, which runs about a dozen routes through the city of Gary, as well as Calumet Township, Crown Point, East Chicago, Griffith, Hammond, Highland, Hobart, Merrillville and Munster.
"He's officially been here 56 years," she said. "He's been here longer than the building and the furniture. Everybody at our facility and where he sits every day from six in the morning until three. He has a really good relationship with everyone."
He started in maintenance and worked his way up to being parts manager, a position he held for decades.
"He's one of the nicest people I've worked with," Protho said. "He was very friendly and very personable. He was very approachable. Nobody ever said a bad word about him. He always had a smile on his face. He always gave his 100%. I don't think he he ever wanted to leave as far as I know."
Maintenance Secretary Shirley Host said Daniels was family to everyone in the department.
"He always made sure to procure the parts needed for the buses to operate," she said. "It was a vital job. He has a lot of knowledge he'll take with him. I'll miss him. He's family. It will be strange to not see him at the office, at the bus depot."
Daniels was a fixture who worked while a little TV played "All My Children" or another soap opera in the background.
"He's a very warm person," she said. "He was very open and warm. He never changed. I feel like he had known me forever."
Region restaurants that closed in 2020
Region restaurants that closed in 2020
2020 has been a hard year for restaurants in the Region with the coronavirus pandemic and the lockdowns and restrictions that followed. Here's a look at the restaurants, brewpubs and chain eateries Northwest Indiana lost in one of the toughest years in recent memory: