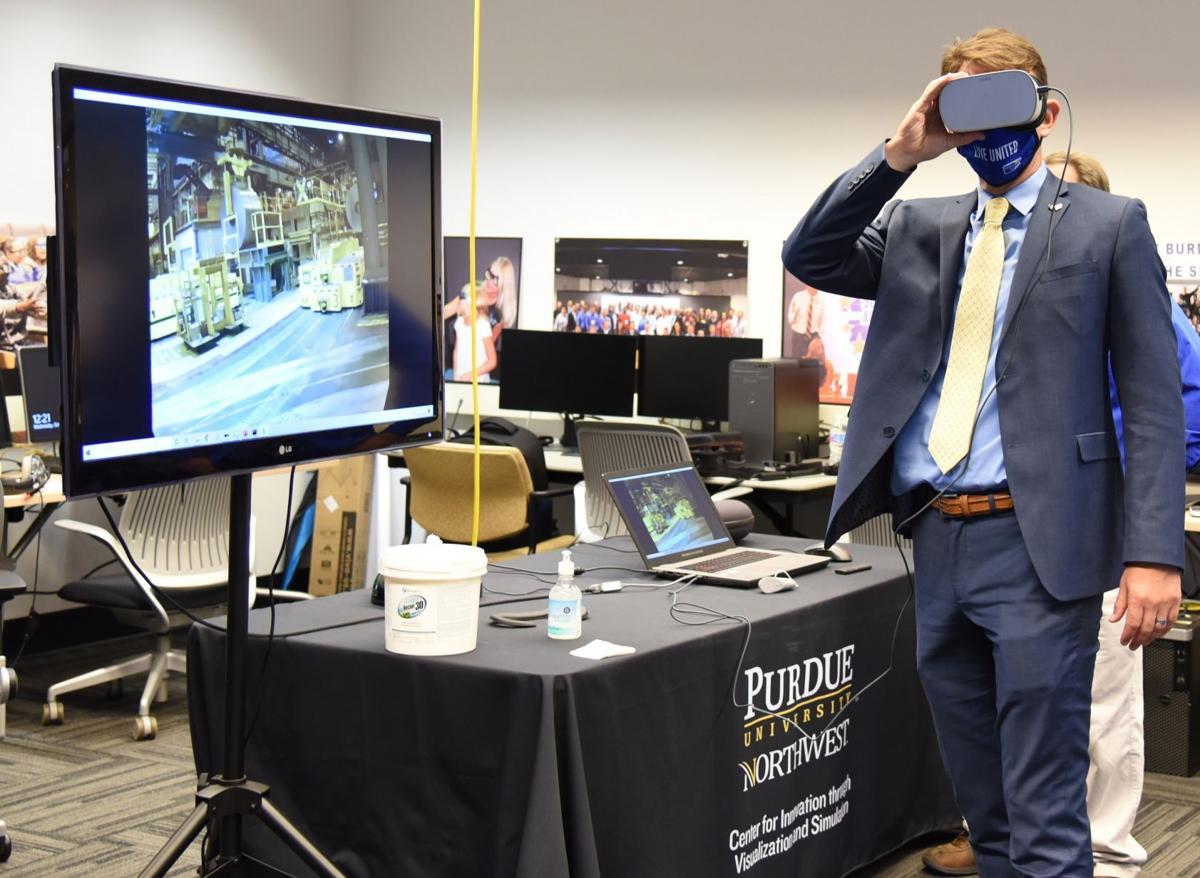 Purdue University Northwest's Center for Innovation through Visualization and Simulation in Hammond is leading a team that secured a $7 million grant for research to improve the steelmaking process by reducing energy use by as much as 10%.
The U.S. Department of Energy furnished the funding to CIVS and the Steel Manufacturing Simulation and Visualization Consortium to develop a next-generation virtual blast furnace to help steelmakers improve energy efficiency and reduce emissions. It also will be used to develop a virtual training model.
"We are very grateful for this prestigious award by the Department of Energy and the strong support from our university, collaborators and supporters," said Chenn Zhou, CIVS director and NIPSCO distinguished professor of engineering simulation. "Our top-notch project team will generate an innovative cutting-edge solution that will benefit blast furnaces in Northwest Indiana and throughout the United States."
The three-year grant will allow CIVS to convene experts from industry, universities and national laboratories. Their research aims to help the U.S. steel industry improve operational efficiency in blast furnaces at integrated mills, such as those along the south shore of Lake Michigan.
"As a premier metropolitan university, PNW's research has a significant impact on Northwest Indiana. This project is an excellent example of the positive effect CIVS has on the regional and national economy, and serves as a strong foundation for further research over the coming years," said Kenneth Holford, PNW provost and vice chancellor for academic affairs. "We are especially proud of the work of Professor Zhou, who has been honored for her outstanding work in her field with the first distinguished endowed professorship at Purdue Northwest."
The project could reduce energy consumption by 4.5% to 10% in blast furnaces, cutting costs and lessening the steel mills' carbon footprint.
"Close collaboration with our industry partners continues to be a signature of the engineering programs at Purdue Northwest," Holford said. "These partnerships translate into a high-quality educational experience to our students, with many collaborations leading to successful employment outcomes."
Congressman Frank J. Mrvan said he would work to ensure federal support for CIVS.
"I congratulate PNW Chancellor Thomas Keon and Dr. Chenn Zhou, director of CIVS, for successfully obtaining this outstanding federal resource from the Department of Energy's Advanced Manufacturing Office," Mrvan said. "I am grateful for the opportunity to tour CIVS last year, and understand the incredible benefit that the research at Purdue Northwest provides our industrial manufacturing base. Their capabilities are critical to the strength of our regional economy and the ability of Northwest Indiana steelworkers and tradesmen to utilize their skills with innovative technology and be a global leader in manufacturing. I will continue to seek opportunities to support federal programs that promote cutting-edge manufacturing and innovation right here in Indiana's first congressional district."
CIVS leads the Steel Manufacturing Simulation and Visualization Consortium, which brings together 15 companies, including all the blast furnace operators in the United States. It uses simulation and visualization to tackle technological issues the steel industry faces as a whole.
"This project will highlight Purdue Northwest as a top location for cutting-edge research as well as provide an opportunity for our students to work on real-world applications," Zhou said.
NWI Business Ins and Outs: Openings include Safari Beach Tan, Johnny Rockets, Restaurant Tarascos and Wild Wood's: A Gathering Place; closings include Suttle Bistro and Altar Artifacts
NWI Business Ins and Outs: Openings include Safari Beach Tan, Johnny Rockets, Restaurant Tarascos and Wild Wood's: A Gathering Place; closings include Suttle Bistro and Altar Artifacts