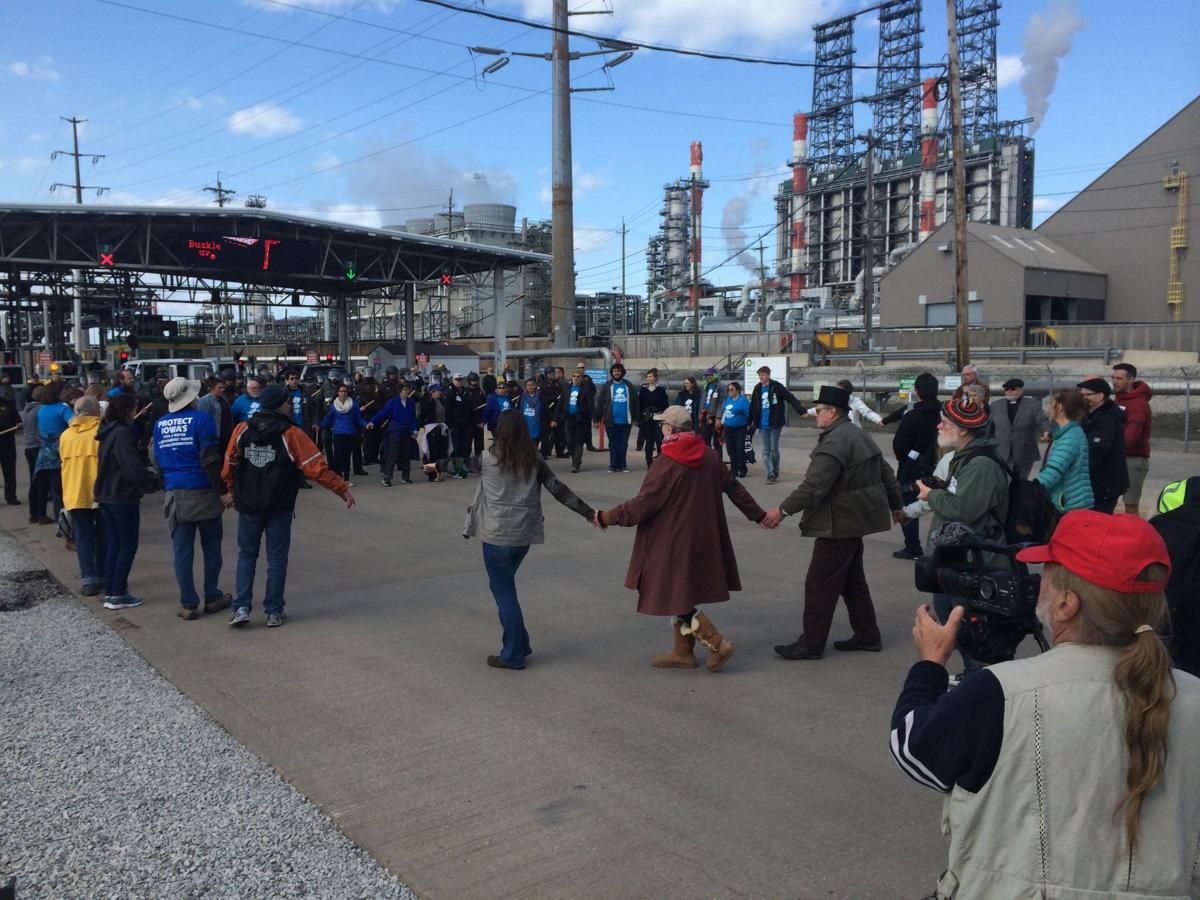 Environmentalists plan a rally next week in downtown Hammond for the "Whiting 41" activists who were arrested for trespassing during a protest of the BP Whiting Refinery in May 2016.
The demonstration will take place during the final hearing on their legal case, which is set for Jan. 13 at the Lake Superior Court in Hammond. Their attorney, Roy Dominguez, said Tuesday the Lake County Prosecutor's Office agreed to dismiss criminal charges against all of the activists and put them in a pre-trial diversion program that will require a fine and good behavior for six months.
Police in riot gear arrested the climate change activists last spring while they sat in a circle, chanted and sang in front of the main refinery gate as part of a global "Break Free from Fossil Fuels" campaign pushing for a shift to renewable energy. Protesters have repeatedly targeted the BP Whiting Refinery after a $4.2 billion project that enabled it to process heavier Canadian tar sands oils was completed in late 2013. The heavier crude produces more byproducts like petcoke that environmentalists object to.
BP says it is making ongoing investments to make the refinery more environmentally friendly, including a new hydrotreater that will reduce the amount of sulfur in the gasoline it makes. The refinery supplies gasoline to seven Midwestern states.
Local environmental activists plan a rally in support of the "Break Free from Fossil Fuels" protesters outside of the courthouse at 232 Russell Street in Hammond at 9 a.m. Friday, Jan. 13.
"This will be a fun, non-confrontational event," organizers said in an announcement. "Bring your singing voices. There will be a choir, a band, and street theater."
The protesters then plan to march to U.S. Sen. Joe Donnelly's office in the Federal Plaza to insist he reject cabinet nominees who deny climate change.
"350 Indiana-Calumet and other regional activist groups are organizing a rally on the day of the hearing to show our support of the 'Whiting 41,' and also to visibly demonstrate that the election of two climate change deniers and free speech suppressionists to the White House will not deter our commitment to organize and speak out in defense of all life on the planet,'" the Gary-based climate change activist group 350 Indiana-Calumet said in announcement.