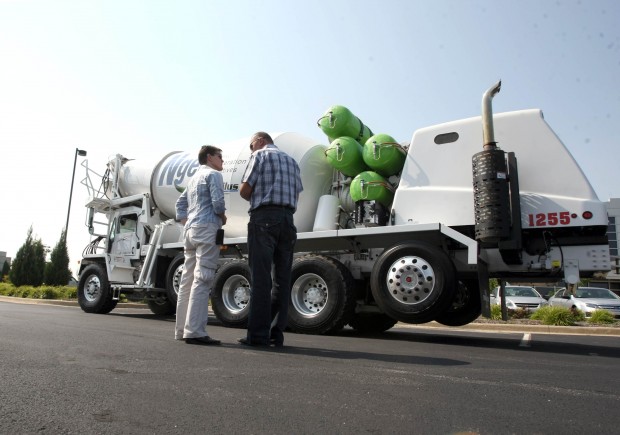 Ready-mix concrete maker Ozinga Bros. has been saving a significant amount of money by fueling its distinctive candy-striped trucks with natural gas, and is making the alternative fuel more accessible to the general public.
The Illinois-based company, which has a large presence in Northwest Indiana, has opened its latest compressed natural gas station in Gary, a first for the region. The new 18-bay station at 400 Blaine St. is right off Interstate 80/94, and is the first to pump compressed natural gas on the highway between Chicago and Cleveland. The company is hosting a grand opening next week with dignitaries such as U.S. Rep. Pete Visclosky and Gary Mayor Karen Freeman-Wilson scheduled to attend.
U.S. Oil, Roehl Transport and H.M.D. Trucking also are building what will be one of the Midwest's largest compressed natural gas stations on 5th Avenue near Interstate 65 in Gary.
Ozinga already has opened 24-hour stations near busy roads in its home base of Mokena, Chicago and Des Plaines. The company manages 30 percent of the natural gas fueling stations in Illinois, and is reducing its own fuel costs by 70 percent by converting its own from diesel to cheaper and cleaner-burning natural gas, said chief operating officer Ed Van Pouke.
"We've seen the benefits first-hand," he said.
The fouth-generation family-owned business has 40 locations in Northwest Indiana and the greater Chicago area. Ozinga distributes sand, pea gravel and other bulk materials, and produces about 2 million yards of ready-mix concrete a year for sidewalks, skyscrapers and airport runways. The company mixed 650 cubic yards of the stuff when a McDonald's in Merrillville repaved its parking lot and also furnished concrete when an academic building at Valparaiso University was renovated last year.
The biggest chunk of the concrete firm's business might be surprising.
"Yes, we're the product that drives you home at night to get to your families," Van Pouke recently told a business crowd at The 2013 Rail Summit in Chicago. "But residential is the biggest segment of our business. About 600 yards of cubic concrete go into every house."
Ozinga decided to start powering its concrete trucks with compressed natural gas in 2011, with the goal of reducing costs and emissions. The company has since been working to convert its entire fleet of 500 concrete trucks and support vehicles to compressed natural gas by 2020.
Companies such as Ozinga that transition to alternative fuels are helping to reduce the nation's dependence on imported oil, said Carl Lisek, executive director of South Shore Clean Cities.
Compressed natural gas has increasingly been catching on as a popular alternative to gasoline. In Indiana, a compressed natural gas station recently opened in Vincennes, and Muncie is switching its police cars and garbage trucks to the fuel.
Indiana had nine compressed natural gas stations before Ozinga opened the new one in Gary, according to the U.S. Department of Energy. The closest had been at the Fair Oaks Farm in Jasper County.