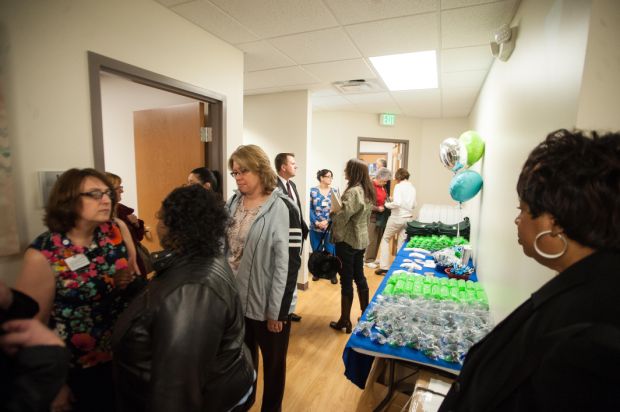 HAMMOND │ A new clinic made possible by a Federally Qualified Health Center grant to Regional Mental Health Center will offer affordable health care for all ages.
Regional Health Clinic hosted an open house Tuesday at its new location at 559 State St. near downtown Hammond.
Executive Director Sherry Oman said affordable, quality-oriented preventive health care for all is available at the clinic.
"Our doors are open to everyone, including those receiving public housing, mental health services and people who are homeless," she said.
North Township Trustee Frank Mrvan said he is a big believer that partnerships make communities stronger. The township partnered with Regional Mental Health so its clients can get the access and therapy they need and in an affordable way.
"The trend with the federally qualified health centers is it will give us accessibility to people who may not have health care," he said. "A child can come here and receive medical assistance for bronchitis or for an earache instead of going to the emergency room and paying $500 or $600 and the state or federal government picking that up. The township will benefit because it will keep our prescription drug costs down and it will give accessibility and mobility to our clients."
U.S. Rep. Pete Visclosky, D-Merrillville, said the clinic will improve the quality of life not just the residents of Hammond but all of Northwest Indiana.
"It's bringing recognition that there's no division between physical and mental health," he said.
Visclosky said it assures that those who do not have insurance or not enough insurance have some footing in the community.
Regional Mental Health Center President and CEO Bob Krumwied said the creation of the clinic took a lot of perseverance and dedication.
"This has been a culmination of an awful lot of hard work," he said.
Fees are based on a sliding fee and discount schedule.