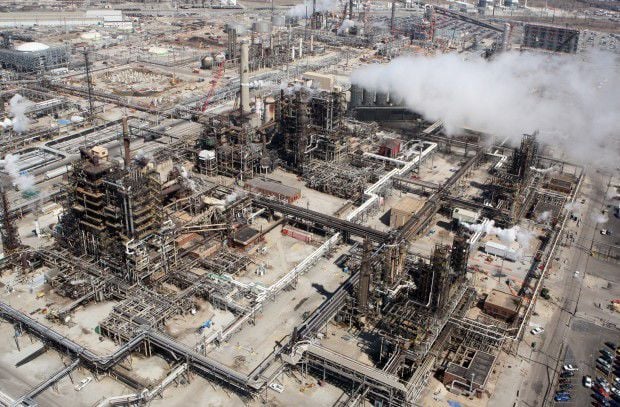 Production continues to plunge at the BP Whiting Refinery at a time when stay-at-home orders during the coronavirus pandemic have forced people to cut back on driving so much that insurance companies have been offering rebates.
The 430,000-barrel-per-day refinery on the Lake Michigan lakeshore, which supplies gasoline to seven Midwestern states, is now operating at about 70%, or 300,000 barrels per day, sources familiar with plant operations told Reuters.
"We do not comment on the daily operations of our facilities," BP spokesperson Sarah Howell said.
Gas prices nationally average $1.75 per gallon because of the sharp drop in demand, but have finally started to tick up again after crude oil prices fell below $0 a gallon.
"It's becoming a bit clearer that those 99-cent-per-gallon gas prices from the COVID-19 pandemic are solidly behind us as gasoline demand rebounds across the country as cities and states slowly reopen. The lowest priced stations in the country will see some upward movement, but most areas will still see declines," said Patrick DeHaan, head of petroleum analysis at GasBuddy. "While oil may continue to struggle, a disconnect between low oil prices and rising gasoline prices has emerged at the hands of refineries that have slowed production over the past month to avoid flooding the market with unwanted gasoline."
Production at the BP Whiting Refinery and other refineries likely will remain depressed until prices recover more.
"As demand stages a rebound, it remains to be seen how quickly refiners will raise production to meet the locations that have or will begin to re-open in the days and weeks ahead," DeHaan said. "For now, expect prices to see upward potential — but only in the lower-priced states — as we await a boost in gasoline production."
Gas is now selling for as little as $1.62 a gallon in the Gary metro area that encompasses most of Northwest Indiana, according to GasBuddy.com.