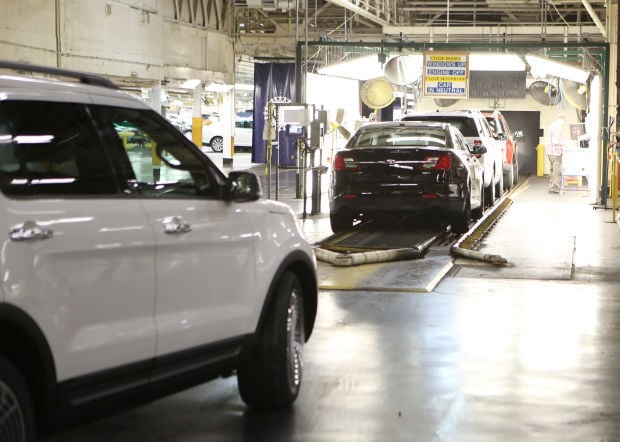 CHICAGO | Nearly 100 workers at Ford's Chicago Assembly Plant got a robocall on Halloween telling them their services were no longer needed and they were terminated.
It wasn't a trick or a morbid prank.
Dozens of workers missed the call or didn't believe it, so they showed up to work Saturday anyway, according to an autoworker who wished to remain anonymous. They found their ID badges had been disabled and were told by security they had been fired.
"As part of our normal business process, we've temporarily adjusted our workforce numbers at Chicago Assembly Plant," Ford Motor Co. said in a statement.
The workers were laid off through a robocall, which may have been intended to prevent sabotage or workplace violence, the autoworker said. The worker said United Auto Workers union members have never been fired by robocall before and it was disturbing they were treated that way.
The layoffs at the 2.8 million-square-foot plant on the Calumet River on Torrence Avenue in Chicago are the first since 2008, when the Dearborn-based automaker idled production to adjust to weakened demand during the Great Recession. The South Side factory, one of the Calumet Region's largest employers, made only sedans at the time, but has been thriving since a $400 million investment in 2010 enabled it to produce the Explorer, the Taurus, Police Interceptor versions of both those vehicles, and the Lincoln MKS.
Over the last few years, Ford added second and third shifts to keep up with sales of the hot-selling Explorer. Employment at the massive automotive factory in Hegewisch swelled to a high point of 4,100, up from about 1,200.
Explorer sales rose 6.4 percent in October, and are up by 5.6 percent year-to-date, Ford reported Monday. But Taurus sales plunged by 40 percent last month, and are down 22.3 percent so far this year
Lincoln MKS sales were even worse, falling 43 percent in October and 24.5 percent through the first 10 months of the year.
Inventories of vehicles made at the 90-year-old Ford plant have bulged to more than a three-months supply, the autoworker said. Ford likely wants to cut back on production to bring supply close to the industry standard of around 60 days, down from more than 100 days.
Layoffs are an extreme step, since about eight to 10 workers leave every week and the same workforce reduction could be achieved relatively quickly through natural attrition, the autoworker said.
Ford laid off a total of 96 long-term supplemental workers, who were all hired within the last four years to keep up with increased production, the autoworker said. The affected workers made $15.72 an hour, worked at least 40 hours a week, and were essentially third-tier after more senior workers who were at the plant before the expansion and newer second-tier entry-level workers who were hired to drive up Explorer production.
Long-term supplemental workers with the least seniority were fired, the autoworker said. They could be rehired if production and sales volume pick back up, but that likely would not happen until at least next spring, when more people are out buying cars.
"A lot of people thought it was a joke," the autoworker said. "But then when they swiped the badge, they couldn't get in. It's unnerving. A lot of workers, especially those with low seniority, are worrying now about when the next shoe is going to drop."
"As part of our normal business process, we've temporarily adjusted our workforce numbers at Chicago Assembly Plant." -- Ford Motor Co.
"A lot of people thought it was a joke. But then when they swiped the badge, they couldn't get in. It's unnerving. A lot of workers, especially those with low seniority, are worrying now about when the next shoe is going to drop." -- Ford auto worker