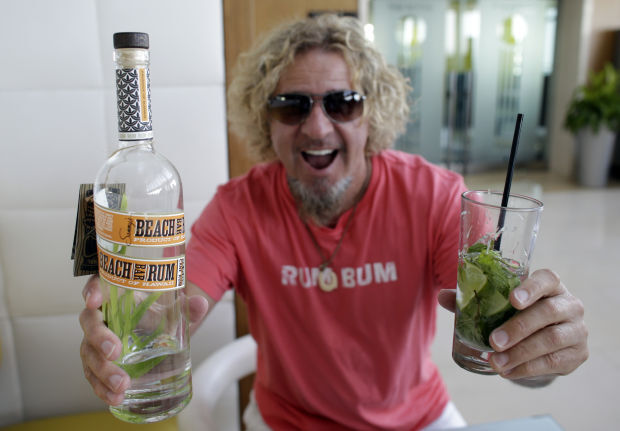 Sammy Hagar, the Red Rocker and Van Halen singer who can't drive 55, will headline Festival of the Lakes in Hammond this year.
The Rock and Roll Hall of Famer will perform in the prominent Saturday night slot at the annual summer festival that takes place at Wolf Lake Memorial Park at 2324 Calumet Ave. between July 13 and July 18.
"I'm psyched," Hammond Mayor Thomas McDermott said. "He's a legend. He was the first concert I saw as a little kid, when I was maybe 15."
Hammond brought in Hagar as a last-minute replacement for Snoop Dogg, who was supposed to headline last year before the festival was cancelled because of coronavirus. The contract stipulated that Snoop Dogg would play this year instead, but he exercised an opt-out clause because of his television commitments.
Snoop Dogg is now one of the judges on the Go-Big Show, a talent show on TBS. Hammond will try to book him for next year's Festival of the Lakes.
"It just didn't work out. He's busy with TV and commercials," McDermott said. "We're a victim of circumstance but we'll look to get him next year."
Hammond is close to getting Jason Bonham, the son of Led Zeppelin drummer John Bonham, to perform with Hagar, which would mean it would be a concert by Sammy Hagar and The Circle, his normal touring band. 
"It includes Michael Anthony, the bassist of Van Halen," McDermott said. "Half of Van Halen will be on stage."
Currently the show is booked as Sammy Hagar and Friends until it's known for sure whether Bonham will be able to play the gig.
With the Circle, Hagar typically plays hits from Van Halen, Led Zeppelin and Montrose. It will be his first concert in Hammond.
"When we still had the Holiday Star, he was too big and played the United Center," McDermott said. "He hasn't played the Horseshoe Casino yet."
McDermott expects Hagar will draw in out-of-towners, especially since REO Speedwagon will play the night before.
"We have two nights of classic hard rock," he said. "I expect people will travel to Northwest Indiana to see Sammy Hagar and hotel sales will pick up."
The Festival of the Lakes lineup also includes REO Speedwagon, the O'Jays, Old Dominion, Limp Bizkit and Los Tucanes De Tijuana. The concerts are free but parking is $30 and Hammond sells $75 VIP tickets that allow people to be closer to stage.
Sales have been strong this year, likely in part because of pent-up demand with the pandemic, McDermott said.
"We've sold $175,000 worth of tickets over the past two months, which is a new record for us," McDermott said. "It's turned into a real money maker for us. You can still go for free but every year it seems that's further and further from the stage. This gives you great access."
When Hagar is performing, the festival will sell his Cabo Wabo rum along with the usual drinks, including from the Hammond craft breweries 18th Street Brewery and Byway Brewing.
Hammond is still in the process of booking opening acts and any bands that are interested should contact Donna Muta at mutad@gohammond.com.