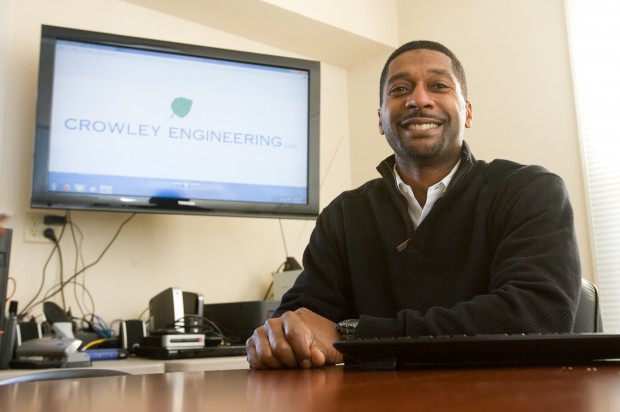 SCHERERVILLE | Gregory Crowley decided he wanted to be "my own boss" and in 2003 opened his company, Crowley Engineering LLC as a home-based business.
It originally operated under the name CEG Industrial Systems as a manufacturer's representative firm working for companies that sold engineered products. But over time, the name was dropped in favor of Crowley Engineering and in 2008, Crowley opened an office in Crown Point.
Then almost two years ago, Crowley decided to make a switch from being a manufacturer's rep to providing engineering services in the areas of energy management, environmental health and safety, and forensic engineering.
"We reorganized about 2011 to provide engineering services because there is more demand for more consulting and delivering engineering services rather than making product sales," he said. "I had worked with clients on waste water treatment projects and that experience gave me insight to the industry, and there I saw an opportunity to help clients more directly."
The company helps its clients "fill a void," Crowley said.
"I saw an emerging trend that operators and superintendents were baby boomers preparing for retirement," he said. "They have a lot of experience but those preparing to take over the jobs are more tech-savvy so I saw a need for more integration into technology. I saw an opportunity to help clients with their work force."
Crowley invested a lot of time and money in his business, but the bulk of it came years before he opened his firm.
"The challenge isn't so much for the start up," he said. "The investment in education and training, that took a lot of time."
Crowley has an undergraduate degree in mechanical engineering from the University of Notre Dame, a master's in the same field from University of Maryland and a Masters of Business Administration from Cornell University.
He and his wife, Kelly, who originally is from Gary, eventually decided to establish roots in Northwest Indiana and moved their family to Schererville in 2002.
Crowley has his company certified as a minority business enterprise. The company also meets the criteria established by the Small Business Administration as a small business enterprise.
Beside Crowley, the company has three other employees, all engineers. Two of them are woman, which Crowley says is very unusual in the field.
"The key is that what were typically doing is working with municipalities, industrial firms and manufacturers to address issues like driving down utility expense and regulatory compliance, and those issues in regard to the health and safety of workers and equipment, like an OSHA (Occupational Health and Safety Administration) compliance concern," he said.
Crowley Engineering performs an onsite investigation identify hazards in the work environment.
"They know they have a safety concern but don't always know exactly what," Crowley said. "We identify the problems and help them mitigate them."