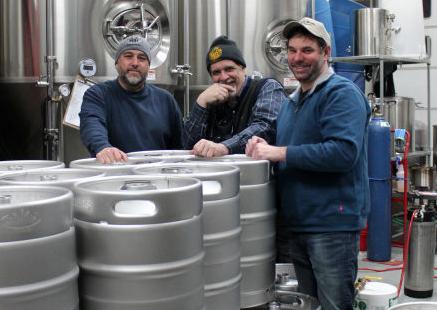 ST. JOHN | Like Mr. Smith, St. John Malt Brothers is going to Washington.
The fast-growing St. John-based craft brewery will pour three of its beers for a private tasting at the U.S. Capitol in Washington D.C. on Wednesday. The Brewers Association, which represents 2,800 craft breweries and 45,000 homebrewers, invited 30 craft breweries from all over the country to serve their beer to Congresspeople and their staffers as part of a lobbying effort.
St. John Malt Brothers President James Estry and Vice President Dan Cox will offer members of Congress samples of their Hesperidium India Pale Ale, Burnt Bottom Brown and Killer Queen BB's IPA at the Rayburn House Office Building across from the U.S. Capitol Dome.
"We are excited to be able to participate in this event and to be able to bring high quality Indiana beers to our nation's capital," said Jim Estry, President of St. John Malt Brothers.
St. John Malt Brothers is the only Indiana brewery that will be there, Estry said. Chicago-based Atlas Brewing Co. is the only other area craft brewery to attend.
"The Brewers Association was taking applications," Estry said. "We applied and were accepted. We thought it would be neat. We obviously don't have any beer out there in Maryland or Virginia."
Lobbying has grown increasingly important for the rapidly expanding craft brewing industry. The Brewers Association reports America had a record 4,144 breweries at the end of November, surpassing the previous high mark of 4,131 in 1873, when a lack of refrigeration made neighborhood breweries essential.
Most of the brewing laws date back to before or just after Prohibition, and regulations have yet to catch up to the craft beer revolution that's been sweeping the country, Estry said.
Brewers don't think Wednesday's sampling event will have the drama of the 1939 classic "Mr. Smith Goes to Washington," but like the film's protagonist they hope to change some minds.
Three Floyds recently teamed up with Indianapolis-based Sun King to successfully lobby the Indiana state legislature to raise the amount Hoosier craft breweries can brew for sale in Indiana to 90,000 barrels a year.
Craft brewing has been booming as Millennials and other beer drinkers have shifted away from mass-produced lagers to more complex, flavorful styles.
St. John Malt Brother opened in February with high-end computerized European brewing equipment and a 15-barrel production capacity. It's already grown from six employees to 18 as the beer is now distributed by Indiana Beverage across Northern Indiana and self-distributed in Indianapolis, Lafayette, and Fort Wayne.
"They're not great-paying jobs yet, but they're also not minimum wage jobs," Estry said of the jobs created at the brewery. "Craft brewing in general has become a large industry with a lot of growth."
St. John Malt Brothers continues to expand and is looking to enter the Bloomington and Evansville markets in Southern Indiana. The craft brewery has filed paperwork to expand distribution to Illinois and is looking to distribute in Ohio because of requests it's received from western Ohioans who tried the beer in Fort Wayne.
Though there's still a long way to go, Estry would eventually love to see St. John Malt Brothers sold in the Washington D.C. area and nationally. 
"A few years ago I was in Seattle, and I saw Three Floyds, maybe Alpha King, and Bell's Two-Hearted Ale on tap," he said. "That shows the potential of good craft beer in the market."