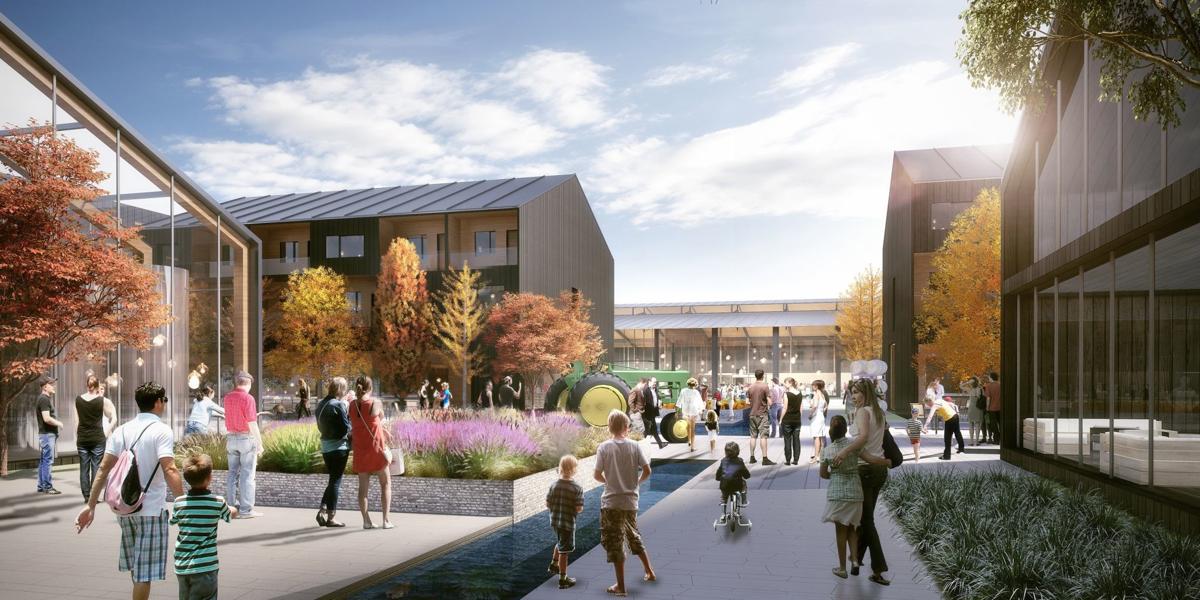 Merrillville officials are hailing White Lodging's proposed $356 million redevelopment of the Star Plaza site as a "game changer for Northwest Indiana" and a "main attraction."
The Merrillville-based hospitality company revealed it plans to replace the razed Star Plaza Theatre, the demolished Radisson at Star Plaza hotel and the soon-to-be-torn-down Twin Towers with The Farm at Crossroad Commons, a walkable town square-like development that could bring in conferences and trade shows and serve as a gathering place for the Region. The ambitious mixed-use project would include a meeting and event center, four hotels, an office building, a below-grade parking garage, a townhouse, condos, two restaurants, a craft brewery and distillery, an art gallery, a visitors center, a greenhouse, a 30,000-square-foot horse-riding arena, and 24,000 square feet of outdoor space.
Collectively, the Farm at Crossroad Commons would have more than twice as much meeting space and about 190 more hotel rooms than the Radisson did, and about half as much office space as the Twin Towers.
"It's an excellent opportunity for Merrillville and Northwest Indiana," Merrillville Town Council President Richard Hardaway said. "It would be a game changer for an economic development standpoint."
He likened the project to late billionaire Dean White's original development of a Holiday Inn and the Star Theatre that transformed cornfields at U.S. 30 and Interstate 65 into one of the Region's most bustling commercial areas.
"You have to go back 40 years to the Holiday Inn and the Star Theatre to have anything of this magnitude built in this area," he said. "It could improve the quality of life of everybody in Northwest Indiana."
Hardaway said he liked how an underground garage would let them build over the whole 40-acre site and that such an investment could help spur more redevelopment in the area, such as at the old Century Plaza mall and vacant Staples big box store.
"This could have an impact for another 40 years," he said. "They always promised to do something, but this exceeds my expectations. It could be a game changer here in Northwest Indiana."
Local unions are excited about the 600 construction jobs that could be created during the three-year-building, and the community would benefit from the 1,000 direct and indirect permanent jobs, town council member Shawn Pettit said.
"The White family has repeatedly done these types of projects such as the Bulldog Field in Crown Point and the YMCA in Crown Point, but this would be head and shoulders above any of those projects," he said. "It would be a game changer not just for that area or the town of Merrillville but for all of Northwest Indiana. It would be jobs for people in Griffith, Hobart, Highland, Hammond, East Chicago, and all over."
He has started lobbying the Lake County Council for support since White Lodging is asking for $138 million in incentives from the town, county, and state, including $75 million from a new 1 percent food and beverage tax in Lake County.
"This project is a home run, which if the Cubs hit yesterday they would still be in the playoffs," Pettit said. "If they bring in conventions and trade shows, we'll have more visitors staying at hotels and eating at restaurants."
He thinks it could even be a hub for community events, such as Northwest Indiana Symphony Orchestra concerts on an outdoor lawn or the Crossroads Regional Chamber of Commerce's annual corn roast.
Town council member Margaret Uzelac said the Farm at Crossroad Commons would bring in revenue and more business to the area.
"It will add more features to bring people in and it's where people would want to come to stay," she said. "It's an attraction right off the interstate. It could be even bigger than what was there before. It will mean a lot of traffic, a lot of people. It could be a main attraction."
The business news you need
With a weekly newsletter looking back at local history.