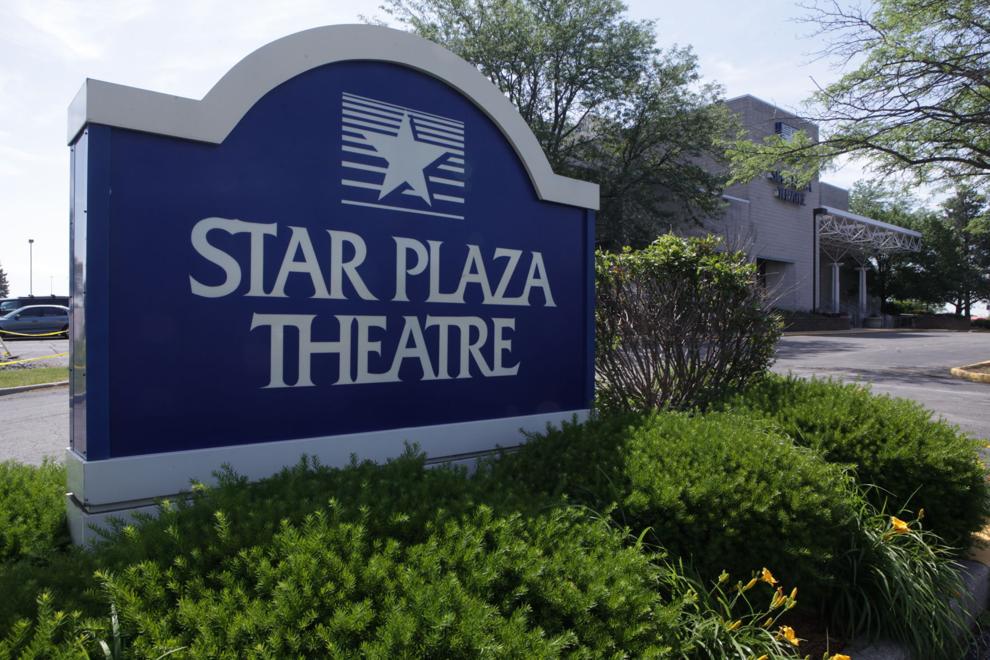 The landmark Star Plaza Theatre got an encore, but it proved to be short-lived.
White Lodging announced in August it would tear down the historic concert venue and the neighboring Radisson at Star Plaza hotel in Merrillville to make way for a new hotel. But then it reversed course in November after an outpouring of public sentiment, saying only the 47-year-old, 330-room hotel would be razed.
Now, however, White Lodging is aiming higher and has a big, new plan for redeveloping that northwest corner of Interstate 65 and U.S. 30 — perhaps Northwest Indiana's most heavily trafficked intersection — that will require all 30 acres of land at the site.
The company now plans to demolish the Star Plaza Theatre after a final show with the Oak Ridge Boys in December — and also the nearby Twin Towers, the gleaming gold glass office buildings that are the second-tallest structures in Merrillville after the Chase Bank Centre, according to building database, Emporis. All three buildings will come down next summer.
"I'm saddened to hear this morning that they have decided to demolish the Star Plaza Theatre," said former President and CEO Charlie Blum, who retired from the position and moved down to Florida earlier this year but continues to do some concert booking. "Although I left the company back in February, the memories and relationships will be with me forever. (White Lodging CEO) Bruce White is one of the greatest visionaries in corporate America and I'm confident the new development will be extraordinary and a welcome addition to Northwest Indiana."
Late billionaire Dean White built the identical seven-story towers at 1000 E. 80th Place in Merrillville in 1972, giving low-slung suburban Merrillville a bit of a skyline. The 220,000-square-foot office complex is home to 27 tenants, including many law firms, banks and insurance companies. It also was home to Brown Mackie College, until it closed last summer.
Commercial real estate firm Commercial In-sites estimated in a 2016 market study the towers have a 27 percent vacancy rate, more than any other Class A office building in Northwest Indiana except for Winfield Woods and the eight-story Chase Bank Centre just down the street.
Merrillville-based White Lodging, a national hotel developer and operator owned by Dean White's son Bruce White, will honor existing leases and expects the office complex will be vacated by next summer.
"It's going to create 100,000 square feet of tenants who need to find space," Commercial In-Sites owner and managing broker David Lasser said. "That will help an awful lot of buildings. The market can absorb it, but it won't all stay within a mile. Some firms will say 'here's a chance to go to Schererville or Valpo or Crown Point.'"
The company said the Twin Towers and Star Plaza Theatre — both of which White built in the 1970s, transforming the surrounding area from cornfields to Northwest Indiana's most bustling commercial hub — have to go to make way for its expanded plans to redevelop the property. It had previously planned to just build a 220-room hotel with up to 20,000 square feet of meeting space.
"As we think about the end goal of creating a development with a unique sense of place that will enhance the local community for decades to come, it became clear through a collaborative effort with our development and land planning team that leaving the theater and office complex would have, in many ways, limited the full potential of the redevelopment," said Deno Yiankes, president and CEO of investments and development at White Lodging.
"While it will require some patience, we have no doubt this 'clean slate' approach will allow us to create a destination that will have an everlasting positive impact on Northwest Indiana, as Dean White's original development provided for nearly 50 years."
White Lodging said it will still build a hotel, but won't reveal further details of its plan yet or why it would require so much more land.
"Our priority remains initiating the redevelopment with a modern first-class hotel and overall phased development that honors Mr. White's legacy and serves and benefits the community for decades to come," Yiankes said.
"With this more comprehensive approach to the redevelopment, construction of the first phase including necessary infrastructure, will now likely commence sometime in the summer of 2018."
Dean White put Merrillville on the map with the 3,400-seat Star Plaza Theatre, originally known as the Holiday Star Plaza. In its heyday, it drew in countless A-list performers such as Bob Dylan, Jerry Seinfeld, Christina Aguilera, Liberace, Chris Rock, The Beach Boys, Garth Brooks, Willie Nelson, Tina Turner, George Carlin, Ringo Starr and Jimmy Buffet.
It's hosted touring Broadway plays, children's programs like "Sesame Street Live" and countless high school graduations. It's also long been home to pops concerts by the Northwest Indiana Symphony Orchestra, which shared the stage with greats like Itzhak Perlman, Dizzy Gillespie, Andre Watts and Rachel Barton. 
"This is potentially devastating for the Northwest Indiana Symphony Orchestra," Executive Director John Cain said. "No other venue is as large. We sold out our Holiday Pops concerts with 3,400 seats, and the pops help support the purely classical. This is a big worry for us."
The Northwest Indiana Symphony plans to move its pops concerts to the 1,400-seat auditorium at Highland High School, but Cain worries audiences might not be as inclined to go out for a night at the symphony if it's at a high school instead of a professional theater.
Built in 1979, the Star Plaza Theatre was one of the largest indoor music venues in the Chicago market before the industry shifted toward concerts at sports stadiums and music festivals. It was nationally known, and its five-year anniversary was celebrated with a tribute in the pages of Billboard Magazine. 
The Star Plaza was a regular Chicago area tour stop for performers like BB King, the Buckinghams and the Four Tops and recently has settled into a niche of bringing back proven, familiar acts such as "Weird Al" Yankovic, Alice Cooper and the Oak Ridge Boys, who play a popular Christmas show and have performed at the Star Plaza Theatre every year since it opened.
Upcoming concerts that will offer many a last chance to see a show at the Star Plaza include R Kelly, Ted Nugent and Dancing with the Stars Live.