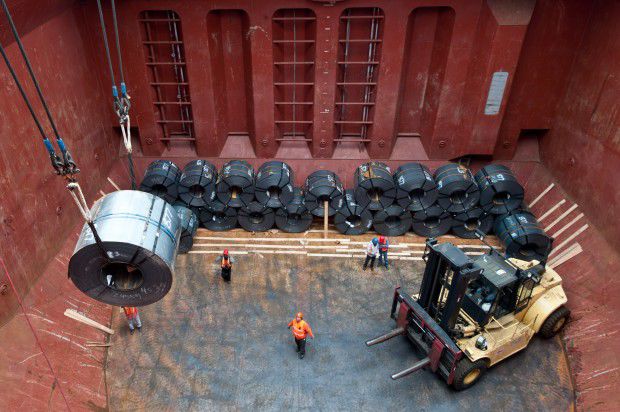 Steel imports fell by 4.8 percent to 3.34 million tons in August, according to preliminary U.S. Census Bureau data.
More dramatically, imports of finished steel products that wouldn't require any further processing at U.S. facilities such as those in the Port of Indiana-Burns Harbor dropped by 16.8 percent to 2.4 million net tons last month.
Despite the dip in August, the American Iron and Steel Institute reports that imports have grabbed 28 percent of the U.S. market share so far this year, which is still well above normal. Steel imports for the first eight months of 2017 total 26.5 million tons, a 20.6 percent increase over the same period in 2016. 
Imports of finished steel products have risen 15.5 percent year-over-year to 20 million tons over the first eight months of 2017.
So far this year, imports of oil country goods are up 250 percent, according to the AISI. Imports of standard pipe have increased by 47 percent, line pipe by 42 percent, sheets and strip all other metallic coatings by 33 percent, mechanical tubing by 32 percent, cold rolled sheets by 31 percent, hot dipped galvanized by 25 percent and hot rolled bars by 19 percent.
In August, the only notable increase was an 8 percent jump in imports of wire drawn steel products.
While Canada sends more steel to the U.S. than any other country, the largest offshore suppliers in August were South Korea, Japan, Taiwan, Turkey and Germany.
So far this year, South Korea has sent over 2.6 million tons of steel, a 3 percent decrease compared to the first eight months of 2016. Imports from Turkey, Japan, Taiwan and Germany have all increased this year.
Most dramatically, steel imports from Taiwan have shot up by 39 percent.