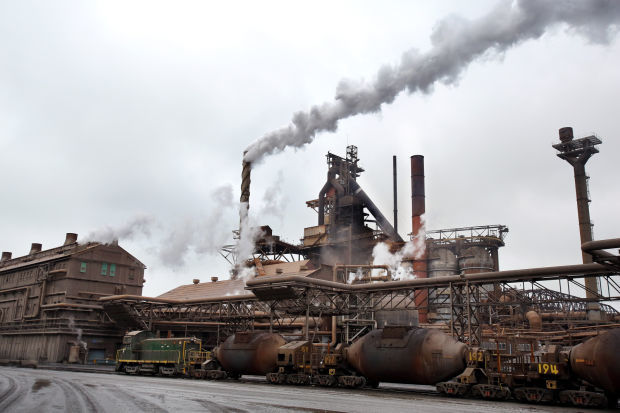 American steel mills shipped 7.7 million tons in February, a 4.2% increase over the 8 million tons shipped in January.
The American and Iron and Steel Institute reports that shipments were up 2.9% in February as compared to the 7.5 million tons shipped in February 2018. Shipments are a key metric for the financial health of the steel industry since they reflect the amount of steel actually sold to customers.
So far this year, domestic steel mills shipped 15.8 million tons of steel coil and other metal products, a 4.4% increase over the 15.1 million tons shipped over the same period in 2018.
In February, shipments of hot-rolled sheets were up 2% as compared to January, according to the American Iron and Steel Institute. Shipments of cold rolled sheets fell 3% and hot dipped galvanized sheets and strip declined by 4%.
Steel prices remained largely steady in February. Hot-rolled band sold at $701 a ton in the United States during February, up 1.2% over January, according to the steel pricing website SteelBenchmarker. Cold-rolled coil sold for $814 a ton, while steel plate sold for $989 a ton.
So far this year, U.S. steel mills have cranked out 26.1 million tons of steel, a 6.8% increase over the same period in 2018, according to the American Iron and Steel Institute. The U.S. steel industry has benefited from the Section 232 tariffs of 25% on all foreign-made steel.
Imports of steel are up by 0.1 percent so far this year but are only currently capturing about 19 percent of the U.S. steel market, which is significantly lower than the market share they had during the import crisis a few years ago when steelmakers lost billions of dollars, laid off thousands of steelworkers around the country and idled mills, most of which have since been brought back online because of the improved market conditions.