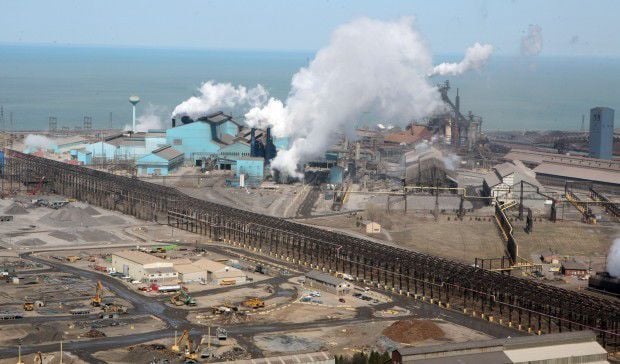 Last year, the domestic steel industry that powers so much of Northwest Indiana's economy thrived.
After years of global over-production and a flood of dumped steel at U.S. ports, the federal government imposed Section 232 tariffs of 25% on steel imports that lifted hot-rolled steel prices to more than $912 a ton last July.
In 2018, ArcelorMittal turned a $5.1 billion profit while ArcelorMittal USA had its best year since 2007. U.S. Steel tripled its annual profit to $1.1 billion, delivering its best return on capital since 2008.
Steelworkers secured raises of 14% over the next four years, their first pay increases in years.
Steel prices peaked last summer and have been largely declining since then. The automotive business, one of the largest consumers of the steel forged on the Lake Michigan lakeshore in the Calumet Region, has fallen off. Non-residential construction, the other big end user of steel products, also hasn't been seeing much growth.
Input costs of iron ore and other materials rose along with steel prices. Service centers haven't been buying as much steel, as economists warn of a recession. And now workers at General Motors, one of the biggest customers of the steel industry, is on strike.
The steel pricing website SteelBenchmarker estimates the price of a hot-rolled coil fell from $731 a ton at the beginning of the year to $577 a ton earlier this month.
Steel prices have now fallen lower than they were before the Section 232 tariffs were put in place in March of 2018. Hot-rolled coil was selling for $658 a ton last January.
As prices have sagged, three of the largest steel companies in the country — U.S. Steel, Fort Wayne-based Steel Dynamics and Nucor — all warned their financial results would be worse than projected in the third quarter. U.S. Steel now expects a loss of 35 cents a share when Wall Street analysts had projected a loss of 6 cents a share.
The Pittsburgh-based steelmaker idled the #8 blast furnace at Gary Works and is "indefinitely idling" East Chicago Tin, laying off an estimated 150 steelworkers.
"U.S. Steel's got some real problems," New York City-based steel industry analyst Charles Bradford said. "ArcelorMittal's not doing so well either. The steel industry's got some real problems."
Non-residential construction has remained flat as an infrastructure program Congress and the last two administrations have bandied about has stalled, Bradford said. Automotive sales peaked a few years ago and have been going downhill.
"There's clearly no growth," Bradford said. "Automotive has a bleak outlook."
U.S. Steel also is spending $2 billion to catch up deferred maintenance of its aging facilities, including $750 million at Gary Works. Bradford said the company had put off such investments for too long.
"The company hasn't built a new hot strip mill since 1965," Bradford said. "The blast furnaces are 100 years old, though they have been rebuilt many times since then."
The company's stock is trading at about $11 a share, down from about $195 a share in the 2000s when a global material shortage was forecast, Bradford said.
"The company's financial peak was in 1916," he said. "The company has not performed in the 50 years I've been covering them. They do not have what I would call first-class management. There's been internal politics. And they have missed three cycles of improved technology. They blame foreigners and import, but minimill capacity was 15% of the steel output in 1970 and 70% today."
Steel prices had been rebounding a little earlier this year, but the GM strike will mean a huge disruption in the business and sideline any recovery in pricing, Bradford said.
"Now it's a buyers' market," he said. "Customers were holding back knowing there would be a strike at one of the automakers. Service centers don't want to sit on expensive inventory."
The much-touted rennaissance of the U.S. steel industry did not materialize, Bradford said.
"What I was confused about is how optimistic everyone was," he said. "A year ago, Barron's ran a big bullish story about buying steel stocks. That was perfectly the wrong time."
The business news you need
With a weekly newsletter looking back at local history.