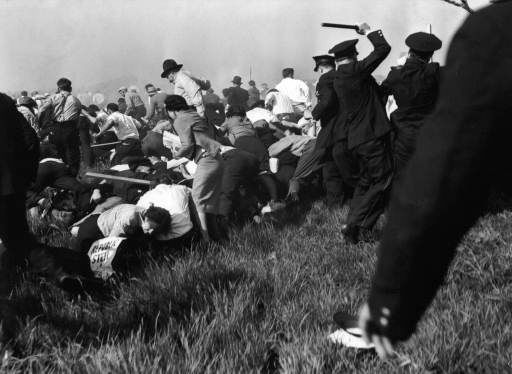 On Saturday, the United Steelworkers union will commemorate the steelworkers who were shot, clubbed and gassed by police more than 80 years ago while picketing for decent wages on a prairie outside the long-defunct Republic Steel mill in Hegewisch.
USW District 7 Director Mike Millsap and Oscar Alzaga, a labor lawyer for Los Mineros, will give speeches at the annual Labor Fightback Festival at 2 p.m. Saturday at the USW Local 3212 hall at 11731 S. Avenue O on the far South Side of Chicago.
Those gathered will remember the 10 steelworkers who died on Memorial Day in 1937: Sam Popovich, Earl Handley, Lee Tisdale, Leo Francisco, Kenneth Reed, Otis Jones, Joseph Rothmund, Alfred Causey, Anthony Tagliori and Hilding Anderson.
The union's annual Republic Steel Memorial Day Massacre Commemoration traditionally features a march that mirrors the march of steelworkers, including many who worked at Northwest Indiana mills, toward the Republic Steel gates.
Ten died and 90 were injured in the workers' confrontation with police during the Little Steel Strike at the Republic Steel plant near the Grand Calumet River. The Encylopedia of Chicago described it as "one of the most violent in the history of U.S. labor organization," and John F. Hogan's book "The 1937 Chicago Steel Strike: Blood on the Prairie" described an officer putting a club with a meat hook at the end through one worker's skull. 
Accounts vary, with some saying strikers rioted or threw rocks at the officers and others saying the violence was completely unprovoked during a peaceful demonstration asking for union recognition. The slaying of the unarmed workers was eventually deemed "justifiable homicide" by a coroner's jury.
"Join us in remembering and commemorating the sacrifices they made in order to protect the rights of workers and labor unions," the USW said in a statement.
Food and refreshments will be offered at 1 p.m. with the presentation starting at 2 p.m.
The business news you need
With a weekly newsletter looking back at local history.