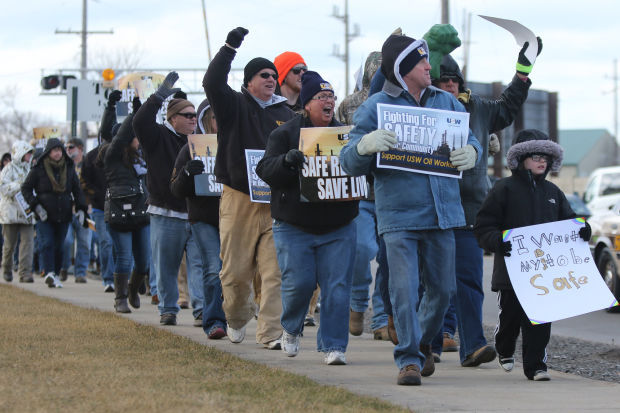 The United Steelworkers is planning rallies nationwide, including in East Chicago on Wednesday and Gary on Friday, in response to steelmakers' proposals to cut benefits.
USW is planning "a busy week of events" starting with a national day of action on Wednesday that includes a rally outside East Chicago Tin in East Chicago. The union said steelmakers are capitalizing on a downturn in the business to claw back benefits and compensation, and wants to send a message that it's ready to strike if that's necessary to win a fair contract.
"And U.S. Steel local unions will cap off the week with major actions on Friday, Aug. 21," the union wrote in an update to members. "The day will culminate with a mass 'Solidarity on the Lakefront' march and rally in downtown Gary ... on Friday afternoon."
ArcelorMittal and U.S. Steel, which have both been losing money amid turbulent market conditions in the U.S., have proposed cutting compensation and health care benefits, such as by forcing members to pay significantly higher deductibles and monthly premiums. The steelmakers have declined to comment on the ongoing negotiations for a new contract after the current one expires in September.
Steelmakers have suffered as a record tide of imports has depressed prices and made them unprofitable, leading to plant idlings and thousands of layoffs nationwide. U.S. Steel had curtailed production at East Chicago Tin, reducing staffing to a skeleton crew. 
Both ArcelorMittal and U.S. Steel have been working to cut costs in America, and both kicked off this summer's negotiations by proposing reductions in health care benefits for both active and retired workers. Both want to dump coverage for retirees and push them onto the private health care exchanges.
The union said management wants to scrap hard-earned gains they've achieved through bargaining over the years, and it won't stand for it.
"Local union activists at each side are coming together to make plans to organize picket lines, mobilize community support, and administer strike or lockout assistance in the event of a work stoppage," the union wrote in an update to its members.
"Certainly nobody wants to go through the hardship of a strike or a lockout but, as the old saying goes, 'the best way to prevent a strike is to actively prepare for one.' At the table, we are absolutely committed to continue to struggle for the fairness and dignity we have earned through generations of hard work and sacrifice."
USW Locals 1010 and 1011 will rally at 1:30 p.m. at 101 E. 129th Street outside East Chicago Tin in East Chicago Wednesday; Locals 1066 and 1014 will begin a march at 600 E. 5th Ave. by the U.S. Steel Yard at 3:30 p.m. Friday. They will march about half a mile to Gateway Park at 4th and Broadway, where a rally will take place.