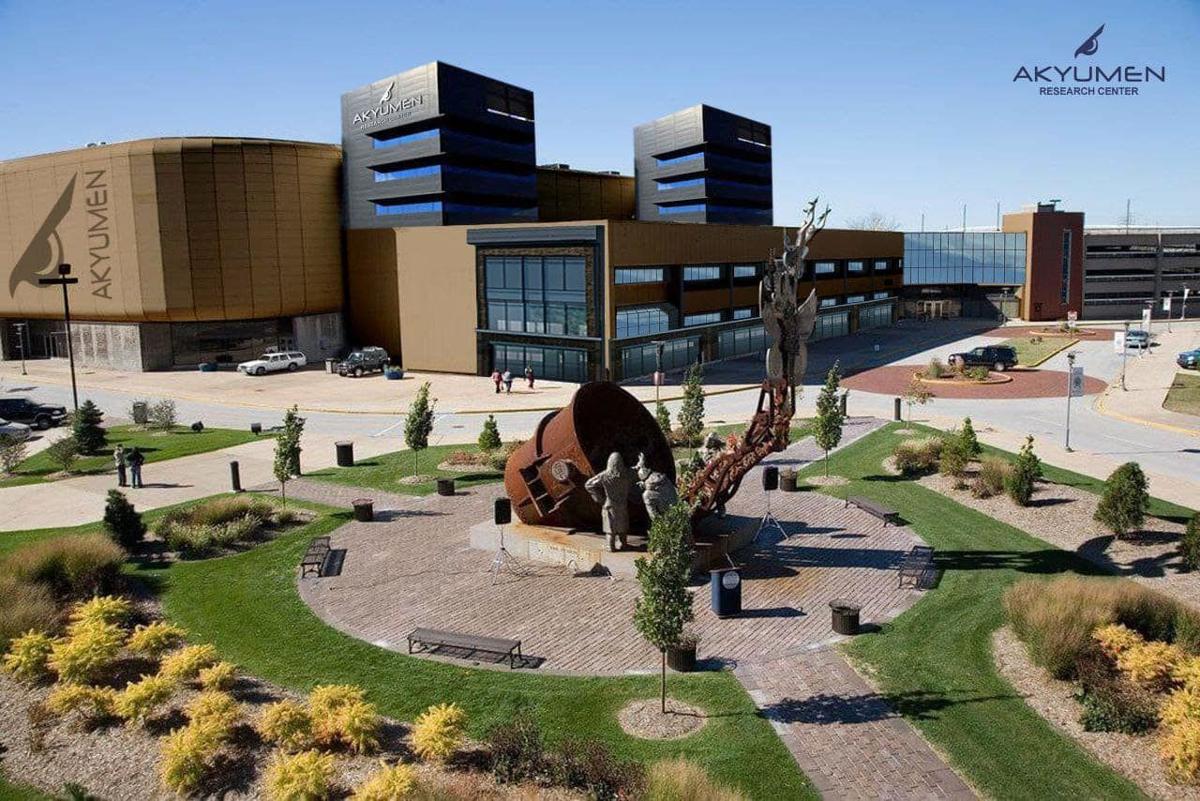 It's not every day a Los Angeles-based tech company announces it will relocate to Gary, where it claims it will invest $100 million and hire up to 2,000 people at a state-of-the-art smartphone and "nanotechnology materials" factory, a movie and music studio and a "smart city."
"As you know, in California, everything is shut down," Akyumen Technologies Corp. CEO Aasim "Awesome" Saied said at a news conference Tuesday in downtown Gary.
That includes his company's ability to raise capital in the Golden State, according to records from the state of California. 
Akyumen, which is negotiating with Gary over a sale or lease of the Genesis Convention Center to use as its new corporate headquarters, was barred from selling securities in the state of California in June after the California Department of Financial Protection and Innovation, formerly the Department of Business Oversight, found the company had made "untrue statements" to investors.
On June 17, California's Department of Business Oversight issued a desist and refrain order to Akyumen, Saied and business partners Jane Lin and Sheila Soeleman, barring them from soliciting investments in California, the nation's hub for venture capital funding for tech companies.
The state of California determined a company that claims it will invest $100 million in Gary over the next three to five years failed to repay an investor a promised $17,500.
"Akyumen purported to design, build and market state-of-the art mobile communication devices like the 'Hawk' Smartphone projector and the 'Falcon Tablet,'" the department said in the desist and refrain order. "Beginning in 2016, Akyumen, Saied, Soeleman and Lin offered or sold securities in California in the form of common stock in Akyumen. At least one California investor purchased 1,000 shares of Akyumen stock for $17,500. In connection with the offer or sale of these securities in this state, Akyumen, Saied, Soeleman and Lin made untrue statements of material facts."
The company promised the California investor that after it sold 40,000 mobile devices or by February 2018 it would return the entire principal of $17,500 while allowing the investor to keep 1,000 shares of stock, according to the desist and refrain order. But the state of California found that the company misrepresented "that a sales target of 40,000 devices would be easy for Akyumen to achieve" and had not returned any investment principal despite numerous requests.
California concluded the company misled investors and barred it from offering, selling, buying or offering to buy any security in the state, including subscription investment contracts.
Gary Mayor Jerome Prince said his office was aware of the company's ban on selling securities in California, but stressed the city is not offering the company any incentives, just looking to sell its property, or potentially a lease-to-own deal in the case of the Genesis Center.
"Our team had vetted them," he said. "We're not taking ownership or buying stock in them. We're just looking to sell them a parcel of land. We feel fairly safe about it."
Prince said the company has assured him it has enough funding for the project.
"This transaction is a work in progress, and we're offering them an opportunity to buy the Ivanhoe Gardens site," he said. "The city isn't on the hook for anything. We don't have any liability. There's always healthy concerns, but we don't have any transaction outside of the interest in the purchase of land."
Akyumen spokesman Mustafa Saeid said the company was fighting the California securities ban in court. He said the ban was based on false information Akyumen Technologies never had a chance to contest and involved a different company that was created to distribute Akyumen smartphones. He said California banned Akyumen Technologies, which was incorporated in California in 2016, from selling securities while the city of Gary was doing business with Akyumen Industries, which was incorporated in Wyoming in January.
The California desist and refrain order, which also applies to "Akyumen" and "Akyumen Corp.," names CEO Aasim Saied and lists the exact same Los Angeles address as its headquarters Akyumen Industries is registered at in the state of Wyoming, according to the Wyoming Secretary of State's Office. Aasim Saied also is listed as CEO and secretary of Akyumen Technologies in its California registration, according to the California Secretary of State's Office.
Over the years, Akyumen has purported to develop a number of phones, tablets, phablets and other mobile devices with built-in projectors that can project whatever is on the screen, including streaming content, onto any wall or ceiling it's pointed at. The idea is that people could screen movies, presentations or classes from the palm of their hand.
Since 2013, the company has announced the development of several phones and tablets. However, while announcements of the products have garnered press coverage from tech media outlets like CNET, The Verge and Android Authority, none appear to have had mass market releases in the United States. None of the mobile devices are available for sale on the Akyumen website or for sale — new or used — on Amazon, the world's largest online retailer.
Akyumen's Holofone, for instance, originally was slated to release in June 2016 and then pushed back to September 2016, according to trade publications.
But a search of Google for any Akyumen devices currently available for sale only turns up a single Akyumen Projector Tablet with an open box that eBay user beanie0499 is selling for $599.99.
Gary is in talks with the company about moving its corporate headquarters into the underused Genesis Convention Center and building a factory to make 5G phones, tablets and phablets in a factory at the former Ivanhoe Gardens housing site. 
Saied claimed Akyumen would transform Gary from an old steel town into the "most powerful city in the United States in manufacturing high-tech" at a news conference that featured splashy videos and a country music singer, but few details on how that would be achieved.
Saied for instance deflected a question about what the nanotechnology materials would be by saying, "Do you want me to give a full 45-minute lecture," opting instead to give the "nano version." 
How much do Northwest Indiana CEOs make?
The business news you need
With a weekly newsletter looking back at local history.