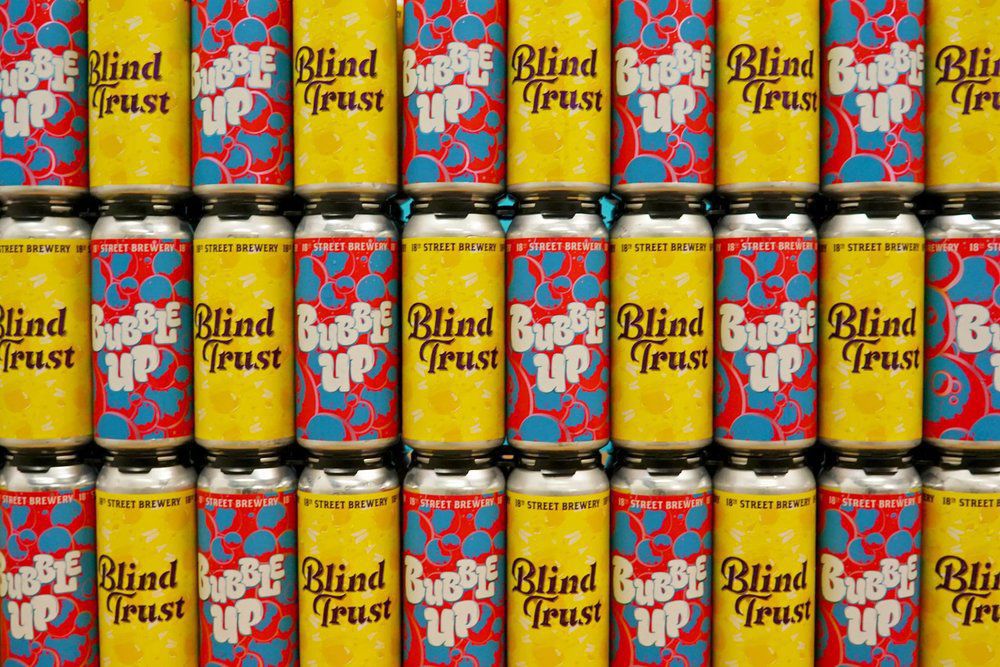 Many grocery stores and liquor stores with craft beer selections offer mix-and-match six-packs where the customers can pick out different craft beers. But the six-packs and four-packs on the shelves traditionally feature just a single beer.
18th Street Brewery in Hammond and Gary came out with an innovation in packaging: a mixed four-pack of pint-sized cans that includes both its Bubble Up and Blind Trust milkshake India Pale Ales.
"It was Rich Mendoza, the head brewer that came up with the idea," 18th Street Brewery founder and owner Drew Fox said. "He had the thought process to give them a chance to take home more than one variety of beer. It turned out great."
The craft brewery, which USA Today's "10 Best" recently named best brewpub in the country, made the milkshake IPAs with vanilla, lactose sugar and fruit. It used mango in the 7.75% Alcohol by Volume Blind Trust and strawberry in the 6% ABV Bubble Up. The blended four-packs include two cans of each.
Fox said the public reception to the mixed four-packs has been favorable. Many craft beer drinkers seek out variety, and can take home more than one type of beer without having to buy an additional four-pack.
"We try to be fun and creative," he said. "We're trying to keep it fun."
A few breweries in Chicago — Temperance Beer, Half Acre and Spiteful Brewing — have done limited runs with mixed four-packs, but the trend had not yet reached Northwest Indiana.
"We're the first to do it in the Region," Fox said. "Consumers want variety and can get bored with one beer."
18th Street also may look at mixing four-packs in the future with its popular Hunter series, a milk stout with many variations.
The mixed four-packs of the milkshake IPAs are currently only available at the Miller brewpub on Lake Street in Gary, and likely will only be available in the future to-go at the brewery's brewpubs in Gary and Hammond, because it wouldn't be economical to get them out to retailers.
"It would be tough to mass-produce them," Fox said. "You have to put the cans together and it's pretty labor-intensive. It takes a lot of man-hours. But our customers like it when we do something new and different."