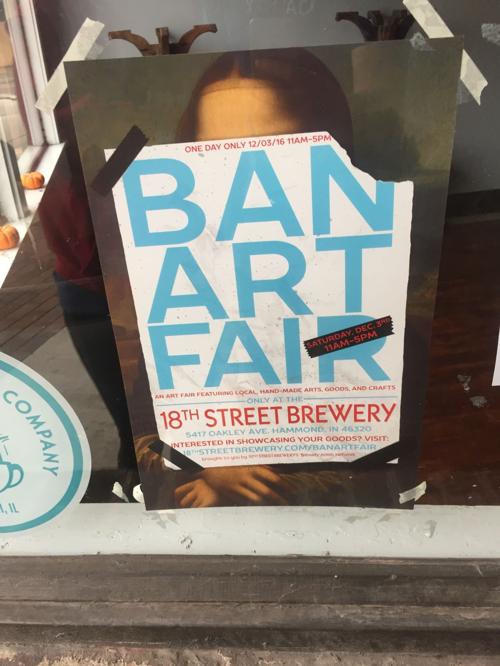 18th Street Brewery in Hammond and Gary has long been a big supporter of the arts, hanging the work of local artists on its walls and hosting drink and draws.
Now the award-winning craft brewery, known for its artistic labels, strong beers and line of sours, will bring back its BAN ART Fair on Dec. 3. BAN stands for Brewery Artist Network.
18th Street first had the art fair at its Gary location in 2014, and is moving it to Hammond this year.
"We aim to showcase local and regional arts/crafts talent in our fun and unique Barrel Room setting," 18th Street Brewery Creative Director Joey Potts said. "During the holidays folks feel they have to travel into Chicago to experience art fairs such as RENEGADE, HAND-MADE, etc.- when equally talented artists and crafters are located here in NWI. BAN ART FAIR is also a great opportunity for the artists/crafters to connect with both old and new customers."
About 20 artists have already signed on to display their work at the fair, but Potts said there's potentially room for another 20.
Artists can rent tables to display their goods for $30, and sell their work directly to customers with no commission.
"The BAN ART FAIR is open to local and regional artists and crafters to showcase goods that have handmade elements in an open and unique brew pub setting," Potts said.
The fair will take place from 11 a.m. to 5 p.m. Dec. 3 at 18th Street Brewery, 5417 Oakley Ave., Hammond. The Grindhouse Cafe food truck will provide coffee, tea and their famous brisket and waffles.