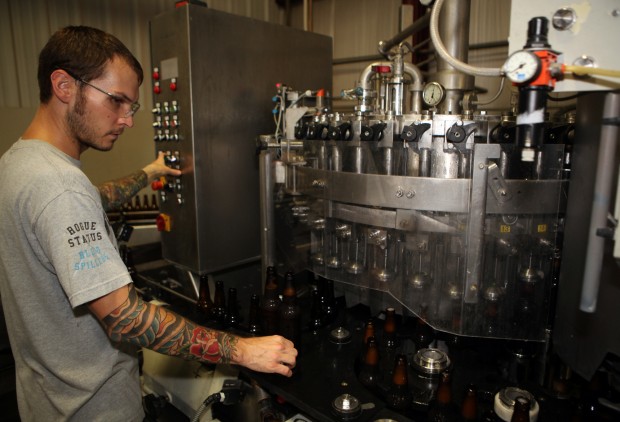 MUNSTER | Northwest Indiana has the best craft beer in the state, and some of the best in the world, according to a popular beer ranking website.
RateBeer, a popular and influential craft beer evaluation website, releases an annual best-of list that includes a ranking of breweries in all 50 states. The site again named Munster-based Three Floyds Brewing Co. the best brewer in Indiana, picked 18th Street Brewery in Gary as the state's best new brewer, and crowned Three Floyds Dark Lord Russian Imperial Stout (Bourbon Vanilla Bean) as the best Indiana-made beer.
Three Floyds also was named the third-best brewer in the world, after San Diego's AleSmith Brewing Co. and Vermont's Hill Farmstead Brewery. The craft brewery at 9750 Indiana Parkway is perennially ranked among the world's elite, and was most recently named the world's best in 2012.
The rankings are based on user reviews posted on the California-based website, which is the largest beer-reviewing site in the world in terms of page views.
"It's a democratic process," said RateBeer executive director Joe Tucker. "It's people telling visitors what's good to check out."
RateBeer reviewers determined Three Floyds had three of the top beers in the world last year: Dark Lord Russian Imperial Stout, Dreadnaught Imperial IPA and Zombie Dust, an American pale ale. Three Floyds' Permanent Funeral also was named one of the top new offerings of 2013.
"Three Floyds is very well established and it's forever going to be a favorite at RateBeer," Tucker said.
RateBeer has done annual rankings for year, but only started doing state-by-state rankings in 2013. No Indiana microbrewery was named best new brewer last year, so 18th Street in Gary's Miller Beach neighborhood is the first ever to take home the award.
"It's exciting for everyone involved, including my wife and team," said 18th Street owner Drew Fox. "We're new and small and humbled by the honor. We're just trying to make great beer."
Fox brewed at Chicago's Pipeworks Brewing Company in 2012 when RateBeer named it the world's best new brewery. The distinction brought in a surge of new customers, and the brewery had to go from brewing three days a week to five or six days a week to keep up with the increase in demand.
"We definitely saw an influx at Pipeworks after we were named best new brewery," he said. "There was a huge increase in demand, so we're anticipating that as well."
The rankings have resulted in increased business and media attention for brewers such as Arizona Wilderness Brewing Co., which just took home top honors as best new brewer in the world, Tucker said.