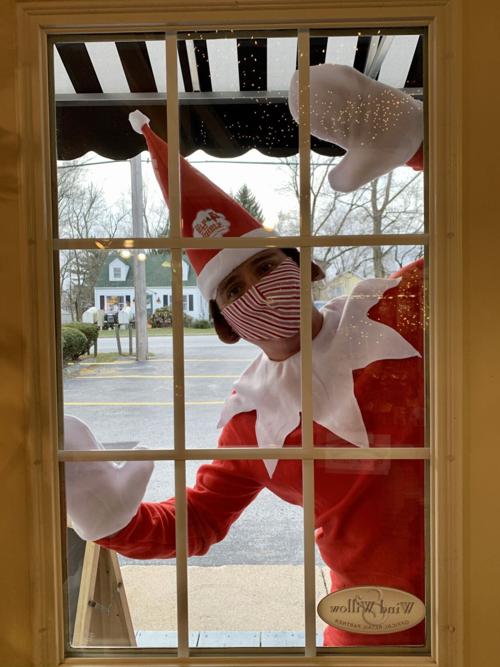 Tinsel the Tea Room Elf will make deliveries of flowers this week for the Merrillville Florist and Tea Room.
The floral shop's Easter Bunny deliveries this spring proved so popular it's now trotting out an elf to spread a little Christmas cheer.
"The point of the Easter Bunny deliveries was to embrace a little silliness and help spread a couple smiles to people who were feeling the effects of not being able to see family or live a 'normal' life during a time of holiday traditions, and it ended up having great results for myself, my husband, our workers and our customers," owner Cindy Lopez said. "While the current social and economic environment is not quite as it was back in April, meaning there is no official shutdown in place, we are still in the midst of a global pandemic. Many of us are still missing visits with our loved ones in health care facilities, many of us are missing social interaction due to responsibly quarantining and social distancing, and unfortunately many of us have seen someone close to us fall ill to COVID."
So the Merrillville Florist and Tea Room again seeks to fill the void for the self-created niche of themed costume holiday flower deliveries.
"The prevailing trend this Christmas is pointing to all things traditional and nostalgic. There's a shift in our community that I can only hope continues to grow," Lopez said. 'People want to feel the Christmas spirit, and let their loved ones know they care about them in meaningful and thoughtful ways. It's also being seen across the Region that shoppers and consumers are choosing to support small local businesses during these turbulent uncertain times. Humanity is shining through and we can feel the community coming together in a way that is different than pre-pandemic times."
Tinsel the Tea Room Elf will make all deliveries the week of Christmas, appear on the business's Facebook and Instagram pages, and "make trouble and hide in the Tea Room just as Elf on a Shelf has been known to do."
The Merrillville Florist and Tea Room also takes part in Sending Smiles to Seniors around Christmas and other major holidays.
"For a $20 donation including tax and delivery, supporters can send a bud vase with an optional holiday wish or message to residents who are missing their holiday visits and visitors," Lopez said. "Thanksgiving was an overwhelming success and we were able to donate over 20 vases of fresh flowers to help send a smile. It's been a very rewarding program and we get a lot of positive feedback about the impact the flowers have had on residents' holidays."
Region restaurants that closed in 2020
2020 has been a hard year for restaurants in the Region with the coronavirus pandemic and the lockdowns and restrictions that followed. Here's a look at the restaurants, brewpubs and chain eateries Northwest Indiana lost in one of the toughest years in recent memory: