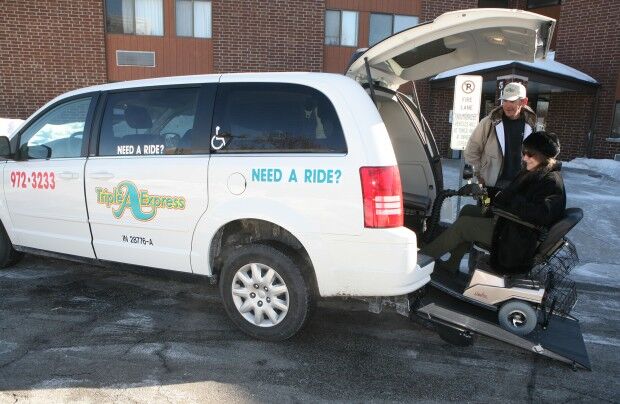 For decades, Region residents called up Triple A Express if they needed a ride to the airport, a medical office or to work if their car broke down.
But now Highland-based Triple A Express, one of the Region's longest-running best-known taxi services, is closing down after 27 years. 
Owner Chip Whitney just notified employees and customers the taxi service would shut down at the end of the month.
It employed 25 people and about 55 before the start of the coronavirus pandemic. At its peak, Triple A had as many as 65 drivers crisscrossing Northwest Indiana while ferrying passengers around.
"It's just the cost of doing business," he said. "It's hard to get employees. I'm fortunate to have some who have been with me for 25 years, 15 years, a long time."
Triple A Express previously had transported seniors around for North Township and the Northwest Indiana Regional Bus Authority. 
"We provided public transportation, and there's not really another company taking seniors around to doctors and hospitals," he said. "We took people to tons of doctor's offices."
Triple A also ferried people around to work, shopping areas, school, casinos, and the airports in Chicago.
"I've been doing this for a long time," Whitney said. "The last time I estimated we've transported people 50 million miles. When some of the trips are just 10 miles that's a lot of people you've served."
He originally founded the taxi company to serve the Whiting-Robertdale area, but he eventually expanded it throughout Lake and Porter counties.
"I saw a great need," he said. "Our clients have been all the hospitals and most of the corporations. We've provided transportation for the employees — everything from the Ford plant to out in the Valparaiso area."
Triple A Express long served markets like Merrillville, Hobart and Lake Station, but eventually narrowed its geographic coverage area to places like Gary, Calumet City and Lansing.
While Uber and Lyft and other ride-hailing services have increased the amount of competition against traditional taxi companies and the pandemic killed a lot of the airport business, Whitney said no one factor led to the closing. It was just time.
"Uber and Lyft have been around for a long time now," he said. "It's just never been a huge cash business. I was able to cut back on areas and labor and business fluctuated. But it can be rough stuff."
Triple A Express is selling off its fleet of 35 vehicles, which are mostly wheelchair-accessible vans.
Whitney is looking forward to retiring but said the business's closing would leave a void.
"I've been doing this 27 years. There's a sadness to closing," he said. "I appreciate the thousands of clients we've transported over the years. We've realistically transported people for 50 million miles. I just want to thank everybody for everything. We've had a great clientele and great employees." 
Several other taxi businesses still operate in Northwest Indiana, including Krazy Cab of North West Indiana; Yellow Cab of Northwest Indiana; Classic Taxi; Livery Taxi Cab Dispatch; Destiny's Cab & Taxi Service; Livery Cab Service; 219 Taxi Cab & Livery Car Service; and Lugones Taxi.