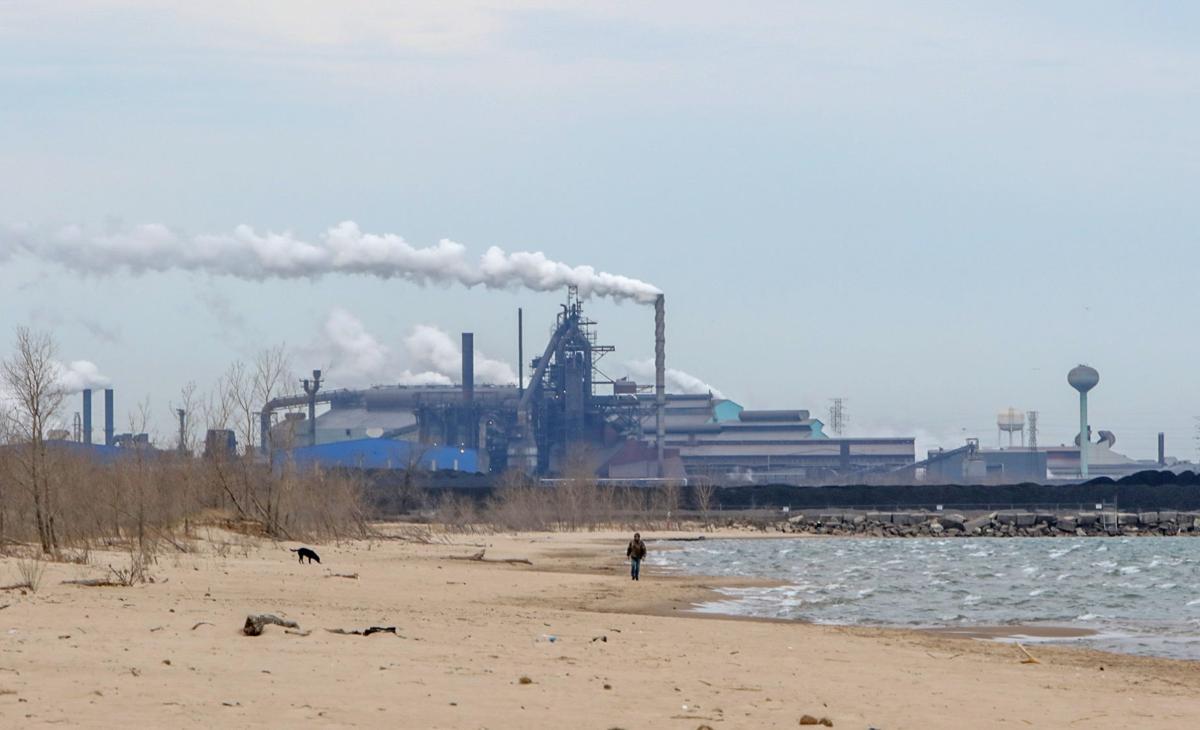 The steel industry has long been one of the most carbon-intensive in the world, with blast furnaces burning up huge quantities of fossil fuels.
But U.S. Steel is now saying it aims to become carbon neutral by 2050. The Pittsburgh-based steelmaker said it hopes to achieve net-zero carbon emissions within three decades, including by "leveraging its growing fleet of electric arc furnaces," but stresses the technology needed to reach that goal isn't widely commercially available yet.
The steelmaker bought the modern mini-mill Big River Steel in Arkansas last year and is now pursuing what it calls "a best of both strategy" that utilizes both traditional blast furnaces, like those in the steel mills along the Lake Michigan shore, and newer mini-mills, which are far less carbon-intensive, as they're fueled by electricity instead of coking coal.
U.S. Steel said it also would seek to attain its goal with new technologies for reducing iron ore to iron, new sources of carbon-free energy, and carbon capture, sequestration and utilization. The steelmaker said breakthroughs benefiting many different industries will be needed, such as commercially available carbon-neutral electricity sources.
It called for public-private partnerships to invest in the development of such technology.
"Climate change is a global crisis that requires a global response. Today, by announcing our net-zero goal, U. S. Steel is committing to doing our part to support the U.N. Paris Agreement on climate change to achieve global carbon neutrality by 2050," U. S. Steel President and CEO David Burritt said in the company's announcement of the goal. "With our 120-year history of innovating to solve any challenge, U. S. Steel intends to be a part of the climate solution."
U.S. Steel previously announced a goal to reduce its greenhouse gas emissions by 20% by 2030. The company recently rolled out the verdeX sustainable steel product line and named Senior Vice President Richard Fruehauf its chief strategy and sustainability officer.
The company said it seeks to link its strategy and sustainability priorities in part to help customers and suppliers hit their own net-zero goals — a commercial incentive to become net zero at a time when companies worldwide are under pressure to do more to prevent climate change.
"We are dedicated to producing the steels that are essential to our daily lives and innovating to solve the challenges our customers face," Burritt said. "Climate change is the challenge of this generation and doing our part is a core component of our 'Best for All' strategy for profitable growth. We believe that we have a path forward that allows us to profitably produce sustainable steels well into the future, and we know that when businesses, governments and people work together to improve our shared destiny, transformative innovations can follow."