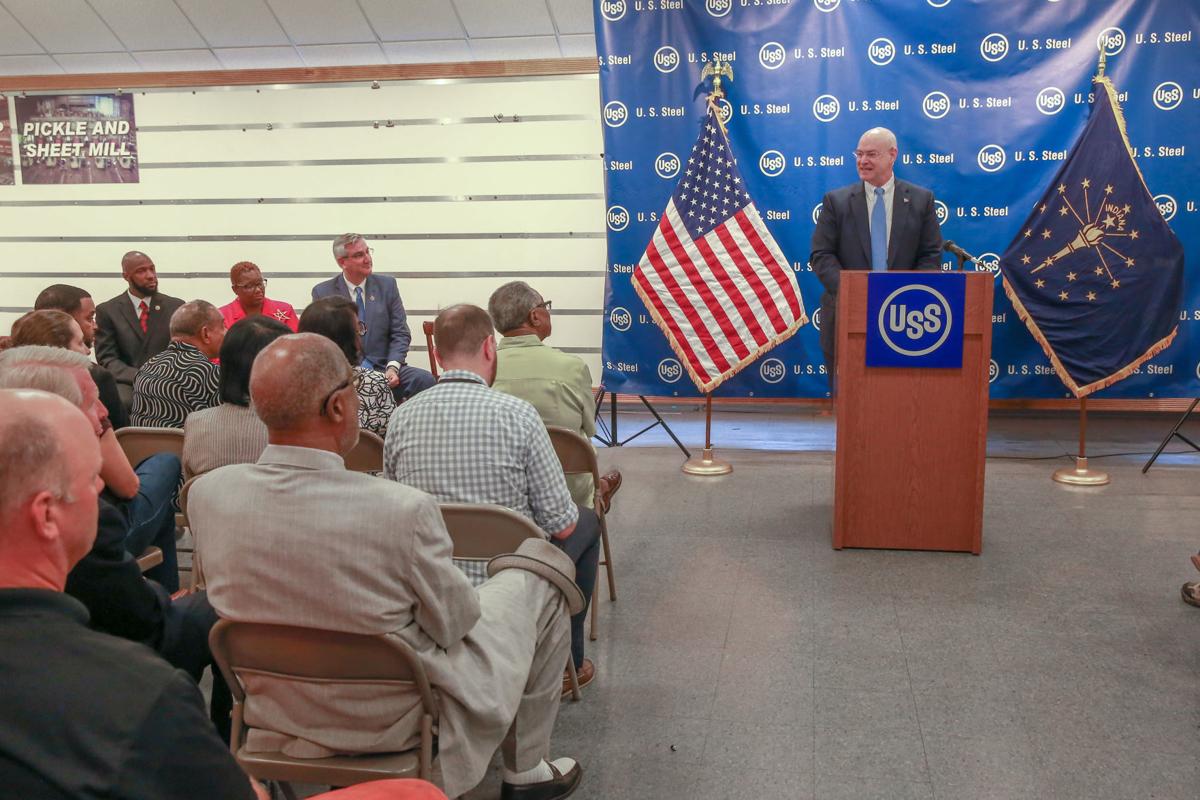 U.S. Steel delivered a 20 percent return on capital employed last year, its strongest performance since 2008.
President and CEO David Burritt said in a conference call with investors last week that the steelmaker saw its best return on capital in a decade, returned more than $100 million of capital to stockholders, and made progress in its $2 billion asset revitalization program that includes $750 million in investment in Gary Works.
"We continue to make good progress on our asset revitalization program and exceeded our 2018 scorecard goal," Burritt said in the conference call. "We safely and efficiently restarted the steelmaking operations at Granite City, positioning us to benefit from strong spot-market conditions for most of the year. We've reached an agreement with the United Steelworkers union on a new four-year collective bargaining agreement providing our represented employees with well-deserved rewards for their hard work and dedication."
U.S. Steel, one of Northwest Indiana's largest employers, reported making $1.115 billion in profit last year, nearly triple the $387 million it made in 2017.
"We continue to strengthen our balance sheet by opportunistically eliminating our highest cost debt and extending our debt maturity schedule to provide a solid foundation to continue investing in our assets," Burritt said. "As a result of our stronger balance sheet and improved earnings, we were able to enhance our capital allocation strategy, returning $100 million to our stockholders in four months through our stock repurchase program."
The company's North America Flat-Rolled segment, which includes Gary Works, East Chicago Tin and the Midwest Plant in Portage, earned a 16.1 percent margin adjusted earnings before interest, taxes, depreciation and amortization in the fourth quarter, Executive Vice President and Chief Financial Officer Kevin Bradley said. The segment made 12.6 percent in EBITDA margins for the year.
"This represents margin expansion of 400 basis points versus 2017," Bradley said. "The strong financial performances for our business in 2018 allowed us to make significant progress on our balance sheet and capital structure. In the year, we retired $322 million of debt and extended our maturity profile. Our next senior note maturity is not until 2025. This further de-risks our execution on the asset revitalization program, and gives us a good runway to continue to execute strategy."
U.S. Steel expects to bring in $225 million in EBITDA during the first quarter because of higher steel prices that will be slightly offset by higher raw material costs. That's about $40 million lower because of a fire at the company's coke-making operations in Clairton in Pennsylvania.
The steel market continues to look strong in 2019, Burritt said.
"We believe the fundamental demand signals remain positive as we enter 2019," he said. "Auto sales finished 2018 at or above 17 million units for the fourth consecutive year which is never been done before. And we expect 2019 to be another good year for the auto sector."
The construction market has been choppy, but a more normal construction season is expected to start in the first quarter as winter weather dissipates, Burritt said. Domestic steelmakers also continue to benefit from the Section 232 tariffs of 25 percent on all foreign-made steel.
"We expect the slight growth in steel consumption in 2019 and we also expect import volumes to decrease in 2019," he said. "Given this combination of supply and demand changes, we have every reason to believe that the buying activity will accelerate as the quarter progresses. In fact, we are already beginning to see this take place in our flat-roll segment as our January daily order entry rates are running above fourth quarter levels."