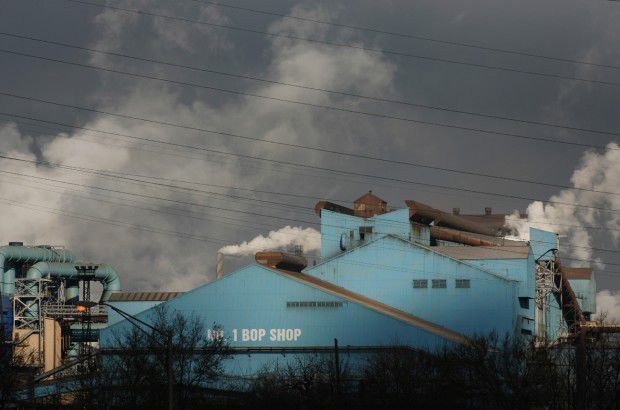 U.S. Steel may temporarily lay off up to 200 workers in the Detroit area as it idles blast furnaces at Great Lakes Works and Gary Works.
The steelmaker's flagship mill in Gary, which employs more than 3,800 workers, is being spared from the blood-letting.
"We currently don't anticipate any employment level changes at Gary Works, which also idled a blast furnace as part of U. S. Steel's June 18 operational adjustments announcement," U.S. Steel spokeswoman Meghan Cox said.
The Pittsburgh-based steelmaker, one of Northwest Indiana's largest employers, brought two blast furnaces back online at Granite City Works in southern Illinois by St. Louis last year when the Section 232 tariffs of 25% were announced but when steel capacity utilization was still depressed under 80% nationwide. Steel prices surged in anticipation of the tariffs but peaked in June and started declining sharply near the end of the year amid a glut of product on the market at a time when buyers had stockpiled inventory.
Steel prices have declined by 37% off their seven-year high in 2018, according to the steel pricing website steelbenchmarker.com.
U.S. Steel's profit plunged to $68 million in the second quarter, down from $214 million in the second quarter of 2018, and its stock price has plummeted by 73% off its 2018 high.
"As we indicated in communications issued June 18, we have made operational adjustments to our global blast furnace footprint to align with current market conditions," Cox said. "As a result, we have issued Worker Adjustment and Retraining Notification notices in the event of possible future layoffs as a result of our reduced production levels at Great Lakes Works. We are taking this step to inform employees and relevant stakeholders of possible future impacts."
U.S. Steel warned the state of Michigan it could lay off up to 200 steelworkers next month at Great Lakes Works in Ecorse, south of Detroit.
"The WARN notices were only issued for employees at Great Lakes Works. Based on current market conditions, it is anticipated that the total number of layoffs will be less than 200," Cox said. "The notices included some positions in nearly every area of the facility from blast furnace operations through finishing operations."