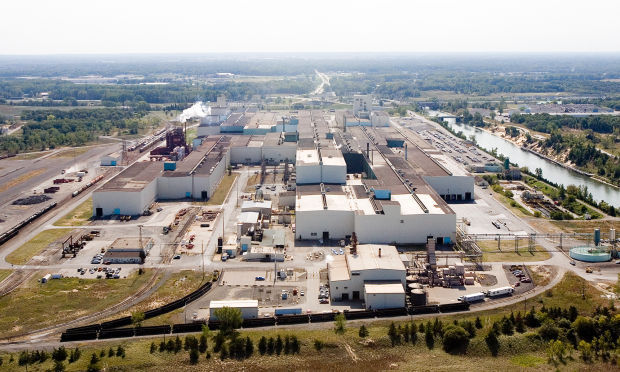 U.S. Steel has shut down part of the Midwest Plant in Portage after another hexavalent chromium discharge exceeded the allowed limit.
The steel mill on the Porter County shoreline discharges into the Burns Waterway about 500 yards from Lake Michigan. 
"At approximately 4:50 p.m. on October 30, 2019, we were notified of an exceedance of our National Pollutant Discharge Elimination System permit limit for hexavalent chromium," U.S. Steel spokeswoman Amanda Malkowski said. "Elevated results were detected at an internal outfall at our Midwest Plant in Portage, Indiana during routine, daily sampling. We were notified that an initial sample result was over the limit for hexavalent chromium, which is 0.51 lbs. Our subsequent sample, taken later that day, was under the limit. Therefore, our average flow for Oct. 30, was slightly over the limit of 0.51 lbs. per day."
Made famous by activist Erin Brockovich and the movie about her crusade against a local polluter, hexavalent chromium is used in industrial processes such as steelmaking, but is known to cause cancer. The Occupational Health and Safety Administration said adverse health effects linked to exposure to hexavalent chromium can include asthma, eye damage, perforated eardrums, respiratory irritation, kidney damage, liver damage, pulmonary congestion, upper abdominal pain, nose irritation, respiratory cancer, skin irritation and erosion of the teeth. 
U.S. Steel and other industrial companies along the Lake Michigan shoreline are permitted to discharge trace amounts of hexavalent chromium that are deemed safe into waterways, but it's capped by environmental regulations.
The steelmaker said it immediately shut down multiple parts of the Midwest Plant in Portage after receiving the lab results that it was in violation of discharge permits.
"Those parts — the chrome treatment plant, tin line and chrome lines — will remain shut down as our investigation continues," Malkowski said. "The Indiana Department of Environmental Management has been notified, along with other local stakeholders. An investigation into this matter is ongoing. We are committed to working with local officials and to communicating with the public on this matter. Safety and environmental performance remain our top priorities."
U.S. Steel had to pay a $1.2 million settlement after spilling more than 900 pounds of hexavalent chromium from the Midwest Plant into the Burns Waterway and Lake Michigan in April 2017, and entered into a consent decree that was intended to minimize future spills. The city of Chicago and the Surfrider Foundation sued the company, and have called for tougher environmental oversight.
The business news you need
With a weekly newsletter looking back at local history.