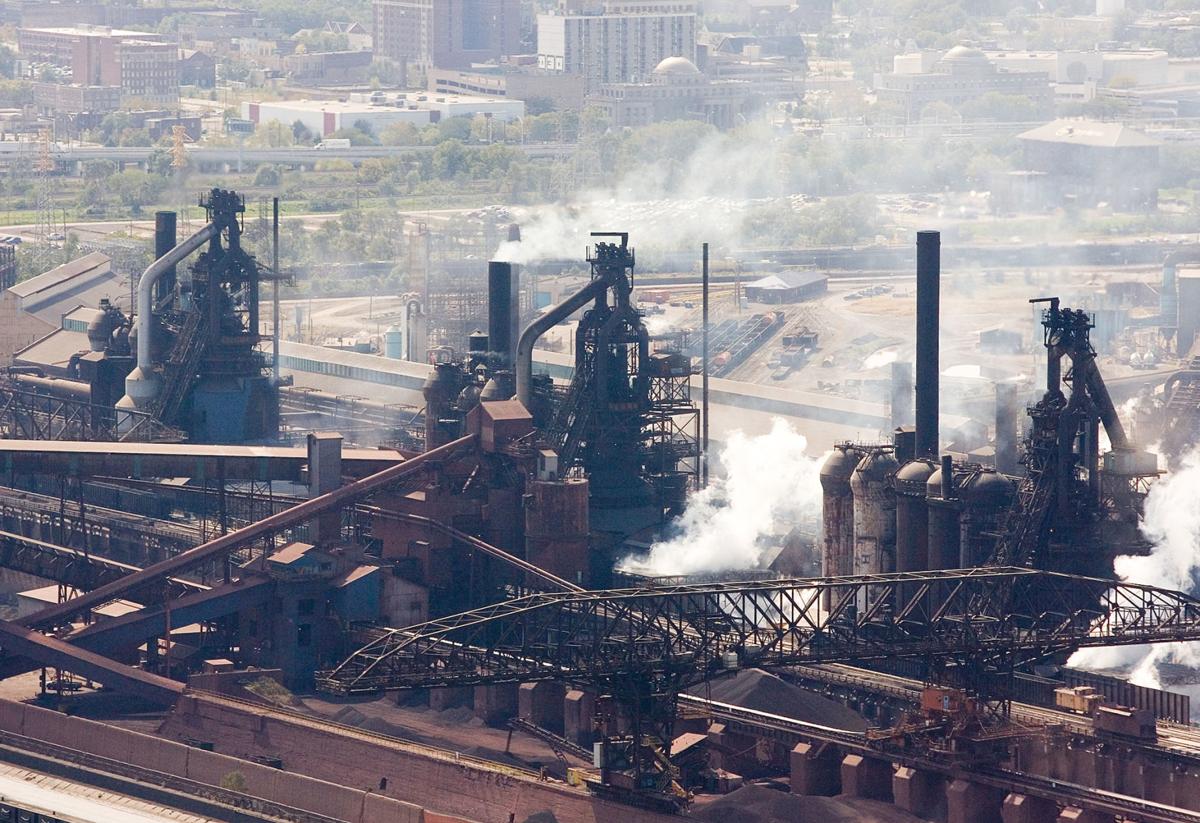 U.S. Steel plans to temporarily idle a blast furnace at Gary Works as it looks to reduce production capacity amid falling steel prices, orders and revenue.
The Pittsburgh-based steelmaker, one of Northwest Indiana's largest employers, said the idling of one of the three south blast furnaces at its flagship steel mill on the Gary lakefront was only temporary, but it had no timeline for bringing the furnace back online. The company did not immediately return a request for information about whether employees would be laid off or furloughed.
A memo sent to steelworkers said that there would be no immediate impact on employment levels at the mill, but that the company is "mindful of the impact these announcements have on employees and their families."
Gary Works operates three other blast furnaces, which convert iron ore and other raw materials into the pig iron that's turned into steel for cars, appliances and countless other products.
U.S. Steel also plans to leave the Great Lakes B2 blast furnace near Detroit idled after the completion of a planned maintenance outage that started last week.
As a result of the idlings, the company expects to reduce blast furnace production capacity of pig iron by 200,000 to 225,000 tons a month starting in July.
"If both furnaces remain idled for the remainder of the year, we expect full year flat-rolled shipments to third-party customers to be approximately 11 million tons," the company said in a news release announcing the idling. "We will resume blast furnace production at one or both idled blast furnaces when market conditions improve."
The company also plans to idle a blast furnace in Europe that has a production capacity of 125,000 tons a month. It will cut production by 3.6 million tons if it remains idled for the year.
"In Europe, USSE continues to be negatively impacted by increasing levels of imports and continued market headwinds related to raw material costs and demand," U.S. Steel said in the news release. "We will resume #2 blast furnace production when market conditions improve."
The steelmaker provided second-quarter guidance Tuesday saying it expected to bring in $250 million in Earnings Before Interest, Taxes, Depreciation and Amortization, which is below its first-quarter results and below analysts' expectations. It also expects to take a $15 million hit from a fire at its Clairton coke-making facility in Pittsburgh back in December.
U.S. Steel expects to bring in 40 cents in adjusted diluted earnings per share in the second quarter.
"Flat-rolled segment adjusted EBITDA, which we expect to be higher versus the first quarter, is being negatively impacted by decreasing steel prices and softening end market demand," U.S. Steel said in the news release. "Additionally, second quarter shipments are lower than we expected due to flooding in the southern United States, which has limited the availability of barges and our ability to ship finished product to customers over the past few weeks. For both our USSE and tubular segments, we expect second quarter 2019 adjusted EBITDA to be lower than first quarter 2019."