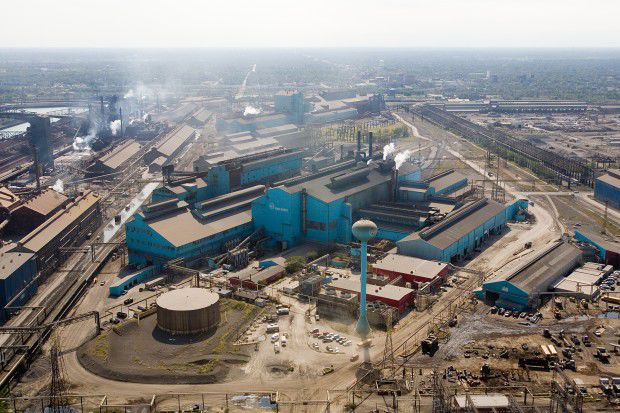 U.S Steel plans to slash capital investment next year as it responds to tough market conditions in the steel industry.
The Pittsburgh-based steelmaker, one of Northwest Indiana's largest employers, announced during a conference call with investors that would reduce capital spending to $950 million in 2020 instead of the expected $1.65 billion.
After years cutting costs under its Carnegie Way initiative, the company had been embarking on a multiyear $2 billion asset revitalization program, including $750 million in upgrades at its flagship Gary Works steel mill.
U.S. Steel had already announced it would reduce its overall capital investment in the asset revitalization program by $200 million to $250 million. Over the past two years, it has pumped about $900 million to $950 million into its facilities, said Richard Fruehauf, senior vice president of strategic planning and corporate development.
"With the new budget, that would imply kind of a remaining revitalization spend of $375 million or so. That is largely now directed towards the Gary hot strip mill," Fruehauf said in a conference call with investors. "And we expect to spend about $100 million at the Gary hot strip mill next year."
The hot strip mill project at Gary Works is well underway.
"We are implementing a series of projects at our Gary hot strip mill that will expand the line's competitive advantages, particularly in heavy-gauge products," U.S. Steel CEO Dave Burritt said in a conference call with investors. "This project is part of the asset revitalization program and is approximately 30% through the expected $500 million investment."
The steelmaker, which lost $84 million in the third quarter, also is looking to reduce fixed costs by $200 million a year within the next few years.
CEO David Burritt said U.S. Steel faces "significant market headwinds" that include stagnant demand in Europe, declining rig counts that have drilled the tubular business, and pressure on profit margins.
"In all, market conditions to close out the year remain challenging based on what transpired in the flat-rolled market over the past two months," Burritt said. "But signs of life are emerging. "The end of the UAW strike at GM removes a significant steel demand gap that existed in the market. Lead times have extended and our flat-rolled order rates have materially improved and scrap prices are expected to increase approximately $20 a ton providing support for steel selling prices. All of these factors provide us confidence that the market is poised to improve from here."