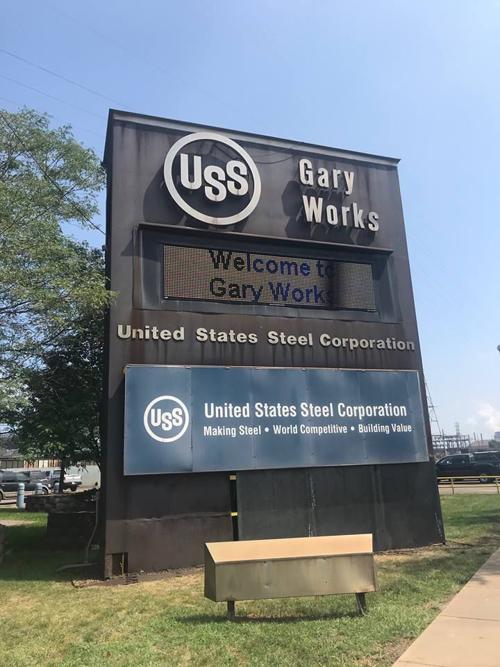 U.S. Steel pulled in a profit of $68 million in the second quarter.
The Pittsburgh-based steelmaker, one of Northwest Indiana's largest employers, earned $0.39 per diluted share, beating analysts' expectations by $0.06 a share.
Amid slumping market conditions and a drop in steel prices, U.S. Steel's profit fell 68% in the second quarter as compared to the $214 million, or $1.20 per share, it made during the second quarter of 2018.
"Our execution in the second quarter was strong despite challenging market conditions," U.S. Steel President and CEO David Burritt said. "We overcame logistics headwinds from severe weather and delivered for our customers, exceeding even our own expectations. We also completed several Asset Revitalization outages across the flat-rolled footprint on time and on budget, including upgrades to our Mon Valley steel shop."
U.S. Steel pulled in adjusted Earnings Before Interest, Taxes, Depreciation and Amortization of $278 million for the three-month period that ended on June 30. The steelmaker returned $37 million worth of capital to stockholders during the quarter, including $28 million through share buybacks.
"Execution of our technology investments, including the Mon Valley endless casting and rolling line, Tubular electric arc furnace, and USSK Dynamo Line, are on track to deliver almost $400 million of incremental run-rate EBITDA benefits when completed," Burritt said. "With each passing quarter, we are making the company more competitive and our continued execution is proof that our strategy is working."
U.S. Steel pulled in $3.5 billion in sales in the second quarter, down from $3.6 billion in the second quarter of 2018, as a result of lower steel prices. The Flat-Rolled division, which includes U.S. Steel's local operations of Gary Works, East Chicago Tin and the Midwest Plant in Portage, brought in $134 million in profits for the quarter, down from $224 million in net earnings during the second quarter of last year.