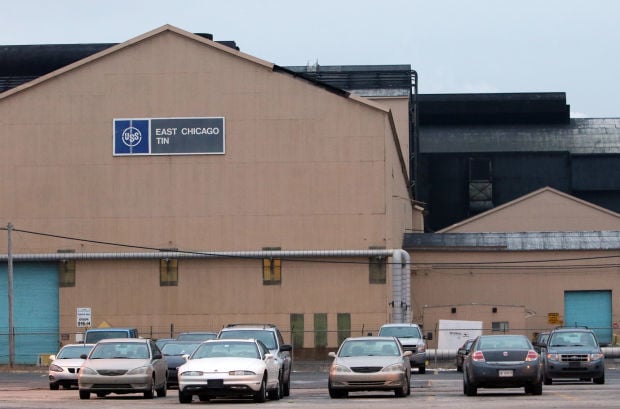 U.S. Steel warned the state more jobs would be lost as a result of its indefinite idling of East Chicago Tin.
The Pittsburgh-based steelmaker, one of Northwest Indiana's largest employers, updated the Indiana Department of Workforce Development that seven more jobs would be lost at the plant.
U.S. Steel revised its earlier Worker Adjustment and Retraining Notification, or WARN notice, to also caution the state that 314 workers would be displaced, instead of the 307 it originally reported. The steelmaker said it expects that fewer than 150 steelworkers will be laid off for the foreseeable future, while more than half would be transferred to Gary Works and the Midwest Plant in Portage, where it is consolidating its tin operations.
U.S. Steel Employee Relations Director James Van Buren wrote in a letter to the state the plant idling also would displace six security workers and a labor relations representative. Those workers will be laid off starting on Dec. 8, going through January of 2020. The displacements of the other 307 steelworkers starts on Nov. 9th.
"The indefinite idling of operations is due to the consolidation of the company's tin mill products production from three to two facilities following extensive market analysis of our current global competitiveness in light of high levels of low-priced imported tin mill products entering the United States," Van Buren wrote. "The purpose of this letter is to notify you of additional employment losses not addressed in my Sept. 6 letter."
Talks remain underway with the United Steelworkers union about the number of workers who will be transferred to U.S. Steel's other mills in the Region.
"The idling is not expected to be permanent but is of an indefinite duration," Van Buren said.
East Chicago Tin makes tins products like paint cans and tin-plated metal for canned foods, which have been declining in popularity for years as consumers gravitate more toward fresh foods and soup companies like Campbell's use more plastic microwavable packaging. The domestic tin can business suffered a major contraction earlier this year when Del Monte announced it would shutter two canning plants and ArcelorMittal USA decided to lay off steelworkers at the ArcelorMittal Weirton tin mill in West Virginia.
East Chicago Tin, which U.S. Steel acquired from LTV in 2001, employed nearly 400 workers when U.S. Steel last idled it during the steel dumping crisis of 2015 when imports grabbed nearly 30% of the U.S. market share, resulting in thousands of layoffs and mill idlings nationwide.
The business news you need
With a weekly newsletter looking back at local history.