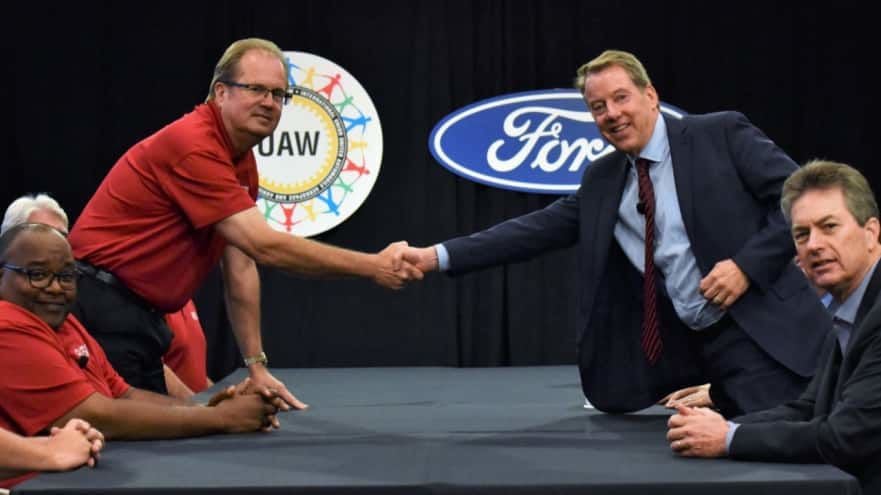 The United Auto Workers and Ford have kicked off negotiations for a new contract that would affect 55,461 workers, including 5,900 employees at the Chicago Assembly Plant in Hegewisch and the Chicago Stamping Plant in Chicago Heights.
UAW and Ford will try to reach a deal on wages, benefits, job security, working conditions, sourcing and sundry other issues on a national level. Collective bargaining at a local level also will take place between UAW Local 551 and the management of Ford's Calumet Region plants.
The two sides last came to the bargaining table in 2015, forging a deal that resulted in the Dearborn, Michigan-based automaker investing $9 billion in the United States and creating more than 8,500 jobs under a three-year deal.
UAW President Gary Jones said Ford, which made a $3.7 billion profit last year, "has seen years of growth and significant profitability since the 2015 negotiations."
"And I have heard loud and clear — at every Ford plant and local I visit — that they expect to share in the profits that their hard work and dedication has made possible," he said. "We're seeing record profits for our American companies, but, sad to say, those gains aren't translating to our workers' gains. In fact, the Big 3 are more profitable in North America than any of their competitors. You all have the home advantage. The home advantage that our members built. But despite record corporate profits, we've been watching a race to the bottom over the past several years for working men and women in this country. Despite record profits, labor is still being asked to take concessions. Our jobs have been outsourced to companies paying lower wages in the United States, Mexico, China and all over the World. This must stop."
Jones said the union would strive in the contract talks to "protect our work, our jobs and our way of life." The union also plans to address the issue of progression and how it takes workers eight years to reach the top of the pay scale.
Ford said in a news release that it hoped to keep the pay structure competitive so it could maintain its manufacturing footprint in the United States.
"Ford has more U.S. hourly UAW-represented workers than any other automaker and builds more vehicles in the U.S. than any other automaker," Ford said in a news release. "Approximately 82% of the vehicles Ford sells in the U.S. are built in the U.S., significantly higher than any other automaker."
The two sides have until midnight Sept. 15 to reach a new deal. If no pact is reached, the UAW could strike, extend the current contract until a new agreement can be reached, or continue working without a contract.