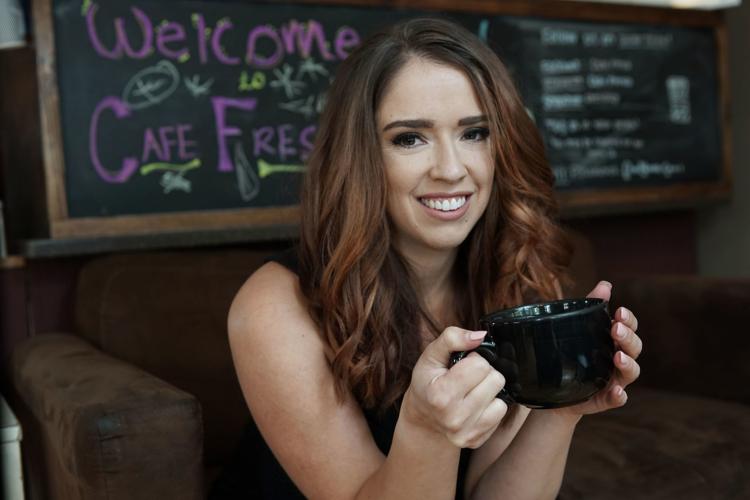 From the time she was in sixth grade in the Crown Point schools, Breanne Zolfo knew she was going to teach English to people in foreign countries.
But that all changed on a Florida vacation.
"We always had foreign exchange students living at our home, so I was intrigued by foreign cultures," Zolfo said.
She got a psychology degree from Purdue University and spent a year working as a psychologist for Haven House, a shelter for battered women. But she said it became too much for her because she wanted to take all the women home. So, she started volunteering as an English teacher at an English as a second language school.
She did that for four years while she earned her master's degree in English online through the University of Chicago. While teaching, she was also looking for a good rental property to invest in. A corner building on the square in Crown Point became available in a sheriff's sale. It had been a restaurant with two apartments upstairs. It had also been remodeled after two fires.
On Oct. 10, 2010, she was the only person at the sale, and it was hers for $126,000. Only 21 at the time, she had been gainfully employed since she was 12, when she earned $5 an hour working the concession stand at the Crown Point softball field. She worked and saved her money through the years, paying her own way through college so she didn't have any student loans to pay off.
'It was so crazy'
At the time she bought the building, she didn't know what she was going to do with it, but she inherited two tenants who paid enough rent to meet the mortgage payments each month.
"I was obsessed with saving," Zolfo said. "The building was valued at $195,000. My dad raised me right. He's crazy about saving too, and he drills that into our heads."
Her dad, Mike Zolfo, opened a yoga room in Crown Point 31 years ago, coincidentally the year Breanne was born. Her mother is Mickey, a second grade teacher at Peifer Elementary in Schererville. She also has two brothers, Nick and Blake.
Not long after buying the building, Zolfo took a vacation in Florida, where she saw an ad for a double-door refrigerator, which she thought would be good for one of the apartments. When she answered the ad, the man selling it told her he was retiring from his café business and would sell her everything — all the equipment, furniture, counters and other stuff, including the refrigerator — for $2,000.
"If nothing else, I figured I could sell it all for a profit," Zolfo said. "I called my dad, and he couldn't believe I wanted it when I had just bought a building. I had no intention of opening a café at the time."
Her father came to Florida to see what she was planning to buy. He still thought his daughter was crazy, but within two weeks, she packed up her new inventory of café furnishings, shipped them to Crown Point, and stored them in the building.
Within a month, in June of 2013, Café Fresco opened for business.
"I figured I don't have a mortgage, so what's the worst that could happen? I asked my family, if I opened a café, would they help?"
Dad had his own business to run, but the rest of the family signed on as unpaid employees. The restaurant had a limited menu of frozen yogurt, smoothies, bubble teas and a couple other items, but it was a hit from the start.
"For the first three months, it was so crazy," she said. "I worked open-to-close every day. Fifteen hours, seven days a week. It was similar to when I was in college, but it was different because all of the pressure was on me. I was around while my dad was running his business, but I never understood what he did because he was away all the time. He loved working, and that's how I am.
"I always wanted a platform to make an impact like my parents did, of giving back to the community. You can do that either as a business or as a politician. My parents would buy food or clothes to help people. My dad always made that a priority. My mom bought a Christmas tree for a woman who didn't have one. Dad would always say we are blessed to have what we have, maybe not financially, but we had parents at home, food and clothes."
'A heart of gold'
The city has rallied around Café Fresco in a way Zolfo never imagined six years ago. Not only is dad helping out a couple of hours before going to his own business, but Zolfo has 13 paid employees, including a chef, in addition to her family. The menu has expanded and every week she takes the money from the tip jar to give to an organization or a person in need.
"We try to keep an ear out for people who need help, whether it's a family without food or a kid without diapers. I feel like this café is where I'm supposed to be. It wasn't my dream growing up, but I have a feeling that I know this is right.
"The recognition I've gotten is so weird. This is how I lived my whole life, and to be recognized is weird because it's the way my parents raised me. I don't feel like I could take credit for it."
A TV news team did a feature on Zolfo's regular visits to a local Aldi to pay for people's groceries, but she helps out in many ways. Candice Patterson, the café's manager and Zolfo's friend said, "She's truly an amazing person."
"She has a heart of gold and puts everybody's needs in front of her own," Patterson said. "Every day she finds a positive, even in a negative situation. She's always looking for ways she can give back, whether it is a free cup of coffee or providing school supplies for kids."
And, if they need it, she can teach them English.
"We try to keep an ear out for people who need help, whether it's a family without food or a kid without diapers. I feel like this café is where I'm supposed to be. It wasn't my dream growing up, but I have a feeling that I know this is right."