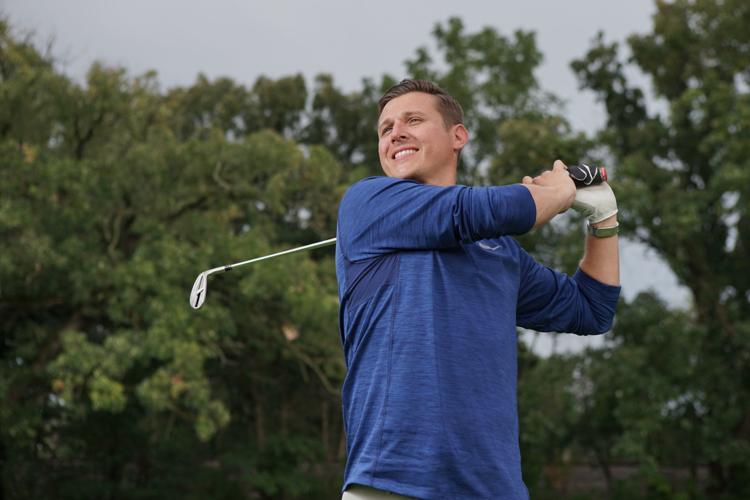 When people ask Corey Bush "How's it going?" he tells them he's "living the dream, one toilet at a time."
It's an odd way to describe his job as business development director for Bryco Services, a commercial janitorial company located in Merrillville, especially since Bush doesn't actually clean the toilets, but it is a colorful way of explaining his success, which has earned him a place as one of this year's honorees as a top 20 professional under 40.
The 33-year-old native of Cedar Lake graduated from Crown Point High School in 2005 and enrolled at Southern Indiana University in Evansville seeking to major in business administration. After a year, he decided he wanted to study closer to home, so he enrolled in the entrepreneurship program at Purdue University Calumet (now Purdue Northwest).
"It was tough going to school 4-1/2 hours away," Bush said. "I wanted to do entrepreneurship because I knew I wanted to be in business, but I didn't know what kind."
While in college, he worked for several attorneys, handling bankruptcies and similar work. He noted that another Bush, President George W., had reformed the bankruptcy laws because of the recession, and "everybody was declaring bankruptcy."
He also did bartending at TGI Fridays restaurants while in school and for a short time afterward when the restaurant offered to make him a manager. He spent two years managing the TGI Fridays in Schererville. While bartending, he met Bryan Lazorik, owner of Bryco, and even did a summer internship with the company before becoming a TGI Fridays' manager.
The connection resulted in an offer from Lazorik to manage Bryco Services. Bush said he had made more money bartending than he had as an intern at Bryco, but, when Lazorik offered him a more substantial job in 2014 with benefits, Bush decided he wasn't going to turn it down.
"It was a very scary proposition. I had a wife, Julie, and a newborn, Emma, and my wife was already pregnant again with Lucas. I took a leap of faith leaving a job with a salary and benefits to join a company in the infant stages of development.
"I knew he had a great product and a strong foundation for what he was working on. He needed somebody to aggressively go out and promote it. I'm not afraid to talk to anyone. That was a skill I developed bartending."
Keep reading for FREE!
Enjoy more articles by signing up or logging in. No credit card required.
Bryco was operating out of a small location at 73rd and Broadway at the time with 10 employees. It now has 50 employees with cleaning contracts for companies from Chicago to South Bend. They recently held a ribbon cutting ceremony at their newly remodeled 10,000-square-foot facility at 64th and Broadway.
"We found a niche in medical facility cleaning and operating rooms and ambulatory surgical centers," Bush said.
Bryco joined the Building Services Contractors Association International, which establishes the standards for quality for businesses like Bryco, and Bush became a registered building services manager through the BSCAI, which required him to take some courses and pass a 400-question test to be certified.
"We strive to be the best company we can be, and we try to improve the industry as a whole. All of our employees are cleaning specialists. We also have a handyman division that does repairs for clients ranging from changing a light bulb to fixing a toilet."
Active in the Crossroads Chamber of Commerce, Bush helped found the chamber's young entrepreneurs program called EPIC (Engaging Professionals Inspiring Change). He will be a member of the chamber's board in 2020.
"We want to inspire young people to be involved with the community, to understand the importance of the chamber and inspire each other to accomplish great things. Typically, it's for those under 40, but we want to get people from all sides of the spectrum, including high school, to learn the importance of networking before they get to college."
EPIC members have competed in recent years in games to raise money for three different charities each year. Bush also works with the Food Bank of Northwest Indiana. His other activities include Ignite the Region, a coalition of county economic development organizations, major employers and colleges working to attract highly skilled talent to the area.
An avid golfer, Bush's dream was to join the professional tour. While at PUC he put together a business plan for starting a golf course with a 1950s theme. His hope for a pro golf career apparently has passed him by but he still has that business plan, he said.
Bush credited Lazorik's trust and mentorship with making his success at Bryco possible. Lazorik said, "We're a small company growing aggressively, and a lot of that grown is his passion for the Region. He's a collaborative person who works well with others. He has perseverance and a great attitude for life."
"It's a little bit of a tough industry, and he does a great job of keeping spirits high and moving forward," Lazorik said. "Everyone is striving for a work/life balance, and he does a good job of balancing that. He's always home for his kids' games. We've experienced quite a bit of growth since he's been here, and I'm lucky to work with someone who's a professional and someone I consider a friend."