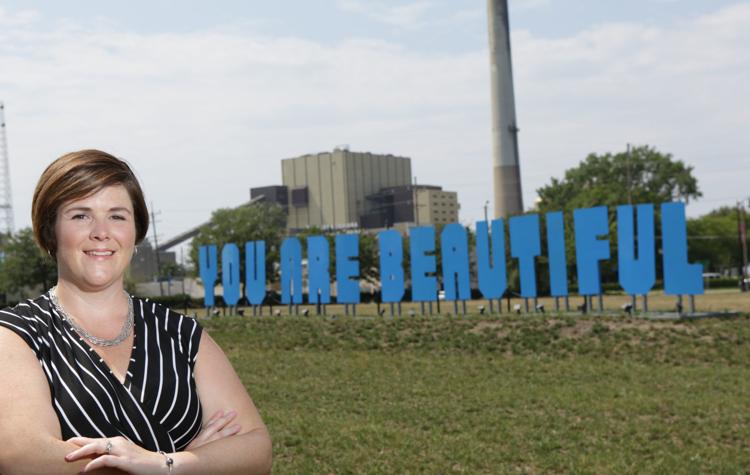 Economic development is like a puzzle, and Michigan City native Katie Eaton's job is to put the pieces together.
Those pieces include developing a workforce for new and existing businesses, making it easy to conduct business, and marketing the city.
Eaton, 38, has found her niche in the Michigan City business community in her role as economic development manager for the Economic Development Corp. Michigan City. She is among The Times Media Co.'s 2018 20 Under 40 honorees.
While pursuing majors in English and communications from Purdue University North Central, she worked at Toys R Us and as a tutor in the PNC writing center, where she became the student director.
It was at that job that someone recognized her leadership potential, Eaton said.
After graduation, Eaton went to work for Foster Printing in Michigan City in a customer service role.
The economic downturn in 2008 put Eaton out of work, which gave her a chance to spend time with her two children.
But that time off turned into an opportunity to get acquainted with non-profit work, she said.
She was approached by Rudy Kohn, director of Junior Achievement LaPorte County, who was looking for someone to work part-time to recruit and train volunteers.
"It was feel good work," Eaton said. "I think that was the moment when I started with them that I was, 'nonprofit is definitely where I needed to be.'"
Eaton eventually became the Junior Achievement director. After two years, she decided to work just as a volunteer with Junior Achievement and went back to school to earn her MBA.
A year into the MBA program, Eaton decided to apply what she was learning in the classroom and landed a job at the Center for Workforce Innovations as a lead recruiter.
'A great experience'
Two years later, in 2016, she was hired into her current role at the EDCMC, where most of her efforts are centered on business expansion and retention programs.
"I was excited to see a full-time job that was dedicated to Michigan City," she said. "It's been a great experience and a lot of fun."
Eaton said all of her experiences have provided valuable insights into what Michigan City businesses need to survive and thrive.
Her customer service skills help her deal with employers and her MBA gives her the credibility and understanding she needs to work in various business environments.
You have free articles remaining.
Keep reading for FREE!
Enjoy more articles by signing up or logging in. No credit card required.
Her work at Junior Achievement and the Center for Workforce Innovations emphasized the vital role a ready workforce is to businesses.
"Right now, the No. 1 need of business is workforce — helping businesses find workers with the right skill sets," she said.
Eaton said the Michigan City Economic Development Corp. works with Michigan City Area Schools, the AK Smith Career Center, Purdue University Northwest, Ivy Tech, Indiana University Northwest and any other entity in the region training local students.
They work to determine whether the training programs are fulfilling the needs of the local employers and help develop programs to meet those needs, not only for existing companies but for companies the city is trying to attract.
Eaton also plays a key role in marketing Michigan City — not only to potential new businesses but to established businesses and current residents of the city.
"It's important because there's so much good stuff going on that if we don't tell the story people aren't going to know about it," she said.
Eaton believes Michigan City has struggled to tell its story correctly. Often the stories told about Michigan City focus on the struggles and leave out the successes, she said.
She said there are stories about how how well the schools perform, what it's like to live here, what kind of jobs are here or how you could make a good living and have a good life here.
"It helps keep population and grow population, which drives the demand for all types of things, which makes it easier to attract new businesses," Eaton said. "You can't attract new businesses and new jobs if you don't have the people to fill them."
'Passion for the community'
Eaton works closely with Clarence Hulse, the executive director of the EDCMC.
"I think we hit the jackpot when we hired her," Hulse said. "She is a breath of fresh air for the office from an administrative standpoint and as we assist businesses in retention and growth. She's been a key partner to make that happen."
Hulse said her background in workforce development has been a key to her success at the EDCMC.
"She's been a star performer and deserves all the accolades," Hulse said.
In addition to her work at EDCMC, Eaton volunteers at several LaPorte County nonprofit organizations, including the Unity Foundation of La Porte County.
"What I admire most about Katie is her passion for her community and her ability to get things done," said Deb Varnak, the foundation's vice president.
"She is at the top of her game in every aspect — whether it's in her role at EDCMC, showing service above self as a Rotarian, having fun with her family, or exhibiting a healthy lifestyle through her love of running, Katie continues to grow and excel."