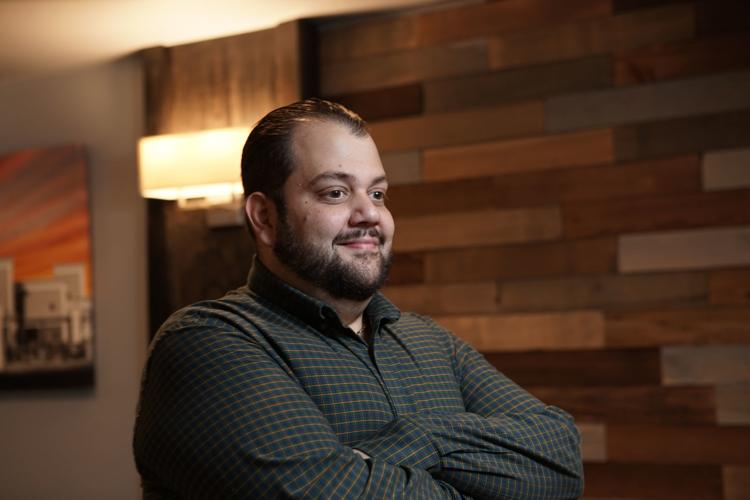 Peter Klideris grew up in the restaurant business. His family owns Ted's Family Restaurant in Calumet City, a breakfast-focused diner known for its omelettes, skillets, club sandwiches and old-school fare like liver and onions.
The 32-year-old grew up to make a name for himself as a restaurateur who runs steakhouses and other high-end eateries. He runs Theo's Dining Group, which operates Theo's Steaks and Seafood in Highland, Chop House on Wicker in St. John, Prime Steakhouse and Umi Sushi & Lounge in Crown Point and the forthcoming Avgo brunch restaurant at 9321 Wicker Ave. in St. John.
"I've been working at it since I was 14 years old," Klideris said. "I worked alongside my father. After I went away to college, my father helped me buy Alexander's in Highland in 2005."
The restaurant at 9144 Indianapolis Boulevard underwent significant renovations. While Theo's steakhouse is now a popular dining destination known for its upscale and urbane sophistication, it took awhile to build up the customer base.
"We hit some hard times after we took it over," he said. "It wasn't the busiest place, especially after the downturn in the economy. But we kept working hard at it. It went from maybe 50 people dining on a Friday or Saturday to 250 to 300 people."
Turning the restaurant around was a matter of picking the right staff, keeping at it and working hard, Klideris said.
"I don't take many days off," he said. "I'm here from open to close. Theo's is my baby. When you grow up in the restaurant business, you're used to being busy all the time."
Klideris, who's trained as a butcher, said much of the hard work focused on ensuring quality. He and his father cut the steak with a bandsaw and trim it themselves. All of the steaks and seafood come in fresh and is never frozen.
Expansion
In 2012, he had the opportunity to purchase Prime Steakhouse on the courthouse square in downtown Crown Point. 
"It took a little while to get it going, but now it's consistent," he said. "We're always treating diners like family members, making sure we're treating everybody like our own family. We check in to make sure everything's okay and we're meeting a high standard."
Keep reading for FREE!
Enjoy more articles by signing up or logging in. No credit card required.
All the chefs at Theo's Dining Group restaurants get their start at Theo's in Highland so they learn the menu and the quality that's expected.
"That's usually a recipe for success for us," he said. "We bring our chefs and head guys in to teach them the way we want things."
Klideris decided to open a sushi restaurant above Prime Steakhouse on the courthouse square in 2016 after deciding to get out of the bar business.
"We were bouncing ideas off each other and didn't want to spend a lot of money putting another kitchen up there," he said. "We learned about sushi by watching YouTube videos and reading books and then brought the right guy in to run the restaurant. It's two different dining experiences in the same space. Prime is where you might go for an intimate date, while Umi is where you might go out for a casual night with some friends to get some cocktails and some sushi rolls. The square brings a lot of traffic to that area."
When Dick's in St. John went up for sale, Klideris decided to take over that long-running restaurant on the edge of the Tri-Town and turn it into the more modern, sophisticated Chop House on Wicker. Theo's Dining Group put in all-new tables and chairs to make it look more upscale and is planning a major renovation soon.
Klideris is so bullish on the fast-growing St. John that he's also opening the Avgo restaurant that will specialize in breakfast and lunch. It will use regional ingredients such as cage-free eggs, sausage procured from Michigan and bacon it smokes itself. It will squeeze its own juices, serve Bloody Marys and mimosas and have Smalltown Coffee Co. run a coffee bar.
"We're going to make everything picture-worthy, whether French toast and pancakes or lattes and cappuccinos," he said. "All these restaurants have their own different niches and I'm getting back to my roots with breakfast. If it takes off, we'll have more than one location."
Klideris would love to expand the Avgo concept across the Region. He someday aspires to own 10 restaurants.
"I love what I do, and have loved it since I was a little kid," he said. "It's not a desk job where you're doing the same thing day after day, over and over again. I love being in the pit of everything with all the adrenaline."
He enjoys working with his family on his restaurant ventures. Even as Theo's Dining Group expands, he knows he can never relent on his insistence on quality.
"We live in a world of live internet where you can go on your phone to see the quality of food," he said. "We have to make sure we're serving a quality product to our customers. If it doesn't look good I'd rather not serve it. I just want our customers to be happy."