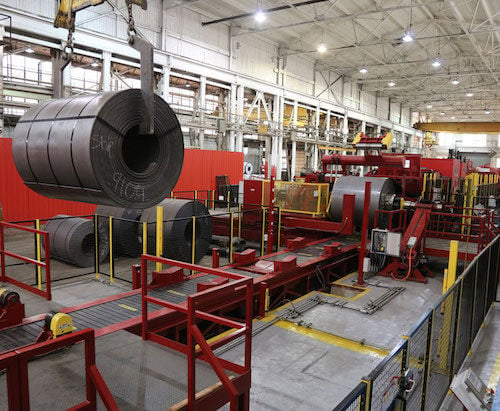 GARY — Alliance Steel, a Bedford, Illinois-based manufacturer of flat-rolled steel supply and coil processing, will begin renovating and equipping a Gary industrial facility early next year, with plans to move operations to the city in early 2020.
The company expects to bring more than 100 existing full-time positions from its Illinois facility and expand its workforce by up to 35 positions over time.
The company is investing $19.7 million to establish operations at a 250,000-square-foot facility at 2700 E. Fifth Ave., which was vacated in January by ATCO-Gary Metal Technologies after the owner shuttered its Gary plant and laid off its workers.
Alliance's president, Andy Gross, said during a Gary City Council Tuesday night the company is excited to "set roots" in the Steel City with the purchase of the Fifth Avenue building. 
"We've made a strong commitment to be here. It is extremely, extremely costly to move our type of business. This is millions of dollars we're putting into the foundation here. We can't just pick that up and take it with us," he said.
Tax credits for Indiana hires
Gross has said the move means Alliance will be "ideally located much closer to major steel mills, which will allow us to reduce inbound freight as well as service our customer needs much better. All suppliers and customers will be in a much better proximity being located in Gary."
The Indiana Economic Development Corp. offered Alliance up to $1.85 million in conditional tax credits and up to $150,000 in training grants based on the company's job creation plans.
The tax credits are performance-based — the company is not eligible to claim incentives until Indiana residents are hired, according to the IEDC.
The IEDC also offered up to $900,000 in conditional tax credits from the Industrial Recovery Tax Credit program, which provides an incentive to invest in former industrial sites and improve quality of place in Indiana communities.
"Today's news is an exciting step forward for the city of Gary and for the Northwest Indiana region as we welcome Alliance Steel to the Hoosier state," Gov. Eric Holcomb said in an IEDC press release. "Our fiscally-predictable, pro-growth business climate paired with communities that are ripe for growth provides a unique advantage for companies like Alliance Steel to grow their operations with the support of a skilled workforce."
The city of Gary offered additional incentives totaling $1.4 million, which includes a $1.2 million tax abatement, $200,000 TIF infrastructure subsidy and $100,000 moving subsidy, documents show. Alliance must pay a $90,000 fee for these incentives, records show.
The Gary City Council voted 8-0 Tuesday night on a declaratory resolution supporting the package offer.
Joe Van Dyk, executive director for the city's Redevelopment Commission, said this package was competitive enough to lure the company here — without hurting the cash-strapped city's bottom line.
After gaining $1.97 million in income tax, the city stands to make a net gain of $554,121, he said.
Not everyone at the City Council meeting expressed support for the tax abatements being offered to Alliance.
Jim Nowacki, a Gary resident and frequent critic of the current administration, said at the height of the steel industry in Gary, companies supported the city's budget. But, it's the other way around, and companies now rely on the city's residents to pick up the tab through lucrative tax abatements, he said.
"We welcome new business, but we also have to keep our eyes open," Nowacki said.
Councilwoman Mary Brown, D-3, said the city hasn't agreed to a tax abatement of this magnitude for several years.
"I want to make sure the people understand that," she said.
Newly appointed at-large Councilman Michael A. Brown said incentive packages can be beneficial to drawing more business to Gary.
"Look at what cities like Hammond have done with abatements. They steal (businesses) from Munster," Michael Brown said. 
Alliance is also contractually required to make reasonable efforts to contract with Gary-based business and suppliers for improvement made to its facility and prioritize Gary residents for hire by partnering with the city's workforce development liaison, Van Dyk said.
Gross told council members Tuesday night he recently required all department heads to sign documents acknowledging they understand expectations for hiring, purchasing and under obligations under the company's pledge to work locallly.
"We feel this is the beginning of resurgence for the Gary area. We feel we could be a cornerstone to provide new employment and training. I think it's a rich environment to draw people into our company. There are a lot of reasons that this benefits us, but we're also committed to benefiting the local area," Gross said.
Gross said not all the company's current 100 employees — some of whom live as far west of Wheaton or Joliet — may want to move or commute to Gary, potentially creating even more job openings for Gary area residents.
Starting hourly wages are about $15, but jobs there average $31 per hour, Gross said.
The new facility will allow Alliance to expand its operations to satisfy demand in the automotive, construction, agriculture, transportation, energy, material handling and appliance industries.
Alliance plans to increase workforce training on new equipment and add drivers to handle extra volume. The company said it will be hiring for a variety of positions, and interested applicants should visit the company's website at alliancesteel.net for more information on upcoming open positions.