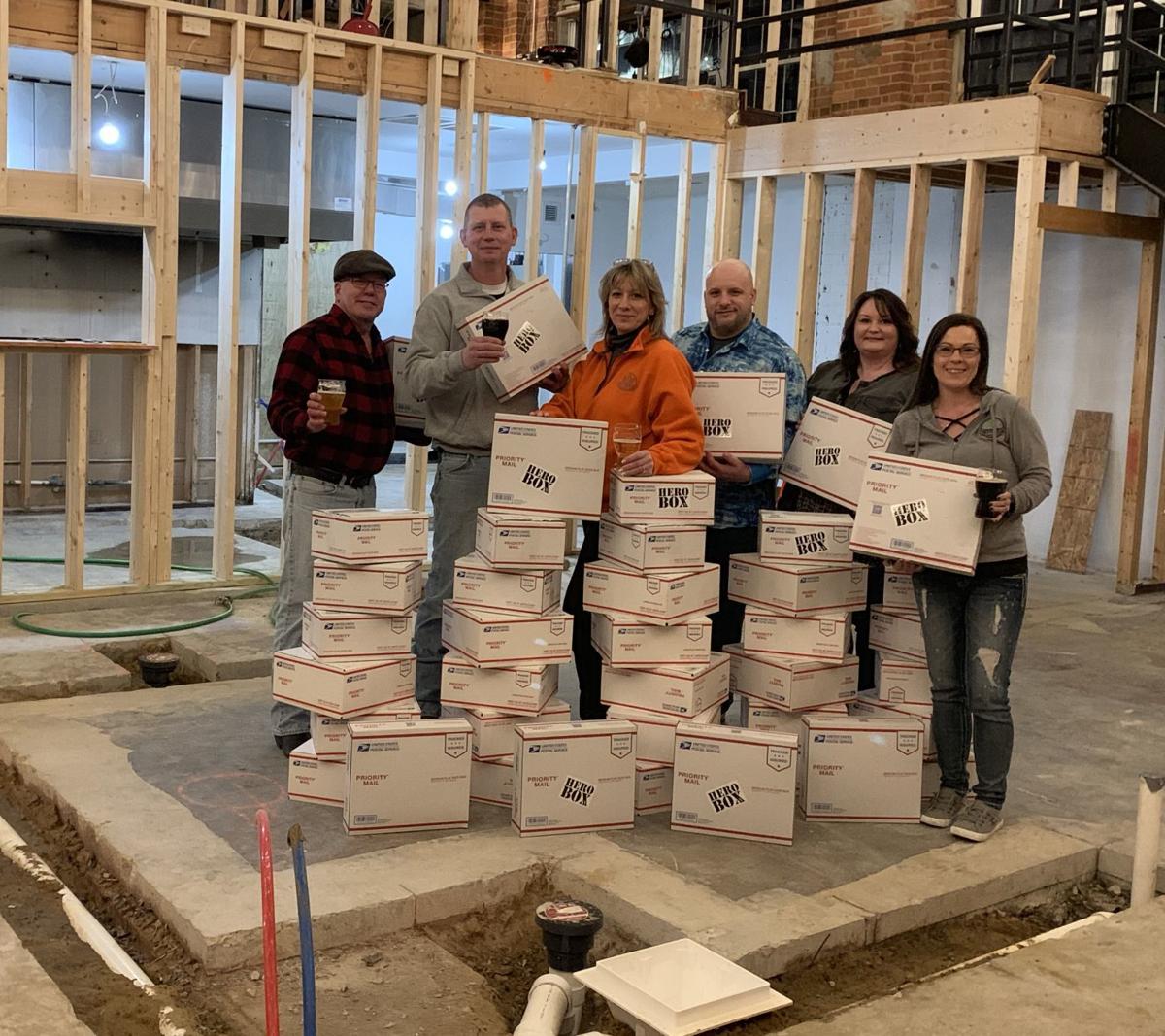 A new craft brewery coming to a nearly century-old brick factory building in Chesterton has a mission: to support veterans.
The Chesterton Brewery is a veteran-owned and -operated craft brewery that's been building out a space in a 98-year-old factory building at 1050 Broadway in Chesterton. The factory made chinaware and then glass until the 1970s.
It's now a multi-tenant building that's also home to an escape room, a realty office and two salons. The Chesterton Brewery is moving into a suite that was recently home to The Boiler Room sports bar.
Owner Vernon Brown is rehabilitating the 4,500-square-foot space into a brewpub with a family atmosphere. He hopes to have it open by Memorial Day.
The Chesterton Brewery will seat around 120 people and initially employ about 10 workers. It will serve gourmet burgers and smoked meats including ribs, brisket and chicken.
The brewpub will have 24 taps, including at least eight of its own beers. Four will be permanent staples, while four will be rotating seasonals. It will also offer hard ciders from the Aftermath Cidery & Winery in Valparaiso and a selection of other craft beers, as well as wine and cocktails.
"Our beers will have low Alcohol by Volume so you can taste a little bit more," Brown said. "We'll have our signature Chesterton Pale Ale. We'll have porters and stouts, an IPA, a red ale and a blonde ale we'll call The Transition. We hope it will help people transition to craft beer. We'll have high-flavor, low ABV beers and will be hitting every style."
A longtime craft beer fan, Brown has been brewing since he was about 22 years old, when his mother bought him a Mr. Beer home brewing kit.
"It's very relaxing," he said. "It's a time to hang out with buddies and drink some craft beers."
His influences include 3 Floyds, Stars & Stripes Brewing in Main and Service Brewing from Georgia.
The brewery will have a five-barrel system and is mainly focuses on selling beer on-site at the brewpub, including in small samplers and 32-ounce crowlers to go. Brown hopes to add a distillery in year three that would make artisanal vodka, gin, rum, rum, and whiskey.
The brewery also will have a small retail area selling merchandise like glasses, t-shirts and hoodies.
Brown, the single owner and investor, served as an electrician in the U.S. Marine Corps between 1990 and 1994. He was stationed at Camp Lejeune in North Carolina and Okinawa in Japan. Though he served during the Gulf War, he never deployed. 
"That's one reason why I want the brewery to give back to veterans' groups," he said. "I was fortunate. I have all my digits, all my limbs. I don't suffer from PTSD. I want to support the people who sacrificed."
The Chesterton Brewery will donate a portion of its sales to national and local veterans' groups, donating to a different one each month. For instance, it plans to support Folds of Honor, a charity which provides educational scholarships to the children and spouses of fallen and disabled service members. 
Proceeds from sales of two of beers also will go to Chesterton police.
Brown has been working on extensive renovations to the factory building, which will have an industrial look with a lot of brick.
"It will be a lot like Zorn Brew Works in Michigan City," he said. "There's a non-functional boiler from 1921 we're moving up near the front."
The Chesterton Brewery will join Hunter's Brewing in Chesterton and Plat 35 Brewery in nearby Porter. Brown hopes the cluster of breweries will attract more craft beer drinkers to the area, including with stops from touring brew buses.
"I think people's palates are expanding," he said. "They're tired of beer that is basically water with very little taste."
The Chesterton Brewery will be open from 3 to 10 p.m. seven days a week.