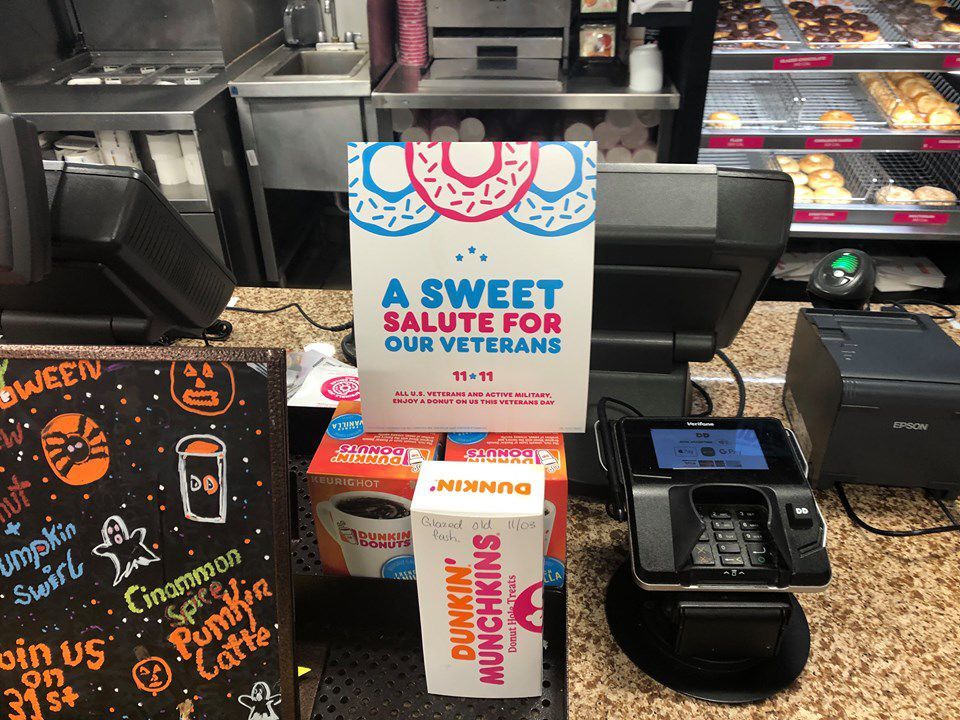 Veterans donned the uniform and risked their lives to defend their country.
They get thanked every year on Veterans Day when many businesses salute them with freebies, discounts and deals. Here's a look at some of the local businesses that are offering veterans specials on Veterans Day, which is Monday. In most cases, you will need to present a military ID, DD 214 or some other proof of service.
Call ahead in advance to make sure the location closest to you is participating.
Texas Roadhouse in Portage is offering a free lunch from 11 a.m. to 4 p.m. Monday. A 6-ounce sirloin is one of the menu options. Applebee's also offers seven free meal options for vets that include a sirloin steak. Outback Steakhouse offers 20% off Friday through Monday.
The South Shore Line is offering free rides to all vets and active-duty personnel from Friday through Monday. Passengers just have to tell the ticket taker that they served and can bring up to three children under the age of 13.
Golden Corral has a free buffet dinner in Merrillville and Schererville. Ameristar Casino Hotel East Chicago, 777 Ameristar Blvd., will offer veterans a free brunch at its Heritage Buffet all day Sunday.
White Castle is offering a free combo or veterans combo Monday at its many Northwest Indiana locations all day Monday.
Round the Clock restaurants in Schererville, Highland and Lansing are offering veterans free meals all day Monday. Baker's Square, Chili's, Red Robin, Hooters and TGI Friday's also all offer free meals.
Buffalo Wild Wings offers a small order of boneless wings and a side of fries.
Chipotle has buy-one-get-one-free burritos, tacos, bowls and salads.
Free dessert
Cracker Barrel offers a choice of double chocolate fudge Coca-Cola cake or a pumpkin pie latte. Red Lobster offers a choice of an appetizer or a dessert.
Free breakfast
Denny's offers a free Build Your Own Grand Slam from 5 a.m. to noon. Buttermilk Pancake House in Munster is offering 50% off any meal with ID. Bob Evans offers vets free items like pancakes and French toast.
Free doughnut
Dunkin' will give vets free doughnuts at its many locations across the Region. 
Free pizza 
Little Ceaser's offers a free hot-and-ready pizza between 11 a.m. and 2 p.m. Monday.
Free pancakes
American Legion District 1, St. Mary Medical Center and State Rep. Lisa Beck are offering for a free pancake breakfast from 7 a.m. to 10 a.m. Monday at the Crown Point Fire Department at 126 N. East Street in Crown Point.
Free museum
The Shedd Aquarium is offering free admission to from Saturday through Monday.
Starbucks will give vets a 12-ounce tall coffee with proof of service on Monday.
Red Lobster and LongHorn Steakhouse are offering free appetizers.
The Simply Amazing Market at the Valparaiso Meijer will offer a free snack pack popcorn to veterans from 9 a.m. to 7 p.m. Monday.
Great Clips will offer vets free haircuts Monday or cards they can use to redeem for free haircuts before Dec. 31. Anyone who buys a haircut on Veterans Day also get a card that they can give to a veteran to redeem for a free haircut. Sports Clips also will provide free haircuts to veterans.
TCBY is offering the first six ounces for free for vets.
Walgreens offers 20% off regularly priced items to vets who have a Balance Rewards card. Amazon is offering $40 off one year of Amazon Prime to both new and current Prime members through Monday. Lowe's and Home Depot will offer veterans 10% off, as they do every day.