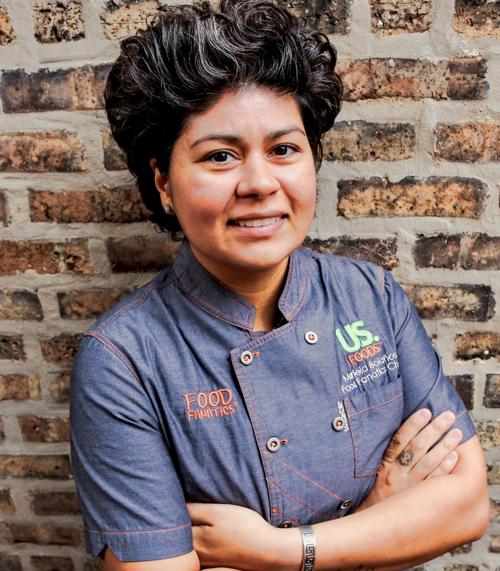 Chef Mariela Bolaños, who's worked for many chic West Loop restaurants in Chicago and at US Foods, is returning to her hometown of East Chicago to open a takeout and delivery restaurant.
A graduate of the Illinois Institute of Art-Chicago, Bolaños has cooked at Viand American Bistro, Landry's Inc., Fabio Viviani's Bar Siena and Phil Stefani's MAD Social in the West Loop. She has worked with celebrity chefs like Steve Chiappetti and Rick Bayless and has been named by Eater Chicago as one of the 24 Women Chefs who reign over the city of Chicago. 
Her latest venture, Easy Peazy, will focus on cuisine like Latino-style Ramen, Mexican-style pork belly bao buns, chicken and waffles and shrimp ceviche. It will be located at 711 W. Chicago Ave. in East Chicago, where her mother Debra Bolaños had run Galaxy Travel and has long directed the Xel-Ha Escuela de Danza dance studio.
Bolaños may eventually launch a food truck or a bar with small plates. Her restaurant will not offer dine-in or carryout. Instead, it will take orders online and through an app for curbside pickup and offer delivery through third-party vendors like DoorDash.
"So much of the food around here is tacos, pizzas or wings," she said. "I want to bring a new flair of upscale comfort food. This is basically global comfort food I am putting my own spin on. It will still be food that people have heard of and are comfortable ordering because I known some people are adventurous while others are not."
After years of working at refined Chicago restaurants, she wanted to return home to give back.
"I'm proud of the city where I'm from," she said. "This is where I want to build my brand."
Bolaños plans to serve fare like Ramen with a sweet, savory soy sauce, green onions, cilantro and house-pickled jalapenos. 
"It sounds so good," she said. "It's like a party in your mouth."
Easy Peazy will do bulk orders for places like the East Chicago City Hall during the week and likely also will offer brunch on Sundays.
"We won't do something like steak and eggs," she said. "If we did it would be a modernized French steak and eggs with chimichurri sauce and rustic potatoes with grilled peppers and onions.
"The food has to be sexy," she said. "I want to put out a menu for people who are adventurous."
Her goal is to open the restaurant in early February.
The restaurant will be open for lunch and dinner from Thursday through Saturday and for brunch on Sunday. Bolaños plans to broadcast her cooking on TikTok.
"I am not just someone who thinks they can make a great sandwich and am deciding to open a restaurant," she said. "I'm a real chef who's worked at tons of restaurants, with celebrity chefs, and in the corporate world."
For more information, find Easy Peazy on Facebook and Instagram.
Region restaurants that closed in 2020
Region restaurants that closed in 2020
2020 has been a hard year for restaurants in the Region with the coronavirus pandemic and the lockdowns and restrictions that followed. Here's a look at the restaurants, brewpubs and chain eateries Northwest Indiana lost in one of the toughest years in recent memory: