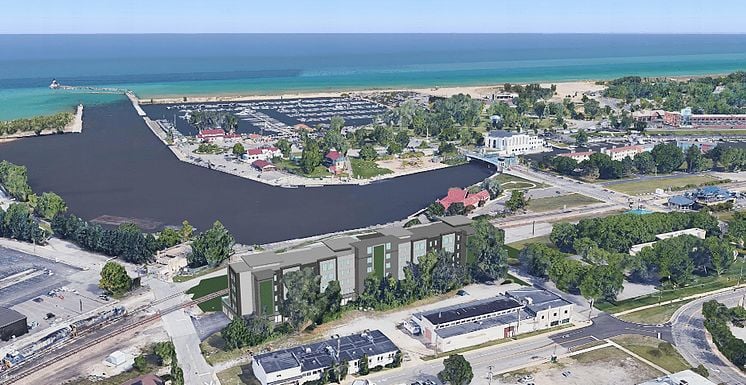 MICHIGAN CITY — If you've ever dreamed of a lakefront home on Lake Michigan, a developer is bringing more options to the market.
Washington Landing Condos is building more waterfront condos with sweeping views of Lake Michigan and a "signature restaurant" in Michigan City.
Construction of the new 100 Washington Landing condo building is expected to start this fall.
The 52-unit condo building in downtown Michigan City will stand five stories tall and will be located on the edge of Washington Park, within walking distance of the beach, marina, Washington Park Zoo and other destinations.
It will be west of the existing row of lakefront housing that flanks Trail Creek as it empties into Lake Michigan. The developers say the project's "modern, sleek and simple design maximizes the stunning lake views as the main attraction."
Jenilee Haynes Peterson, economic development manager for Economic Development Corp. Michigan City, said it will be the first new waterfront housing to be built along the Lake Michigan shoreline in Michigan City in at least a decade. 
"There's a pent-up demand," she said. "They just started selling pre-sales last week, and sold the seven units they had up for presale right away."
All the units have lake views. They're all 1,000 square feet with two bedrooms and two bathrooms.
"I am excited at this level of investment for Michigan City," EDCMC Executive Director Clarence Hulse said.
"This caliber of project is definitely raising the bar and is the first of many new projects coming to Michigan City. Having progressive leadership, Opportunity Zone and creative strategies to attract investors will keep Michigan City at the forefront for new investments."