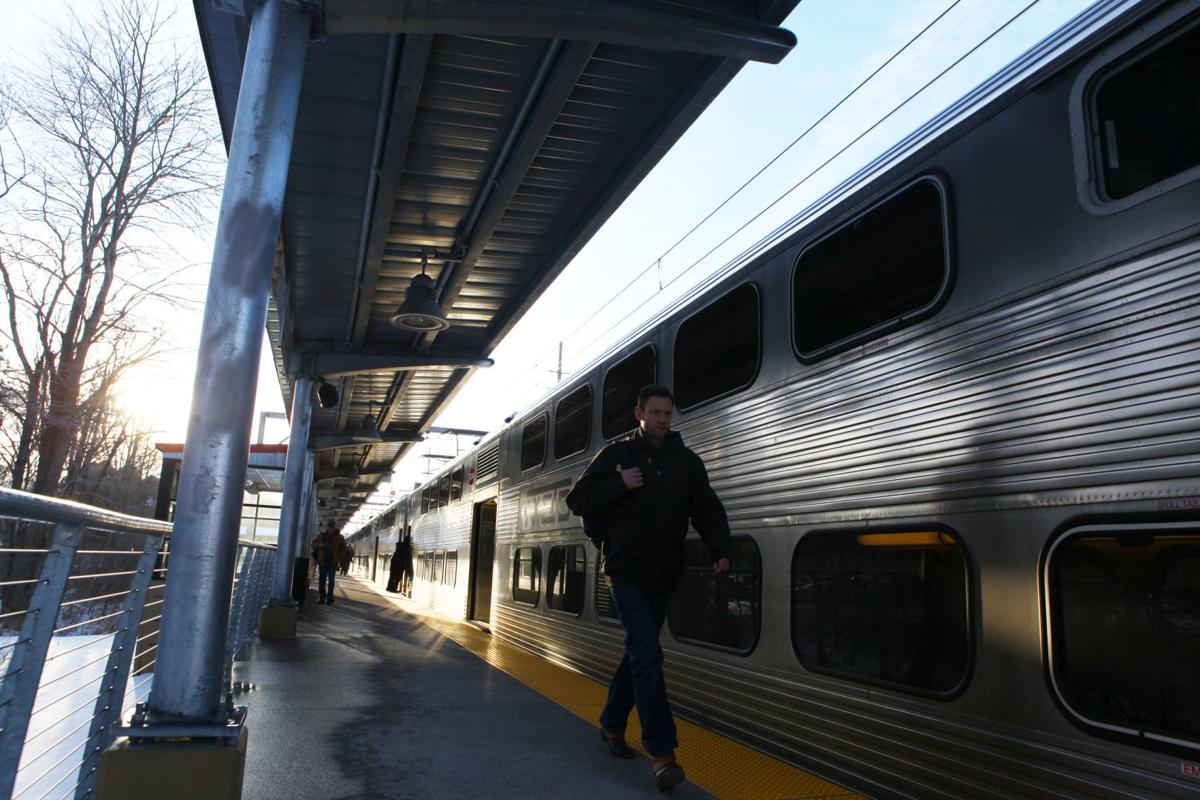 The West Lake Corridor commuter rail project is now one step away from a federal grant that would bring the long-planned southward expansion of the South Shore Line to fruition.
A decision by the Federal Transit Administration, in a letter dated Friday, moved the project into the engineering phase of its Capital Investment Grant program.
"That really is the FTA's stamp of approval on the project," Northern Indiana Commuter Transportation District President and CEO Michael Noland said Monday. He said projects approved for the engineering phase of the grant program have ultimately received grants, unless being withdrawn by their sponsor.
"We're getting close," he said.
"It's a big threshold to cross," said Bill Hanna, president and CEO of the Northwest Indiana Regional Development Authority, which is the local fiscal agency for the project. "It's pretty historic for us."
In a statement announcing the decision, Noland referred to the approval as a "critical milestone." Elected officials shared that sentiment.
"The West Lake project will be transformational," U.S. Rep. Pete Visclosky said. "This success will help retain and attract people and businesses which will grow our region. I will continue to work with all parties involved to secure the necessary federal funding to support the application."
"Extending rail service will save Hoosiers both time and money — but it's also a critical part of our efforts to strengthen our economy and attract new residents," Gov. Eric Holcomb said. "I'm grateful that local, state and federal leaders have come together to connect Northwest Indiana to the nation's third largest city and beyond, so that our workforce and our businesses will be able to mutually grow."
Indiana's two United States senators also expressed their support.
"This development is welcome news for future job creation and economic growth in Northwest Indiana," Sen. Todd Young said. "I look forward to working with my colleagues as West Lake works to sign a full-funding grant agreement and bring this important Indiana infrastructure project to fruition."
"This important development on the South Shore Line will connect Hoosiers in Lake County and nearby communities to high-paying jobs and other opportunities while encouraging investment in the Munster, Hammond and Dyer areas," Sen. Mike Braun said.
Next steps
NICTD is preparing to select a firm, or partnership of firms, to engage in a design-build contract to carry out the final engineering and construction of the West Lake Corridor. Noland said a review committee plans to make its recommendation to the NICTD Board of Trustees in January. After a final construction cost is determined, negotiations with the FTA for a full-funding grant agreement can begin.
NICTD hopes to achieve that next year, and to complete the project in 2024.
Meanwhile, NICTD will begin making some expenditures that had awaited entry to the engineering phase. The cost of projects including the rehabilitation of rail cars to be used on the West Lake Corridor became reimbursable with the advancement to engineering.
NICTD will also begin property acquisition, Noland said, something the railroad had delayed until getting "the green light for engineering."
A group of residents, including impacted property owners, opposing the West Lake project issued a statement calling Monday's news "heartbreaking."
But, "hopefully this development will bring an end to the limbo and speculation these people have endured for years," the Concerned Families of the West Lake Corridor Project said. The group said it "will continue to advocate for the affected homeowners and neighborhoods as the property purchases and construction get underway, ensuring that the citizens whose taxes are funding this project are acknowledged as stakeholders and treated with sensitivity and respect."
In its letter to NICTD, the FTA detailed requirements NICTD must fulfill, including a specific assignment regarding the Hammond maintenance facility, urging it to locate "buried structures and utilities" and "identify contaminated soils and other hazardous material," which "can have significant schedule and cost impact as the project progresses."
Other specific tasks include an updated financial plan. Entry into the engineering phase has fixed the maximum federal grant at $354.57 million, NICTD's requested 38% of the project's current capital cost estimate. That percentage is less than the 49% included in NICTD's original application for the engineering phase, filed in September 2018, and the FTA is requiring an updated financial plan to confirm the local and state commitments are sufficient.
Since the September 2018 submission, the state has committed an additional $185 million, with a contingency pledge of an additional $20 million, to cover the reduced federal request for West Lake and the railroad's double-tracking project, which would add tracks and redevelop stations and bridges between Gary and Michigan City, and eliminate road crossings in the latter.
NICTD, the RDA and the Indiana Finance Authority are hoping for advancement of the $420 million Double Track project to the engineering phase later this year.
An RDA study has projected that the two projects together will attract $2.3 billion in private investment to Northwest Indiana, result in over 6,000 new jobs and $3 billion in economic activity by 2048.
"These projects will be game-changers for the region and the state," RDA President and CEO Bill Hanna said in Monday's statement announcing the designation. "By increasing our connectivity to Chicago, the third-largest metro area in the country, commuter rail will drive job creation and economic development here in Northwest Indiana and provide a much better opportunity for residents to compete for high-paying jobs in Chicago."