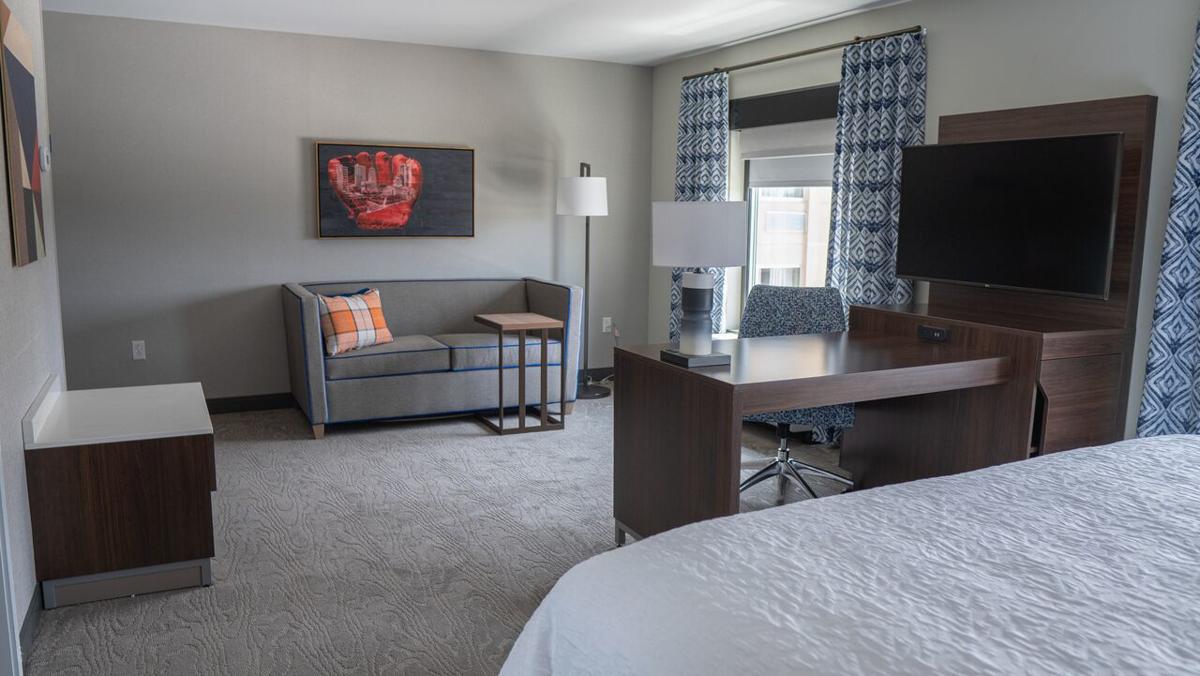 Merrillville-based hotel developer and management company White Lodging opened its latest hotel in downtown Fort Wayne.
White Lodging opened Hampton Inn & Suites by Hilton Fort Wayne Downtown with the Burger Bar restaurant and Conner's Rooftop, the only open-air rooftop bar in Indiana's second-most populous city. The 136-room hotel is located on West Jefferson Boulevard by the Grand Wayne Convention Center and Parkview Field, the home of the minor league Fort Wayne Tin Caps, the Class A affiliate of the San Diego Padres.
Its rooms have views of the ballpark and the downtown skyline.
"Hampton Inn & Suites by Hilton Fort Wayne Downtown is a great addition to downtown, offering guests convenient access to everything Fort Wayne has to offer, including our two new restaurants," General Manager Kevin Croy said. "We're excited to welcome guests with a dose of Midwestern charm, quality accommodations and elevated atmosphere."
The hotel features a giant baseball that appears to be embedded in the seventh floor of the building, to give the impression it was a home run hit out of Parkview Field.
"This new downtown hotel will assist us in our continued efforts to attract more tourists and conventions to our community," Fort Wayne Mayor Tom Henry said. "White Lodging is a tremendous partner, and we appreciate their ongoing commitment to investing in Fort Wayne. This public-private venture will be a great benefit for future guests and our entire city and region. Proactive leadership efforts by the Fort Wayne Redevelopment Commission and Capital Improvement Board helped make this significant project possible."
The hotel features a rooftop gym, an outdoor fireplace, an outdoor patio, a meeting space for up to 47 people, WiFi, hot breakfast, and a covered breezeway to a parking garage. Burger Bar will serve Angus beef butcher burgers, handspun milkshakes, boozy milkshakes and local craft beer to up to 70 diners. Conner's Rooftop will offer cocktails, small plates and fire pits until late in the evening.
"Conner's Rooftop is an elevated experience where guests can enjoy a craft cocktail, grab a bite and take in the spectacular view," Croy said. "The boutiquelike atmosphere is unlike anything else in Fort Wayne."
Founded by Bruce White in 1985, White Lodging has invested more than $3.5 billion in building more than 130 premium-branded hotels across the country over the past 25 years. The company operates 26 different brands of hotels in 19 states.