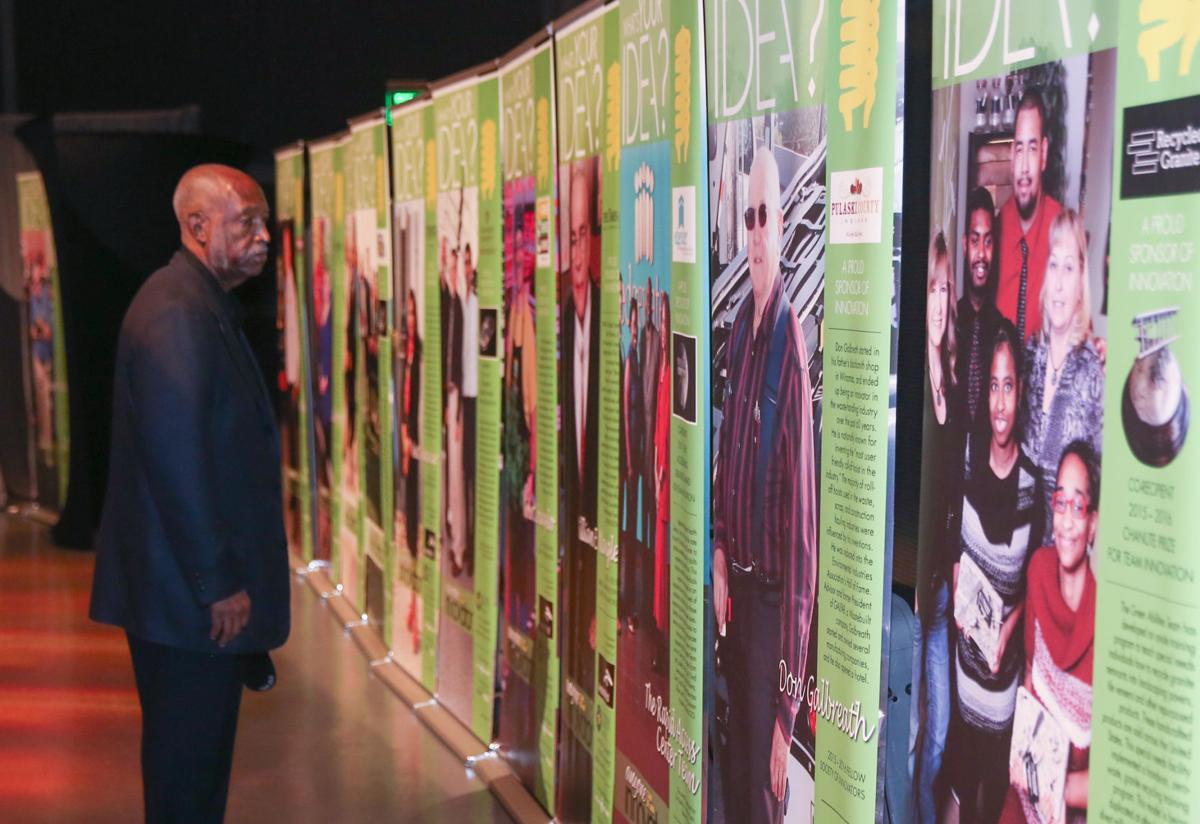 The Society of Innovators of Northwest Indiana inducted 40 new members during the 13th annual Innovators Induction Ceremony at Horseshoe Casino in Hammond on Thursday.
The society annually seeks nominations of the most innovative individuals and teams from Jasper, Lake, LaPorte, Porter, Newton, Pulaski and Starke counties, said John Davies, assistant director of the center and managing director of The Society of Innovators.
A total of 19 new individual members and 21 team members were inducted this year.  
Society individual members are: Marianne Burell-Moore, Cardinal Tech; Jason Zaideman, Operation Combat Bikesaver; D.E. "Sonshine" Troche, Worthy Recovery Inc.; Jerry Jackson, Nick Minich, and Todd Taylor, City of LaPorte; Norm Fischer, The Fischer Group; Sheriff David Reynolds, Porter County; Jerome Fleming, Herbal Swirl Soak & Soothe; Jerry Skorupa, Altherm Services; Peggy Buffington, Hobart School Corp.; Teresa Eineman, Crown Point School Community Corp.; Janet Seabrook, M.D., Community Healthnet; Troy McCloskey, Fair Oaks Farm Fresh Discovery; Greg Mance, Griffith Police Department; Manghui Tu, PNW; Adam Klimczak; LaPorte Police Department; Angela Similgius, Kova Bag Co., Richard Hug, Ph.D.; Indiana University Northwest.
New society team members are: Alley Cats, PATH Inc.; Arconic Power & Propulsion LaPorte Engineering Team; "Making the Grade," Lakeshore Public Television; The Amanda Forum, The Caring Place; History Team, The Times Media Co.; Frozen Garden Smoothies; Munster Police Department; Plate Accelerating Cooling Team, ArcelorMittal Global R&D; Multi Agency Academic Cooperative (MAAC) Foundation; Hammond Group Inc., Lead Acid Battery Lab; MonoSol, MonoSol New Ventures; Decay Devils; Promise Porter County; Spark Labs, LaPorte County Library; Michigan City "Week of Code" Team; Unity Park Team, Unity Foundation of LaPorte County; PNW QuarkNet Center; Civic Innovators Convening, Legacy Foundation; Hot Shop Valpo; Sonam Technologies Inc.; Whoa, city of Whiting.