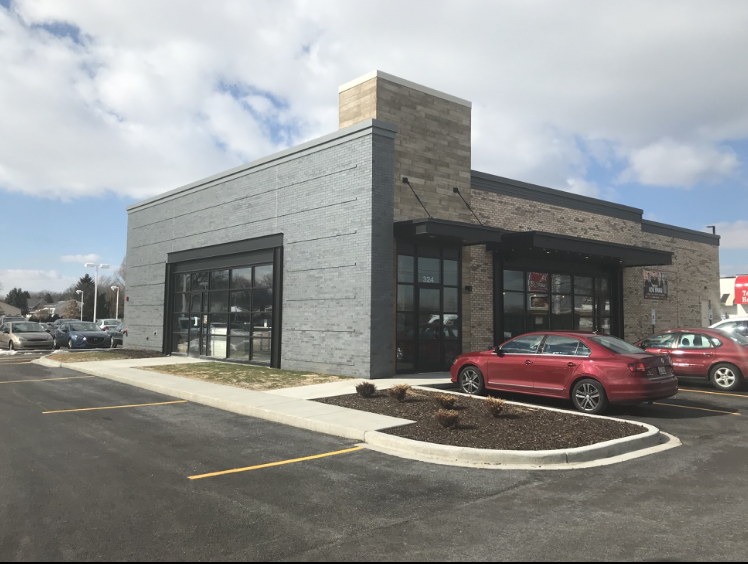 Buona is opening its first Italian Beef restaurant outside of Illinois at 24 U.S. 41 in Schererville March 27, when it will be giving out Italian Beef sandwiches to anyone who's in line before 10 a.m.
The fast-growing chain sells beef sandwiches dry, dipped, baptized or the "Buona Way," with an extra spoonful of gravy, at more than 20 restaurants across Chicagoland. Its locations include concession stands at Guaranteed Rate Field, Soldier Field and at the outdoor beer garden for Big Ten graduates recently transplanted to Chicago on the North Side, where they play the song "Go, Cubs, Go," expressing confidence that "the Cubs are gonna win today" after the game is already over, for whatever reason.
"This move is the first wave of spreading some Buona Beef love outside of Illinois," owner Joe Buonavolanto Jr. said. "We're excited to share Chicago's original Italian beef sandwich with the residents of Schererville – made exactly like it was in 1930s Chicago, spiced just right and free of additives and preservatives."
The restaurant in Schererville's new Shoppes on the Boulevard will serve a wide-ranging menu that includes hot dogs, pizzas, salads, gravy-dipped Italian bread, and pepper and egg sandwiches on Fridays during Lent. The chain, a competitor of Zel's, Pop's and Enzo's, potentially could meet some resistance in the union stronghold of Northwest Indiana after a few of the family owners were caught in viral videos spraying a garden hose at and cursing at union picketers who were protesting that a Buona restaurant was being built without union labor.
For more information call 219-515-6469 or visit buona.com.
It's finally time to make the doughnuts in south Munster, not far from the Dyer border.
Dunkin' Donuts opened its second Munster location at 10415 Calumet Ave. The modern-looking 28-seat eatery has a drive-through and carries a wide array of fresh baked doughnuts, bagels, breakfast sandwiches and coffee drinks, including those with Girl Scout Cookie flavors like Thin Mint and Coconut Caramel. 
The coffee shop/doughnut joint is in a newly built strip mall that has another 4,600 square feet of space available for rent.
The popular Packman Pizzeria, first opened in 2014, was about to close in LaPorte after owners Don and Angie Kaczmarek died in a tragic car accident.
Keep reading for FREE!
Enjoy more articles by signing up or logging in. No credit card required.
But the owners of Roberto's Pizzeria at the Lighthouse Place Premium Outlets in Michigan City acquired the 48-seat restaurant at 612 Lincolnway and reopened it as Roberto's Packman Pizzeria, closing their mall location to consolidate the two pizzerias into one.
"The kids were running it but they want to close the door and our lease was up," said Sean Montgomery, who co-owns the pizza restaurant with Robert Becker. "They have loyal customers, 4,000 Facebook followers and deliver within 15 miles. It's the only place in LaPorte that serves deep-dish and Chicago-style pizza with the dough on top."
The restaurant also serves salads, chicken wings, oven-baked fries and subs, out of which the Italian beef and Philly Steak are the two most popular. It delivers as far away as Westville, Walkerton, New Carlisle and Michigan City.
Roberto's Packman Pizzeria is open from noon to 10 p.m. Monday through Saturday, and from 2 to 10 p.m. Sunday.
"Galactic" Greg Karras, the owner of the popular Galactic Greg's and Cosmic Trading Post comic book shop at 1407 Lincolnway in Valparaiso, died of cancer at the age of 51, but his namesake store will remain open.
"Greg was all those things to us because of his kind heart," Galactic Greg's posted on Facebook. "He gave many of us a place to hang out, a place to meet others with similar interests long before the internet, and sometimes just an ear to listen to our problems. He introduced us to heroes, which I believe is the same as introducing someone to hope. ... Galactic Greg's will continue. We hope to make him proud as we continue to serve you the way he did."
Karras opened the "pop culture superstore" in Valpo where people have gone for comics, role-playing games, vinyl records and more for more than 25 years. His passing was met with an outpouring of mourning from loyal customers.
"I've been getting my subscription comics from Greg ever since I was in elementary school. Even when I moved away for college, Greg continued boxing up my favorite comics and sending them to me every month — he has always been a source of joy and friendship in my life," longtime customer David Higgins posted on Galactic Greg's Facebook page. "I teach college classes on Graphic Novels now, and Greg helped shape the person who I am today. He actually supported my very first comics-related research project: When I was at Winfield Elementary School, he loaned me a stack of 1950s comics from his own personal collection so that I could compare them with my own comics (from the 80s) to determine whether comics were becoming more 'corrupt or violent' as a science fair project.
"I was a wide-eyed kid, and Greg saw my enthusiasm and wanted to support it. That's the kind of person he was — he loved people, he encouraged joy and wonder in everyone around him, and he had a huge heart. He was a real-life superhero who made the world a better place in countless ways."