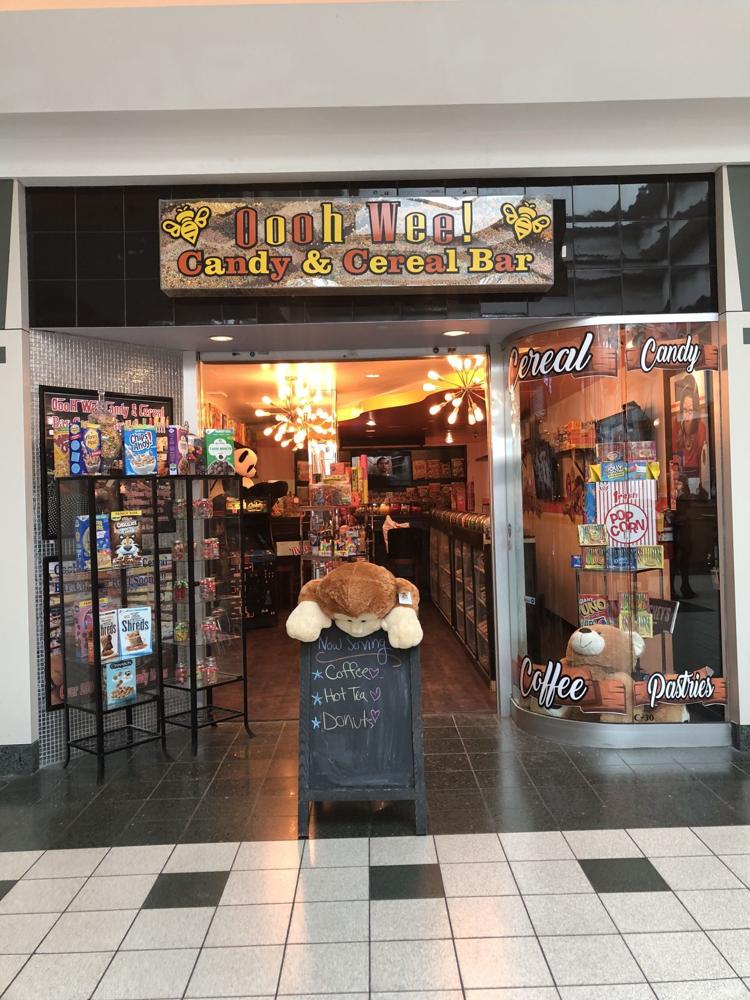 Oooh Wee Candy and Cereal Bar serves up dozens of cereals and old school candy by the piece at the food court in River Oaks Center in Calumet City, and plans to open a location in the Southlake Mall in Hobart on April 20.
The fast-growing concept also has a location on Chicago's South Side and is also expanding to Waukegan. There's no booze but there is an actual bar that people can belly up to to eat all their favorite childhood cereal such as King Vitamin, Waffle Crisp and Franken Berry while watching television. Ice cold milk is poured from martini shakers.
People can satisfy their sweet tooth with 75 different types of cereal, 25 different toppings like fruit, honey and mini Oreo cookies, and 10 different types of milk, including almond, coconut, cashew and chocolate milk.
Owner Mark Walker saw a cereal bar in Dubai, and decided he wanted to open one here.
Any cereal you can imagine, hot or cold, is stocked on the shelves, and customers get to mix two if they feel like blending Coco Puffs with Lucky Charms or have a hankering with Captain Crunch with Apple Jacks. Customers can dine in or get it to go, with separate containers for cereal and milk.
They also can order cereal "cocktails" named after celebrities like the Nicki Minaj with Trix, Fruity Pebbles, Pop Rocks and strawberry milk.
Oooh Wee Candy and Cereal Bar also has more than 250 "old school" candies, including gummy bears, gummy worms and many nostalgic and hard-to-find items. It's sold by the piece, not the pound, to make it more affordable for kids.
Kids also can pose for selfies with life-sized cutouts of Deadpool, Batman, Harley Quinn and other pop culture characters. Still, many of the customers are grown-ups.
"Our customer base is mostly adults who come in saying they remember that cereal from their childhood and can't believe they still make it," Walker said. "It's nostalgic. People come for the good memories."
2 Chicks, a high-end consignment shop, has opened at 2817 Jewett Ave. in downtown Highland.
"We sell a lot of eclectic items, including name brands," said longtime Cargill employee Terri Yovkovich, who runs the store with her mom Shirley Bell. "There's a lot for the younger generation, a lot of cool clothing, shoes, jewelry and vintage. It's a lot of shabby chic style. We've got decor and fun and cool stuff."
The 2,000-square-foot consignment shop also is home to Tiffany's Tea Room at 2 Chicks, which serves a formal tea every afternoon Monday through Saturday and by appointment for showers on Sunday. Tea is ported in from the neighboring Sip 2 Coffeehouse, along with a three-tier stand with five finger sandwiches, five pastries, scones, cheese, crackers and apricot jam.
The tea room, an extension of the original Tiffany's Tea Room in Crown Point, can accommodate parties of up to 30 and is geared toward luring female shoppers into the store.
"The women come in and they shop," Yovkovich said.
2 Chicks sells items on consignment but also buys its own inventory, such as from an estate after a death in the family. Merchandise rotates frequently.
"I might eventually open another one," Yovkovich said. "I'm originally from Calumet City but now live in Griffith. I might someday open one somewhere back in Cal City or near where I live in Griffith.
You have free articles remaining.
Keep reading for FREE!
Enjoy more articles by signing up or logging in. No credit card required.
For more information, call 219-301-5588 or find 2 Chicks on Facebook.
To reserve a formal tea appointment, call 219-306-0980.
Starbucks just closed one of its first coffee shops to open in Northwest Indiana, 2381 E. 80th Ave. in Hobart just north of the Southlake Mall.
The Starbucks was in a strip mall with an Ulta and a since-closed American Bagel Company. It dated back to the 1990s and was a product of a different age, lacking a drive-through that is now standard at Starbucks.
The Seattle-based coffee giant, which has lately been pushing white espresso on its notoriously loyal customer base, opened a new location not far down U.S. 30 in Merrillville last year after being forced to shutter its extremely popular coffee shop inside the Radisson at Star Plaza, which was torn down to make way for a redevelopment product.
Those jonesing for a Frappuccino or a cold brew don't have to travel far to get their fix — Starbucks still has two other location by the Southlake Mall, one on Mississippi Street and another inside Target.
Highland Board Shop is now HBS now that it's no longer in Highland.
The skateboarding store, which promises "West Coast Vibes and Steezy Rides," shuttered its location at 8808 Kennedy Ave. in downtown Highland. The 3-year-old business moved to 132 N. Broad St. in downtown Griffith.
The shop sells skateboarding gear, apparel and accessories. It encourages its customers, who skew younger, to "shred the gnar."
HBS is open from 12 to 7 p.m. Tuesday through Saturday, and from 12 to 5 p.m. Sunday.
The Annex also vacated the same two-story building in downtown Highland that it shared with Highland Board Shop.
The funky boutique, which stocks many locally sourced and trendy items, has relocated to 8638 4th St. in Highland. It celebrated its grand reopening Friday.
The Annex carries artisan items from creators like WoodenJacket, Mythos, P. Goodys, Kinfolk Herbs, The Old Gray Goose, Smudge's Organics, Lucia Handcrafted, Altered57 and Little Lotus Elixirs. It's filled with a carefully curated selection of fashion, crafts, gifts and essential oils.
For more information, call 219-765-8267 or find Shop The Annex on Facebook.