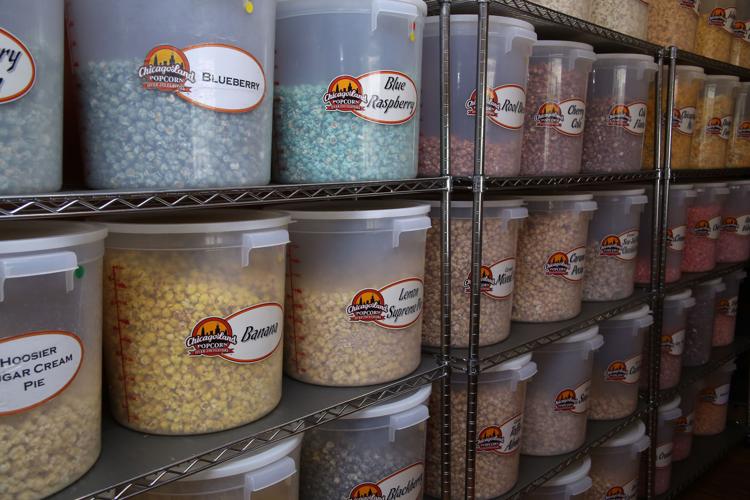 ChicagoLand Popcorn first popped up on U.S. 30 across from the popular Albanese Candy Co. in Hobart in 2013, and now the gourmet popcorn place has planted a kernel in St. John.
The specialty popcorn shop, which carries more than 250 flavors like Sea Salt & Cracked Pepper, Pistachio and Pralines & Cream, opened its second location at 8329 Wicker Ave. in the Lake Central Plaza across from the sprawling Lake Central High School in St. John. A ribbon-cutting will take place at 2 p.m. Monday, and there will be popcorn.
"We are excited to add another location that is more convenient for our customers that live in and near St. John," ChicagoLand Popcorn President Dwayne Walker said. "We're excited to bring our flavors, event services, corporate gifts, and our established brand of customer service to this key geographic area of our expansion strategy."
Opening
The Simple Greek, the Chipotle of Greek food, plans to open a fast-casual restaurant at 9609 Calumet Ave. in Munster's new Centennial Village by April, franchise owner Adam Roberton said.
The exact timing will depend on when construction is complete in the mixed-use development, which will include condos, restaurants and a hotel.
"Like many living in Northwest Indiana, I am very excited to see our community embracing new and exciting restaurants, shopping and other concepts that complement many of the Region's staples," Robertson said. "Seeing a growing desire for a variety of healthier cuisine options in Northwest Indiana, I thought The Simple Greek and its modern Greek/Mediterranean, fast casual concept would be a nice addition to our community."
Similar to a Qdoba or Chipotle, all the orders are customized. Customers pick out a pita or a rice bowl that can be topped with gyro, chicken gyro, steak, veggies, feta cheese, spices, hummus, imported olive oil and other toppings.
"I can't wait for everyone to taste the Greek Fries," Roberton said. "This delectable dish takes fresh-cut fries and adds feta cheese, imported vinegar, oregano and other spices for an amazing culinary experience everyone needs to try! We will also have traditional Greek desserts like Baklava, Rizogalo, Baklava Cheesecake and an array of other traditional Greek fare."
Opening
Chicken wing restaurant Quaker Steak & Lube, which has a sit-down restaurant at the AmeriPlex at the Port business park in Portage, has opened its second Northwest Indiana location in a Travel Centers of America truck stop in Gary.
The new Quaker Steak & Lube Express will be located in the TA travel center at 2510 Burr St., just off the Burr Street exit of I-80/94 in Gary. The quick-serve restaurant will offer bone-in wings, boneless wings, breaded boneless wings, bottled wing sauces and and some non-wing options like burgers and salads.
It will be able to seat more than 110 diners and will have six televisions showing sports. Customers can order online or call ahead, as it will prioritize fast service for truckers in a hurry.
"We are excited to bring this new walk-up concept of The Lube to professional drivers, motorists and the Gary community," Quaker Steak & Lube Vice President Bruce Lane said.
Closing
Renovar, the unique home decor and furniture store in downtown Griffith, is closing after two years. The store at the heavily trafficked and highly visible corner of Broad and Main Streets sold items like Farmhouse paint, catering to those interested in DIY home projects.
"Friends, these past two years at Renovar have been really good to us, thanks in part to wonderful customers like you," owners Jenny Ann and Armando Del Real posted on Facebook. "We have met many talented people and have made new friends along the way. But now it is time to work on other aspects of our lives. Our family's health and happiness are at the top of our priority list. For us, running a retail store location is no longer practical at this time. We will be closing Renovar at the end of January. We will continue to do what we love, but distributed in other ways. Meaning that our brick and mortar may be closing for the time being, but we aren't gone forever! We are still available for custom orders and will be working out details on other things in the next few weeks."
Renovar is currently having a liquidation sale to get ride of its remaining dressers, tables, chairs, candles, soap, handbags and other inventory.